Netflix's Girlboss Trailer Is Your Daily Dose of Female Empowerment
"Go ahead, underestimate me."
---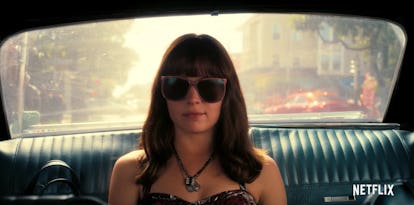 Netflix
Television loves nothing more than a good tale about an underdog hustler. Whether it's suburban moms selling weed, senior citizens selling sex toys, high school teachers selling meth or, you know, the occasional actual mafioso. Now, thanks to our first look at the latest Netflix series Girlboss it seems like we're finally getting a fashion-themed twist on the format.
The show, which is based on Nasty Gal founder Sophia Amoruso's bestselling autobiography #Girlboss, tells the story of a young Sophia, played by Britt Robertson, as she makes her way from Dumpster-diving to a thrifting eBay clothes seller turning major profits—"You know how people flip houses?" Robertson poses in the new trailer. "Well, I flip clothes."—to the pioneer of her very own online fashion empire.
In the trailer, we catch our first glimpse of a feisty Robertson-as-Sophia making an unbelievable find at a thrift shop (and dispensing some harsh yet real advice to the store's clueless owner) and overcoming obstacle after obstacle. In fact, when it seems Sophia's eBay career is over in light of a few negative reviews and she might move home at the suggestion of her dad, the business-savvy upstart sets her sights on building her own retail platform from the ground up. She boldly declares, "I'll start my own site. Maybe it'll work, maybe it won't, but it'll be mine."
In addition to Robertson's lead role, the series has some serious star power behind it: Charlize Theron is an executive producer, and Kay Cannon, who penned Pitch Perfect, created the show. And it's no surprise that these female forces had to overcome Hollywood sexism, especially when pitching a series with the word "girl" literally in the title. Cannon has said that one unnamed network actually asked her and Theron to make the show "more for men," when considering their pitch.
In a similar vein, Robertson told Glamour earlier this month that being a "girlboss" means taking ownership of what you want in life.
"For me, [being a] girlboss is about being the boss of your own life," Robertson said. "At 26 I still don't know what's happening in my life, but I'm asking, What will make me happy next?"
Ponder that sound advice while you wait for Girlboss to hit Netflix on April 21.
Related: [Young London Creative Erika Bowes On What It Means to Have "Girl Boss" Style](http://www.wmagazine.com/story/erika-bowes-sukeban-london-fashion)
Britt Robertson Is One to Watch
Robertson knows how to dress the part. The actress exuded understated elegance in a Dior white wool dress, silver sandals, and burgundy lip at the premiere of "Dior & I."
Photo by Getty Images
Accepting the "Star of Tomorrow" award at CinemaCon 2015, Robertson personified young Hollywood in a black, one-shoulder J. Mendel dress and Casadei shoes.
Photo by Getty Images
The budding fashion plate showed her chops again at the Louis Vuitton Cruise 2016 show in Palm Springs. Is there anything better for spring in the desert than a black leather mini and chic biker boots?
Photo by Getty Images
For the premiere of her latest film, "Tomorrowland," the star looked both retro and futuristic in a Fausto Puglisi Pre-Fall 2015 dress.
Photo by Getty Images
Robertson stepped things up across the pond in a red Christopher Kane Fall 2015 dress and black pumps for the film's London premiere. Smooth locks and tons of black eyeliner added a polished edge.
Photo by Getty Images
For the film's London photo call, the actress chose a more ladylike approach with a Christian Dior plaid dress and red Barbara Bui pumps.
Photo by Getty Images
Though her [Fausto Puglisi Fall 2015 mini dress and Sophia Webster sandals were standouts on their own, the real star of Robertson's Valencia premiere look was her chic, brushed-back 'do.
Photo by Getty Images](http://www.wmagazine.com/tag/fausto-puglisi )
Throughout the "Tomorrowland" tour, Robertson's shown her love for Antonio Berardi, one-shoulder designs, and the color pink. If it ain't broke…
Photo by Getty Images
Robertson added a bit of toughness to her repertoire with this Louis Vuitton Fall 2015 ensemble at the 2015 MOCA Gala in L.A.
Photo by Getty Images
Watch W's Most Popular Videos: