O Mountaineers!
Neville Wakefield and Olympia Scarry's "Elevation 1049" brings contemporary art into the cold.
---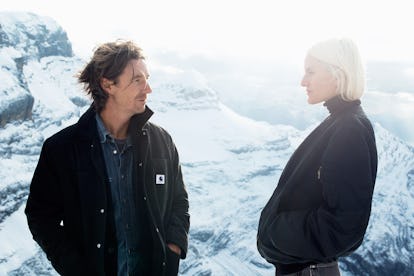 Photographer: Lukas Wassmann
When the curator and writer Neville Wakefield first visited Gstaad, four years ago, he arrived at the beau monde winter playground addled with the preconceptions that many outsiders carry. "You know, gilded mukluks and jetset Esperanto," Wakefield says. "Some of which was true." But as Wakefield soon discovered, the Alpine resort wasn't all après-ski glamour as embodied in the Pink Panther films of the former Gstaad denizen Blake Edwards. "For all the influx of luxury, Gstaad remains a largely unspoiled picture-postcard mountain village," he says. "Everything is scaled to nature, and the cow population probably exceeds the human one. You may fly private and wear mink, but you still have to smell the cow shit."
"Elevation 1049, Between Heaven and Hell," a new site-specific exhibition curated by Wakefield and his paramour, the artist Olympia Scarry, challenges assumptions about the town, Swiss identity, and the contemporary-art world. Taking place in and around Gstaad from January 27 through March 8, the show—produced by the art patron Maja Hoffmann's LUMA Foundation—will include exclusively Swiss artists, among them Christian Marclay, Ugo Rondinone, Thomas Hirschhorn, and Urs Fischer, many of whom live abroad. "There's been a lot of talk recently about globalism and the idea of transnational art that is dispersed across practices and boundaries," Wakefield notes. "And although those ideas have enormous validity, they tend to ignore the specificities of time and place."
In an era when the art industrial complex is fueled by mega galleries, Wakefield and Scarry—chic nomads who roll with a posse that includes the artists Matthew Barney and Richard Prince and the Russian patron Dasha Zhukova—are thinking outside the white box, preferring the magnificent white backdrop of Gstaad's winter landscape.
Although Wakefield and Scarry, who met four years ago in Venice, Italy, and now share a town house in Harlem, in New York, are billed as co-curators, they insist that their show has been effectively curated by the place itself. Wakefield likes to quip that the collaboration with his girlfriend is one-way traffic—"Obviously, I do everything," he jokes—but the impetus for "Elevation 1049" was, in fact, Scarry's personal connection to Gstaad.
Her grandfather, the renowned children's author and illustrator Richard Scarry, moved to the town in the '60s and used it as the setting for many of his stories. Olympia lived in Gstaad as a teenager and studied at Le Rosey, the prestigious boarding school for children of plutocrats and celebrities. Now, she and Wakefield spend part of the year at her grandfather's chalet. "There are a lot of interesting collectors in Gstaad, and it's a bit of a closed-off, mysterious place," Scarry says. "We thought it would be a good idea to bring in fresh minds and create a dialogue between all these forces." It's a goal shared by Hoffmann, who owns a house there that once belonged to Elizabeth Taylor. "I'd like to see art—not just new luxury boutiques—in Gstaad," Hoffmann says.
Works will be installed on the mountaintops, in the town ice rink, and even at Gstaad's private-jet-friendly airport. Not surprisingly, some of the artists, among them Fischer and Hirschhorn, are working with snow and ice. Others are being more recondite. Marclay, best known for his 2011 tour de force video piece The Clock, hopes to screen a Bollywood-inspired video inside one of the ski gondolas. "It turns out that a lot of Bollywood films are shot in the Bernese Alps and, in particular, in Gstaad," says the artist, who was born in California and raised in Geneva. "I discovered this when I was visiting Gstaad to look at different locations. I kept noticing a lot of Indian tourists and thought, What are they doing here? They were on a pilgrimage to see their actors and actresses."
Elsewhere, the artist Not Vital is looking to re-create Sunset House, an architectural work he originally built in Niger in 2005 that allows viewers to enjoy the sun at various times of the day by walking up stairs to different levels. Scarry will present a piece of her own—a skeletal structure, made with the profile poles traditionally used to indicate the height and width of new buildings—on the frozen Lake Lauenen. "The poles are signifiers of public angst when planted in the landscape, as they mark yet another construction site to come," she says. "While to the creator, they hold all the dreams and hopes one wishes for when building a new home. One man's dream is another person's anxiety."
Though "Elevation 1049" was conceived as the first in a series of site-specific shows, Wakefield and Scarry say they are in no rush to commit to their next location or date. "It may be in the Zone of Silence in Mexico," Wakefield says. "Or it may be meters below sea level, but the thematic connection will be there. It won't be bound by walls."
Neville Wakefield and Olympia Scarry, photographed on Glacier 3000 in Gstaad.

Photographer: Lukas Wassmann
House With Rockets, 1981, by Roman Signer, who will create a new piece for "Elevation 1049."
A still from Christian Marclay's Work in Progress, 2013.