New Delhi Model Bhumika Arora Swears By Yoga and Ghee
The model shares her beauty must-haves, exercise obsession, and favorite good-for-you foods.
---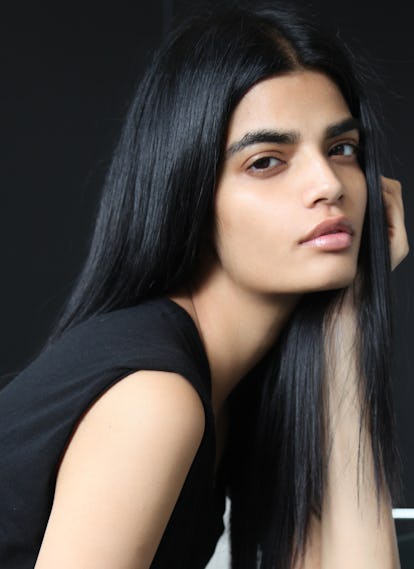 Courtesy of Bhumika Arora.
Fresh off the catwalk of Paris Fashion Week and making her W debut in "Make Love, Not War", New Delhi native Bhumika Arora is a promising up and coming model. With all of the craziness that comes with the fashion fast lane, Arora finds time to relax through natural beauty remedies and yoga. Here, she shares her favorite makeup products, skincare tips, and more.
Medicine cabinet snapshot: Hydrating cream, Neem face wash, Aloe Vera gel and papaya scrub.
A good hair day starts with: A massage with homemade butter fat, Himalaya protein shampoo, Wella SP Balance Scalp Mask and L'Oréal serum. Butter fat is basically edible and an important part of Indian food. My mom makes it by boiling milk so you get thick cream. Then whip the cream enough so it becomes butter-like in texture. When you cook the butter, it becomes ghee, or milk fat, and it's the best thing for hair!
Makeup miracles: For skin, normally I use Chanel Hydra Beauty Serum, and when it's really dry and chilly I'll change to Neutrogena oil-free moisturizer. For lip balm – anything from a trusted brand. Bobbi Brown's Smoky Eye is my favorite mascara.
Nails must be: Nude or really bright. I like a chocolate brown or cherry red color.
Sheet mask or mud mask: Multani Mitti mud mask. It's a special mud mask available in India. I mix it with rose water and apply on the face, since it's a summer mask.
Bronze or blush: Matte bronzer.
Beauty from the inside out: I love to eat papaya as often as possible because it's my favorite fruit. Carrot juice is another one I love. Cucumber I rub on my face, but I don't eat it a lot of it because I'm not a fan of the taste. But I wish I were since it's very good for the skin! I apply aloe vera gel on my face. Neem is good if you can eat it, but it tastes very strong and bitter so I apply it like a mask that I make from grinding the leaves.
Exercise obsession: Yoga and cardio workouts. Yoga is better if done in open air and in the morning, so I usually venture to a rooftop. If I get chance, I go into a garden. I do my cardio mostly in the gym with my trainer and at home.
Drink of choice: Fresh fruit juice.
When you're staying in, you: Do yoga – it's the most relaxing!
A woman should smell like: Narciso Rodriguez.
Watch: Kendall Jenner, Performance Artist, Channels Icons Like Marina Abramovic and Yoko Ono