The New Guard
In this most inauspicious of economic moments, it takes major guts to launch a fashion collection. Meet a crop of freshman hopefuls who have the creative chops—and business savvy—to pull it off.
---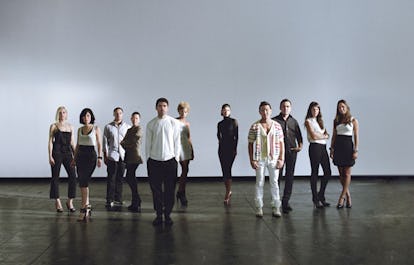 Assembled for this story: 11 aspiring fashion designers representing seven upstart companies, all determined to parlay their considerable talents into viable businesses. Recent history indicates that under any circumstances, this group would face overwhelming odds; the past quarter century has launched relatively few designers working under their own labels to rock-solid security, let alone household-name status. Now, given the recession-wrought havoc, the likelihood of success is even slimmer. Whereas once the fashion world's obsession with what's new and what's next included endless musing about the future generation's potential superstars, today conversation is more likely to focus on whether there are still enough moneyed, interested customers out there to support the legions of already established houses.
Yet the economy has no stranglehold on creativity. To the contrary, tough times have often led to great artistic bursts, in fashion as in other arenas. And if tough times have discouraged some onetime designer wannabes from forging into the fray, those who remain are likely the Darwinian stalwarts, the most ambitious, their devotion to fashion genuine and fierce. For this story, W editors reviewed scores of collections, ultimately choosing the designers not because they're all great-looking themselves (although clearly they are) but for their work. The group represents considerable aesthetic diversity, if less diversity where price is concerned, a matter we discussed at length. We ultimately went with the collections we found most distinctive, fashionwise. (In the crowded contemporary area, there are plenty of appealing clothes, but too many lines lack design distinction.)
The collections selected range from Matthew Ames's regal draping to Bibhu Mohapatra's lavish ladylike clothes to Bensoni's standout feisty contemporary, and from innerwear (The Lake & Stars) to outerwear (Nonoo Lyons). The designers are just as diverse. Though they're primarily based in New York, they hail from Maryland (Michelle Ochs) and Nepal (Prabal Gurung) and cite references from Japanese warriors (Mohapatra) to the Battle of Waterloo (The Lake & Stars) to an erotic novel (Bensoni). But we found similarities as well, starting with designers they admire—Alexander McQueen (Mohapatra, the ladies of The Lake & Stars and those of Nonoo Lyons), Marc Jacobs (Gurung, the Bensoni duo), Proenza Schouler (Mohapatra, Gurung) and Geoffrey Beene (Ames, Gurung). But the biggest similarities are that they all claim dedication to their craft and are ready to face the myriad challenges ahead.
THE LAKE & STARS It's not surprising that Maayan Zilberman and Nikki Dekker of The Lake & Stars chose lingerie for their entrée into fashion. The partners exude cool-girl glamour, an aura apparently not lost on the mutual friend who introduced them when each was working elsewhere designing undies. Is the friend in the industry? "No, he just likes the ladies," Dekker says, giggling. "He thought we'd hit it off—our affinity for underwear and all that."
Hit it off they did, and if they haven't exactly hit the big time yet, they are on an upward trajectory, selling at Barneys New York, Lane Crawford and Holt Renfrew. They have also created a collection for the Smile, on Bond Street in Manhattan, and they're launching swimwear this summer. Yet they didn't rush into a professional partnership to please their randy friend. Rather, the alliance took a couple of years to form once they realized that they shared a vision of lingerie that "wasn't so boudoir and that was more geared toward sportswear," Zilberman explains. The two approach design as if working in ready-to-wear, creating a different look each season. Their fall collection incorporates military and armor motifs, the items named after battles fought at night—Barnet, Franklin, Sedgemoor, Waterloo. "There's definitely a darker, more mysterious feel than in previous collections," says Dekker. "It's called A Shot in the Dark."
BENSONI Sonia Yoon and Benjamin Channing Clyburn radiate savvy. Though their collection is in its fifth season, the former Parsons The New School for Design classmates showed formally during Fashion Week for the first time for fall, opting for a conveniently located (as in close to other shows) walk-through presentation, the kind of in-and-out that overscheduled retailers and editors love.
They based the collection on The Story of O, handling the racy novel's darker themes deftly and infusing a youthful la Parisienne polish with a bit of New York street edge. Their approach has reaped benefits—the collection sells at Nordstrom; Fred Segal; a number of smaller boutiques, including Milk in Los Angeles; and as of this fall, Barneys New York, which Yoon calls "our dream store."
The pair started out with a goal of accessibility, positioning themselves in contemporary, which has proven "pretty convenient, especially in the recession," Yoon says. "I shop and I can't afford a $3,000 coat." Yet they maintain there's no compromising on creativity. The difference between other contemporary lines and theirs, they offer, lies in the details. Clyburn and Yoon even design their own prints, and they look forward to taking that custom notion further via collaborations with artists, although not necessarily of the famous ilk. Says Yoon, "We would just like to work with local artists that we appreciate and respect."
MATTHEW AMES With six fashion seasons under his belt, Matthew Ames could be considered this group's elder statesman. He is also, at first meeting, the shyest, and perhaps the most deliberately artful in his approach to design, favoring geometric cuts, recently softened into draped silhouettes. Ames's clothes conjure images of a grande dame who demands luxury that is ultrapersonal yet demonstrative, not unlike that of a Zoran woman. But then the designer mentions that Erykah Badu bought some pieces at Forty Five Ten in Dallas, and that tidbit instantly expands one's impression of his range.
Ames studied at the Art Institute of Chicago and has worked for Miguel Adrover and Jurgi Persoons. He won the 2009 Ecco Domani Fashion Foundation award for women's design and used the prize money to stage his first New York show for fall. (The clothes are available at Takashimaya.) Ames is a one-man band, working out of his apartment in Brooklyn's Carroll Gardens neighborhood. "I do all the draping, patterns, everything. And everything is made in New York," he says. Although he's comfortable remaining self-financed for now, he acknowledges the inherent challenges. "I have to move slowly," he says, "and I mean, at some point, having some employees would be helpful."
CUSHNIE ET OCHS Carly Cushnie and Michelle Ochs are glass-half-full girls—to a point. While they're not happy the recession hit, they are determined to make it a learning experience. "Our company [is young], so we haven't known any different," Cushnie says. "[The economy] has not been a benefit, but it's helped us grow more consciously and slowly." For fall, their clothes are in New York's Bergdorf Goodman, Aura in Santa Monica and Browns in London.
The two met at Parsons, Cushnie by way of London, and Ochs, Maryland, yet they never collaborated as students. It was only when they pondered that postgraduation first step that they decided to shun the assistant route and go out on their own, together. Their look: a minimalist core manipulated via offbeat constructions. And though their preference is for the kind of short, sexy shapes that look great on their own model-like frames, they insist they don't design for themselves. "We just think of what would be most flattering on a body," says Ochs. Case in point: They share a penchant for knits, which, notes Cushnie, provide dual allure, "warm but also a little bit sexy."
PRABAL GURUNG Prabal Gurung came to the U.S. 10 years ago from his native Nepal to attend fashion school and wound up getting hired at Bill Blass. Though he clocked a volatile five years there, working under designers Michael Vollbracht and Peter Som until leaving the collection in 2008, he developed an appreciation for refined, adult clothes. He describes his ultimate fashion dream as a day spent in Azzedine Alaïa's studio, observing the designer at work. Gurung's collection is undeniably glamorous with a subtle waft of retro—clothes, he has said, "for the thinking man's sex symbol, dare I say, the anti–Paris Hilton." For fall, it has been picked up by Bloomingdale's and several stores in the Middle East. Currently self-financed, Gurung says he's wary of rushing into an alliance. "Anything that sounds too good to be true is too good to be true," he says. "My mantra is that we'll see slow going."
Luckily, then, when it comes to his own wardrobe, he veers toward cool mass market, especially when tinged with Americana. "I just saw this wool jersey hoodie for $35 or $40, and I put it on and it was perfect," he says. "So then I was like, 'It's time to go back to Gap.' It just feels right."
BIBHU MOHAPATRA Probably more than most aspiring designers, Bibhu Mohapatra knows what he's getting into. Prior to launching his own collection, he spent nine years at J. Mendel, eventually rising to design director. He also worked at Halston while a student at the Fashion Institute of Technology and has followed that house's struggle to reclaim its identity and clout.
Mohapatra comes across as a deep-thoughts kind of guy. "Women are best," he says, "in looks that bring out both their natural beauty and inner self." And if his fall inspirations sound imposing—Frank Gehry and 18th-century Japanese warriors—he translated them into dressed-up clothes that are lavishly embellished yet manageable, stylewise, albeit with tony price tags (up to $17,000 for a mink coat). For fall, his first season, he picked up only two retail accounts, Dighton Rhode in Greenwich, Connecticut, and Adresse in Philadelphia. "Everyone is excited, but they don't have the budgets," Mohapatra says, noting that "some major target venues came and saw it more than twice. One has to do the groundwork. I'm paying my dues. It's been superexciting, but it's a little tough."
NONOO LYONS Gotham is known to breed fast friendships, especially among the young and newly arrived. "When I moved to New York, we became very close friends," recalls Misha Nonoo, who hails from Bahrain and London. "And then one day Debs [London native Deborah Lyons] just came and said, like, we should do a line together, and I had the idea of jackets, and within two weeks we had sketches."
Parsons grad Lyons also has a fledgling shoe line, while, in New York, Nonoo found her way to fashion via Jovani, where designer Saul Maslavi "basically taught me everything." Now she and Lyons work together on "literally every single piece." Outerwear just made sense: "You throw one on over a skirt, a pair of pants, jeans. That's the way we dress." Their debut fall collection is available at Takashimaya, Intermix, 66 in London and Sophie's Choice in Lebanon.
The designers' apparent nonchalance does not extend to finances. (The label is currently backed by their families.) Lyons cops to being "like the grim reaper" when it comes to focusing on the bottom line: "You've got to find new ways of doing things and make sure you work with the right people," she says. On the Nonoo Lyons to-do list: a jeans collaboration to facilitate retail merchandising. Otherwise, these coat ladies have no desire to jump into full-on ready-to-wear anytime soon. Says Nonoo, "We like being niche at the moment."
Hair by Rutger/See Management using Kerastase and John Ruidant/See Management for Redken; makeup by Daniel Martin at The Wall Group using Lancome and Stevie Huynh at The Wall Group. models: Tati, Marina Jamieson, Alexandra Agoston, Shu-Pei and Paulina Nerodzik, All at Next.