Secret Ingredients
The beauty world's latest discoveries—from the precious (jade powder) to the prosaic (alfalfa).
---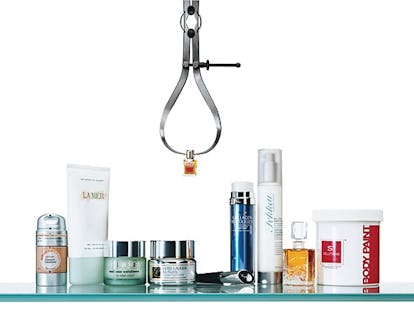 1 | Perfect Match
Complexions invariably get lighter or darker depending on the season. So each bottle of Revlon Custom Creations Foundation lets users blend two pigments to create the ideal match for their skin. In six shades. $13.99; at drugstores.
2 | La Foam
The new La Mer Cleansing Foam is fortified with precious jade and pearl powders, which contain nourishing amino acids. Although the line already offers a range of cleansers (including a lotion, a gel and a fluid), this newest entry is the mildest yet. $65; at Saks Fifth Avenue.
3 | Tea Time
Clinique Redness Solutions Daily Relief Cream calms irritated complexions with white, yellow and red teas. The blend has an instant cooling effect on inflamed areas and a very subtle green tint to counteract redness. $39.50; at Macy's.
4 | Against the Clock
Estée Lauder debuted Re-Nutriv, its classic antiaging cream, nearly 50 years ago. The latest product in the line, Ultimate Youth Creme, is the first to contain Resveratrate, an antioxidant and anti-irritant that aims to slow down the rate at which skin cells die, keeping the signs of aging at bay. $250; esteelauder.com
5 | Small Wonder
Aftelier Perfumes has unveiled one of the most precious scents we've seen—the thimble-size 2.2 ml Parfum Privé. Unusual notes like osmanthus flower and musky ambrette are combined in a warm floral that's good to the last, luxurious drop. $125; aftelier.com
6 | Very Thierry
As part of his debut cosmetics line, designer Thierry Mugler is unleashing a vamp-worthy new invention, Vinyl Gloss for Eye Lashes. The black acrylic resin formula can be layered over mascara or worn alone for a rich, wet look that's a sexy twist on a classic. $49; at Bloomingdale's.
7 | Going Green
When you think skincare, alfalfa doesn't exactly come to mind. But L'Oréal Paris claims an extract of the healthful plant—used in its new Collagen Remodeler Contouring Moisturizer for Face and Neck Night—will promote collagen production and help skin stay firm. $19.99; at drugstores.
8 | Hair Raising
Fekkai's All-Day Hair Plump infuses hair with hyaluronate, a derivative of the skin-plumping wonder, hyaluronic acid. The leave-in treatment instantly boosts volume by locking moisture inside strands. Vegetable proteins provide long-term strength. $95; neimanmarcus.com
9 | Bold and Beautiful
Fans of Red Flower's earthy-smelling body scrubs and candles will fall for the line's first perfume offerings. Champa, for instance, combines notes of champa flower, rose, frankincense and bitter orange for a musky bouquet that is far from subtle. $86; redflower.com
10 | Paint Job
S-Solutions Body Paint—an in-shower treatment that's more wholesome than it sounds—contains skin-tightening caffeine and soy protein. The product is meant to be applied from ankle to collarbone and rinsed off after 10 minutes. $65; ssolutionssouthbeach.com