New Face of Shiseido Yuka Mannami Can't Go Anywhere Without Her iPad
The Japanese model and new girl crush shares her Tokyo haunts, street style favorites, and travel secrets just in time for Tokyo Fashion Week.
---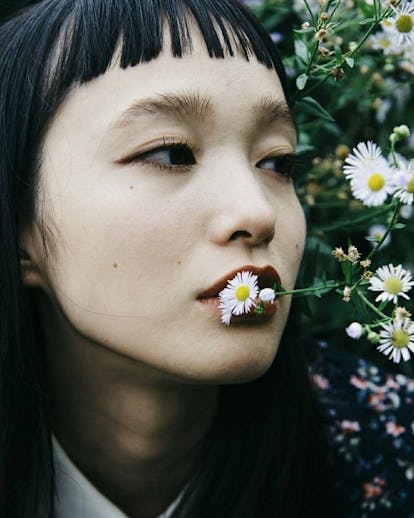 @yukamannami
Karl Lagerfeld made his couture debut with Fendi for the Fall 2016 season in Paris. A few months later, he took the "haute fourrure," as it's now nicknamed, on the road, touching down in Tokyo for an additional runway production. It was there that Japanese model Yuka Mannami made her catwalk debut, an auspicious start for a model whose credits now include Creatures of the Wind, DKNY, Off-White, and Fendi ready-to-wear.
"It felt like being in a dream," the 25-year-old model recalled of that first Fendi show over email earlier this week. It was her first month as a professional model; she had recently shot a campaign for Uniqlo when she was called up for Fendi. "I was very tense throughout the show — that made a strong impression on me."
With her blunt-cut bangs and striking, porcelain ghost look, she's proven a natural on the catwalk and in front of the camera (earlier this month, she was announced the new face of Shiseido), but Mannami didn't always envision a career in fashion. As a teenager, she pursued ballet until she stopped dancing to attend nursing school. She tends towards nature in her free time (hiking, climbing, exploring), but like any good Tokyo denizen she also knows the best spots for vintage shopping.
How would you describe your style: Something a little bit incongruous.
Favorite store(s) in Tokyo: Daikanyama Tsutaya.
Favorite vintage store(s) in Tokyo: The Four Eyed.
Best spots to hang out in Tokyo: Kouenji.
Nighttime look: A big t-shirt.
Style icons/inspirations: I find myself always living in haute couture.
Best recent discovery: I noticed that when I finish applying an eye mask, I can sleep well on airplane rides.
Last purchase: Baby powder.
Lusting after: A beautiful house!
What's something you always carry with you in your bag: iPad, baby powder, battery bank.
Travel essentials: iPad, cell phone, wallet.
Something you would never wear: The color pink.
Favorite accessories you own: An antique gimmick ball.
Fashion week essentials: iPad and Google maps!
Favorite street style icon: Fernanda Ly!
Something you can't wait to wear when it gets cold out: My favorite coat, vintage Biba's!
Music you're listening to right now: The Cinematic Orchestra.
Something you're reading right now: Manga.
Instagram accounts you like to follow: @templeofleaves; @abanddoned; @shogosekine0319; @mitograph.