Rethinking Scent
Not an amber fan? How about vanilla? Don't be too quick to judge. These new fragrances blend familiar ingredients in ways that may alter their reputations forever.
---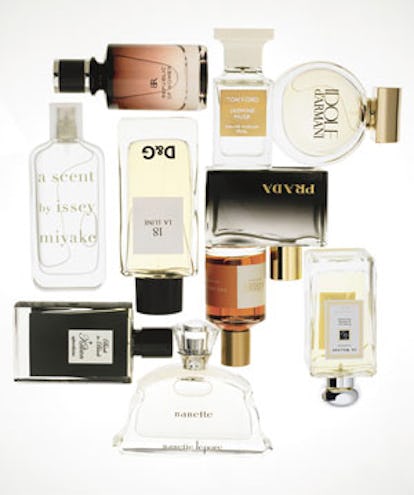 1| Spicy Cream Once the gourmet note, vanilla has fallen from its perch to become the scent of choice in bathroom deodorizers. Jo Malone has decided to restore its reputation by updating it with a licorice accent in her Vanilla & Anise Cologne. Vetiver adds a touch of macho, to boot. $100; at Bergdorf Goodman, New York.
2| Secret Garden Strange Invisible Perfumes' Fire and Cream first suggests outdoorsy orange blossom and white lavender, then dries down to a vetiver, sandalwood and patchouli warmth. $145; siperfumes.com
3| Feisty Lady Neroli is one of fashion designer Nanette Lepore's favorite smells, and it leads the way in her third scent, Nanette. Rose and pink peppercorn add spunk and sweetness. $68; at Nordstrom.
4| Tobacco Road With bergamot, nutmeg, coriander and cardamom, Back to Black, Aphrodisiac by Kilian might be called a spicy blend. However, the tobacco note rules here, making it very male-friendly as well. $225; at Bergdorf Goodman, New York.
5| The Perfect Encore Some beauty companies debut a fragrance every six months. But fashion icon Issey Miyake waited nine years to launch A Scent, his sheer green floral that's a blend of hyacinth, galbanum, verbena and jasmine. $65; at Neiman Marcus.
6| Party of Five The D&G Fragrance Anthology, five scents that express a range of personalities, can all be worn by both genders. However, the lily and tuberose La Lune (shown here) and the melon-y L'Impératrice lean toward the feminine, while the ozonic Le Bateleur and the spicy L'Amoureux are a bit more masculine. The fifth, La Roue de la Fortune, is a pineapple-patchouli mix. $65 each; at Bloomingdale's.
7| Sweet and Low-key Lychee is what you first smell in Republic of Women by Banana Republic, but quickly the scent reveals its subtle, fresh, woody aroma. $48; at Banana Republic.
8| Musk Revisited, Again After launching White Patchouli last fall, Tom Ford is back with White Musk Collection, four different scents that highlight the sensuous note. Musk Pure has a metallic edge; Urban Musk adds amber, pepper and cumin; White Suede is a spicy rose; and Jasmine Musk (shown here) mixes musk with jasmine and ylang-ylang. $180 each; at Neiman Marcus.
9| Seaside Fruit Stand Lovers of Giorgio Armani's Acqua di Gio will enjoy his bright, light Idole d'Armani by Giorgio Armani (out in October), whose fresh notes include clementine, pear and jasmine. $62; at Saks Fifth Avenue.
10| Amber Lite Miuccia Prada based her maiden fragrance on amber, but knowing that not everyone is fond of the scent, she made sure her latest, Prada L'Eau Ambrée, counters the strong, creamy note with citron and rose, turning it into something undeniably fresh and wearable. $117; at Neiman Marcus.