Personal Best
When designers make clothes for themselves and their friends, everybody wins.
---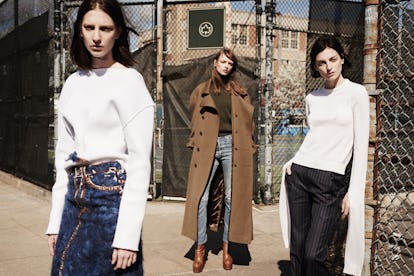 Photographer: Ward Ivan Rafik Stylist: Vanessa Chow
Clara Deshayes, the willowy 25-year-old Parisian DJ known by her futuristic nom de spin, Clara 3000, is obsessed with Chet Baker, the films of Josh and Benny Safdie, and the work of the rising photographer Harley Weir. She cools a bit on the subject of fashion. "I buy one pair of pants a year," she says, adding begrudgingly that they're Céline. "And I wear them with ratty old T-shirts." Her style has less to do with labels than with attitude, she insists. And in spite of her reluctance to be designated as such—or perhaps because of it—she has become something of a muse, inspiring a handful of young designers whose collective ambition is to directly address their generation and its concerns, curiosities, and cultural references. "I think we're all trying to create things that are part of our time," Deshayes says. "It's almost an urgency."
Certainly, that compulsion is what led Demna Gvasalia, 34, a Georgian-born, Paris-based designer who has worked at Maison Martin Margiela and, more recently, Louis Vuitton, to launch Vetements last year. Frustrated with the fashion system and its imperative to produce more collections for an increasingly abstract global customer, Gvasalia started meeting with an intimate group of former colleagues and fellow grads from Antwerp's Royal Academy of Fine Arts. "We were beginning to hate our profession—which isn't right, because we love fashion," he recalls. "So we would have some wine and ask, 'What's wrong? How do we fix it?'"
The answer, they decided, was to start a line of singular pieces that met their own needs and wants, rather than those of retailers and editors. "We began by defining the basic items we were craving—a men's double-breasted coat, for instance," explains Gvasalia, who initially ran the company out of his living room. "Then we would figure out what we could do with it to make it relevant and stand out." To that end, faded blue jeans were given jagged hems, sleeves on a ribbed turtleneck were lengthened to cover the hands, and said coat was cut way oversize. "By making the sleeves look like they're falling off, or the shoulders like they're slouching, you create a nonchalance," Gvasalia says. "The construction dictates the attitude." And the overall result is a smart, streetwise uniform for an individualistic new style generation. Three seasons in, Vetements has become the coolest thing going, and the collective's fall presentation, held at Le Dépôt, a grimy subterranean gay club, where editors and buyers perched on bar stools and Clara 3000 played thumping tracks, was the must-see show of Paris Fashion Week.
In fact, the most talked-about collections for fall were not from the usual bigwigs but rather from a small camp of newcomers who are staging a slow-burn revolt. Among them is Faustine Steinmetz, who, like Gvasalia and crew, puts an arty, avant spin on familiar, everyday clothes. The 29-year-old French designer, who is based in London, spends endless hours dyeing, shredding, knotting, painting, and weaving yarn into nubby white T-shirts and trompe l'oeil jeans. Her fall collection, inspired by the lush digital works of the British artist Matthew Stone and presented in a gallery setting created by the British design darling Thomas Petherick, included brushed-wool "jean" skirts and pants covered in goopy strokes of indigo silicone. "I wasn't interested in fantasizing about a glamorous woman," says Steinmetz, whose line is in its second year. "Rather, I wanted to make normal, down-to-earth clothes in a unique and interesting way." And, as with the Vetements collective, her dissatisfaction with the industry—in Steinmetz's case, its wasteful and unethical tendencies—spawned her fast-fashion-in-a-slow-manner philosophy: "Clothing needs meaning; it needs to be justified. I don't like fashion where there is no thought process."
For that reason, Coperni's Sébastien Meyer and Arnaud Vaillant, who have just been tapped to be the artistic directors of Courrèges two years after launching their label, spend time before each collection contemplating what their "girl" needs. "It's not about just doing a beautiful dress," says Vaillant, 25, adding that the challenge is to design wearable clothes that are also creative and experimental. For that, they rely on clean, modernist lines and unexpected details, as in fall's patchwork skirts made from circles of kangaroo leather, and knit tops with extra-long sleeves that can be wrapped around the wrists or left to hang. For ideas, they regularly turn to friends such as Lolita Jacobs, a studio manager for the stylist Marie-Amélie Sauvé, who, like her close buddy Clara Deshayes, is a de facto poster child for fashion's new youth movement. "Lolita is this cool Parisian girl," Vaillant says. "She'll come by the studio, try things on, tell us what she likes."
Change is afoot in other fashion capitals, as well. Off-White's Virgil Abloh, a 34-year-old Chicago native who works out of Milan, rightfully earned a place on the short list for this year's LVMH Young Fashion Designer Prize—alongside Vetements, Faustine Steinmetz, and Coperni—for his very modern incorporation of pop culture references, both high and low. "Girls wearing Céline and their boyfriends' Air Force 1s" was how he described his street-chic muse to The New York Times. And then there's Eckhaus Latta, the product of Mike Eckhaus and Zoe Latta, two recent Rhode Island School of Design grads, now based in New York, who present their crafty creations on musicians, artists, and transgender models whom they consider part of their inner circle.
"Everything is about the new generation," surmised the renowned fashion plate Anna Dello Russo in a video interview following Alessandro Michele's undone and rather quirky debut for Gucci. Dressed in leather hot pants and a pair of gold platforms, she was not above admitting, "I feel a little bit old-fashioned."
Faustine Steinmetz top and skirt. Vetements coat, turtleneck, jeans, and boots. Coperni sweater and pants.

Photographer: Ward Ivan Rafik Stylist: Vanessa Chow
Eckhaus Latta sweater and jeans. Vetements jacket, sweater, and boots.

Photographer: Ward Ivan Rafik Stylist: Vanessa Chow
Off-White c/o Virgil Abloh coat, sweater, and bag; Vetements boots. Coperni jacket, sweater, and skirt; Missoni shoes.

Hair by Shin Arima for R + Co at Frank Reps; Makeup by Marla Belt at Streeters London; models: Marine Deleeuw, Ros Georgiou, Rose Smith, Daga Ziober at the society management; digital technician: Allan E. Schoening; photography assistants: Shadi Best, John "Duck" Feeney; fashion assistant: Alban Roger.

Photographer: Ward Ivan Rafik Stylist: Vanessa Chow
Hair by Shin Arima for R + Co at Frank Reps; Makeup by Marla Belt at Streeters London; models: Marine Deleeuw, Ros Georgiou, Rose Smith, Daga Ziober at the society management; digital technician: Allan E. Schoening; photography assistants: Shadi Best, John "Duck" Feeney; fashion assistant: Alban Roger