New On The Block
Bonhams is making a bid for more of the New York market. The British auction house is moving from the sixth floor of the Fuller building on 57th Street to a new, three story location...
---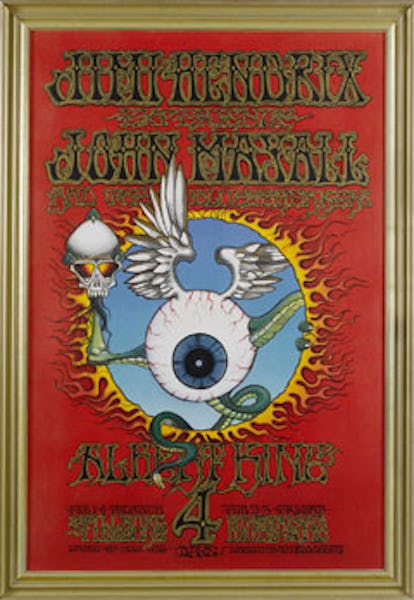 Art world watchers will recognize the move as part of Bonhams chairman Robert Brooks' designs on rivals Christies and Sotheby's. Although his company ranks third in size behind the two houses, Brooks is aggressively trying to make up ground: he is also pursuing business in the Middle East, specifically Dubai.
And perhaps because Bonhams isn't as well-established in the U.S., it's a lot less snobby. On May 14 they will be auctioning rock memorabilia from the collection of Peter Golding, the owner of 70s London boutique ACE (a destination for the rockers of the day) and the man to blame for bleached denim. (He made his fortune from what he claims was the first "designer jeans" line). Among the offerings will be a rare Jimi Hendrix poster (expected to fetch $350,000) along with other works commissioned for the Grateful Dead, Pink Floyd, The Sex Pistols and Kiss, among others.
Above: A Jimi Hendrix poster being auctioned by Bonhams.