Five Minutes with the Kosann Sisters
Danielle and Laura Kosann, the founders of food and fashion site The New Potato, divulge their beauty secrets.
---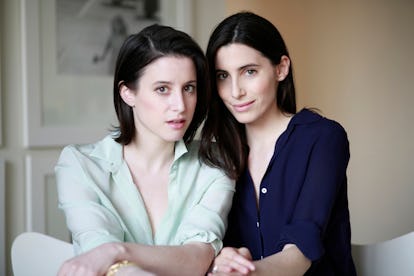 What's your first beauty memory? Danielle: Our dad was President of Anna Sui when we were kids, so he used to bring home these amazing makeup cases filled with her dolly head nail polishes, perfumes and lipsticks. I just remember feeling like I had won the lottery! The colors and packaging were so amazing, I used to line them all up in my bathroom as decoration.
Laura: Hard Candy nail polish. There was nothing cooler, better, or more addictive. That and Lip Smackers Dr. Pepper.
What was your biggest beauty blunder? Laura: I chopped my hair to my ears in middle school. I remember it vividly because it was right before my cousin's wedding, so there will always be lots and lots of photo evidence. It was kind of like having the "Rachel" from Friends haircut in the early seasons, but as a gawky middle-schooler with a retainer.
Danielle: Going to a tanning salon with my friends in high school! I only did it once or twice, but thankfully I have since embraced my paleness.
What's your 5-minute beauty routine? Danielle: I use Embryolisse moisturizer every morning, followed by Bobbi Brown tinted moisturizer. It's the only product I always, always put on or I feel completely naked. I'll do a little under eye concealer (I like the one from Chanel) if I feel like I need to, and then a little bit of Bobbi Brown bronzer just on my cheekbones and jawline. Then NARS Orgasm blush and Tom Ford mascara. I also put on Tom Ford Jasmin Rouge perfume if I remember!
Laura: Erno Laszlo's pre-cleansing oil, Sea Mud Deep Cleansing Bar, followed by his Light Controlling Toning Lotion on my T-zone and Hydraphel Toner on rest of face. I moisturize with Debra Wattenberg Ultra Light Moisture Dew Cream. Makeup's pretty simple: Just a quick layer of Bobbi Brown tinted moisturizer or BB cream; a little Dior Show Mascara, some Farmacy Citrus Lemongrass Lip Bloom maybe blended with a little pop of YSL Rouge Lipstick, and a once over with the Bobbi Brown Shimmer Brick Compact Colorless.
If you had an extra ten minutes in your routine, how would you spend it? Laura: If I were going out at night, I'd take more time on my eyes. It's definitely the part of my routine I neglect, or get impatient with. And then whenever I have my makeup done and get a smoky eye, or take the time to do something interesting myself with eyeliner and eye shadow, I always find myself looking in the mirror, thinking "Wow, this actually makes a big difference."
Danielle: I like to do a bit of eyeliner but I don't usually do it in the morning unless I have an important meeting or something because I tend to rush it and then it gets messed up. When I go out at night I'll take a little time to do a smoky eye, which I love. I line the top of my eye with Lancôme liquid liner and then line a bit of Bobbi Brown shadow over that and underneath in the corners (I hate the way it looks when I line my entire eye). Then I use Aquaphor to smudge it. I'll also fill in my eyebrows a little at night. I have kind of unruly brows and it makes such a big difference when I fill them in a little bit.
What beauty items are in your purse? Danielle: Caudalie beauty elixir, Aquaphor, Tom Ford Crimson Noir Lipstick
Laura: Yves Saint Laurent Touche Eclat, Farmacy Lip Blooms (either lavender mint or citrus lemongrass), La Roche Posay hand cream and Caudalie Beauty Elixir.
What's your beauty peeve? Danielle: Anything overdone in general. I like a natural look.
Laura: I don't like the look of really thick foundation! Also not a big fan of oil-free tinted moisturizer, just because for me it translates very chalky.
What are you currently obsessed with? Laura: I recently got a facial at Erno Laszlo and I think my skin was the softest it's ever been for a straight month afterwards. I also got some of their product, like the pre-cleansing oil and sea mud deep cleansing bar, which have been great for my routine. I also always love Dr. Wattenbergs ultra-light moisture dew cream. Been using it forever!
Danielle: Tata Harper face masks. They are amazing.