New Twin Peaks Footage Includes More Than Just Trees
The red room, Double R Diner, and more buildings return in the latest tiny sneak peak of Twin Peaks.
---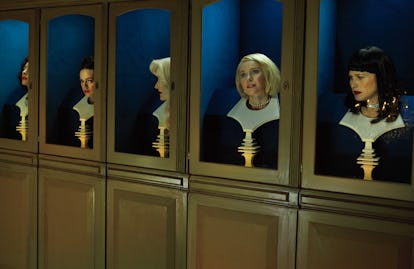 Photographs by Alex Prager, Styled by Patrick Mackie. Hair by Giannandrea; makeup design by Fiona Connon; makeup by Levi Vieira for MAC Cosmetics. Set design by Thomas Thurnauer. Lighting Designer: Matthew Libatique; Key Gaffer: Jeffrey Ferrero; Key Grip: Tina Dubbe; Production: Josie Heiman; On-Set Production: Linsday Heimer; Retouching: Contact Photo Lab; Photography Assistants: Tyler Parker, Blake Brent; Fashion Assistant: Diana Choi; Hair Assistants: Jessica Mishler, Nancilee Santos; Makeup Assistant: Emily Jade Elliott; Set-Design Assistants: Aaron Wiley, Cliff Collins; Special thanks to Siren Studios
The promotion leading up to the return of Twin Peaks this month is purposefully frustrating. Fans already know that they're not going to get much actual information about what to expect. A lot of the marketing is just allusions to the original series, while the number of clues about what may happen with the revival amount to next to nil. Though, previous clips have given us a little sneak peak: there was mysterious footage of trees. Yes, literally just trees, but it was still the only new footage released.
Well, now Showtime has released a little something new, and it's more than trees. Not much more, but still something.
The clip features new footage of some of the show's most iconic buildings and locations, including the sheriff's department, Fat Trout trailer park, Double R Diner and the iconic red room. Though, there are some cars (at least one of them in motion, and most late model!), and even someone's leg stepping into a puddle—thus marking the first time an actual person has appeared in character in the town of Twin Peaks in video promo material. No telling who that leg actually belongs to.
Thus, this confirms that the new Twin Peaks limited series will indeed take place in the town of Twin Peaks. That might seem a painfully obvious thing to expect, but the mystery around the series means that fans shouldn't assume anything. There's even rumors afoot that some of the retuning cast members may be playing entirely new characters.
So, with trees and buildings out of the way, who knows what else we'll get in terms of preview footage. A montage of the food of Twin Peaks? Some animals? Maybe, eventually, an identifiable character in full? Don't hold you breath.
The series is set to debut on Showtime in May with the planned 18 episodes running until August.
Related: Laura Dern, Naomi Watts, Patricia Arquette, and Hailey Gates Open Up About Working with Legendary Director David Lynch
_Laura Dern and Naomi Watt_s Tease Twin Peaks: