BREAKING DAVID LYNCH NEWS
New Twin Peaks Teaser Finally Shows Us Familiar Faces
Agent Cooper, Deputy Hawk and "Big" Ed Hurley still look very concerned about what's going on in Twin Peaks twenty-five years later.
---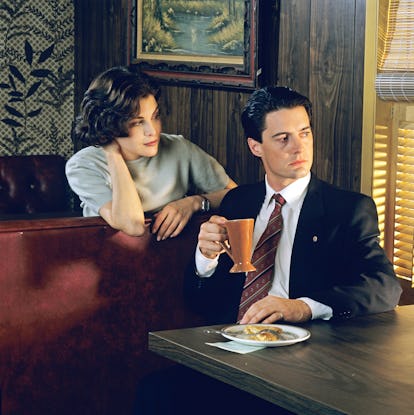 ABC Photo Archives
The Twin Peaks marketing has been cryptic, and genius. The first little video footage was merely of trees. Then, last week, we got a short glimpse of what some of the town's most famous sets and buildings look like now. Finally, just weeks before the revival's debut on Showtime, we have actual video footage of what some classic Twin Peaks characters look like now.
Titled "Some Familiar Faces 25 Years Later" the clip lasts just 49 seconds long, and less than half of that is actually devoted to those famous faces. Still, with the exception of Kyle Maclachlan's Agent Dale Cooper (whose appeared in static form on a teaser poster), it's the first we've seen of these actors in character in ages. There's six characters in all, and they all look a bit worse for wear and slightly concerned about, well, something. Clearly life in Twin Peaks hasn't gotten carefree and joyous in the two-and-half decades since we've last visited.
Not that we can surmise too much from the clip. There's only one word uttered: Michael Horse's character Deputy Tommy "Hawk" Hill affirming "really." Whatever he's affirming must be big, because Agent Cooper look completely shocked and worried by it.
We also get quickly reacquainted with Everett McGill's "Big" Ed Hurley, who looks to be contemplating something unpleasing over a cup of coffee and what looks to be soup. David Lynch regular Harry Dean Stanton is, of course, back to reprise his Carl Rodd character who had only previously appeared in the series sequel movie Twin Peaks: Fire Walk with Me.
Grace Zabriskie's Sarah Palmer, mother of Laura, is shown eagerly eyeing the vodka section of the local supermarket. Harry Goaz's Deputy Andy Brennan meanwhile seems to be up to something on the side of a road. Then we're left to assume that it's Hawk and Cooper in conversation.
What does this all mean? Who knows? The Twin Peaks revival is wrapped in intentionally mystery. Maclachlan is said to be the only actor who actually got to read through the scripts of all 18 episodes. Even people involved may not know what's going on for sure. It's not like the show necessarily needs to attract new fans to be a success, all it needs to do is peak the interest of those who watched the original or discovered it in the year's since. They'll get to decide if the buzz is worth it when the first episode premiers on May 21.
Related: Laura Dern and Naomi Watts Open Up About David Lynch, And Tease Twin Peaks
Laura Dern, Roseanna Arquette and Naomi Watts discuss working with David Lynch: