Have a Very W New Year's Eve
All the shining, sparking inspiration you need is right here.
---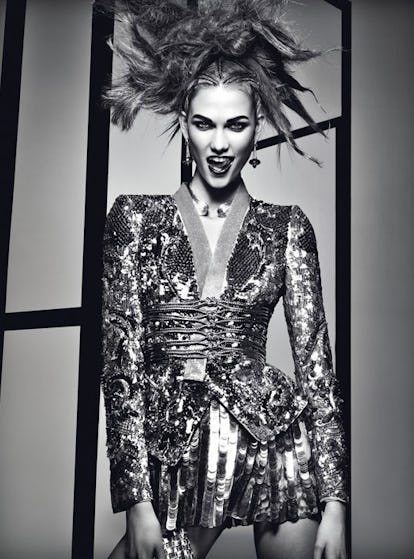 Before the resolutions and repentance of 2014, there will be plenty of parties and revelations. We scoured our visual archives to get in the mood for the big night ahead—and found plenty for fashion, décor, and (perhaps) behavior.
New Year's Eve 2018: 15 Dazzling, High Fashion, Sorta Tipsy Inspiration Images to Get Your Party Started
Bend it like Bundchen in June 2005's "Hothouse Flower," photographed by Juergen Teller and styled by Jane How.

Juergen Teller
Up the ante à la Karlie Kloss in April 2012's "Drama Queen," photographed by Craig McDean and styled by Lori Goldstein.

Craig McDean
Shine bright like a Christoph Steinmeyer skull from July 2010's "Gloria Takes Manhattan," photographed by Juergen Teller.

Juergen Teller
Overdosing on accessories in March 2012's "The Night Is Young," photographed by Mario Sorrenti and styled by Edward Enninful.

Sorrenti Mario
Flooded with feathers in June 2010's "Best in Show," photographed by Craig McDean and styled by Alex White.

Craig McDean
Getting graphic in March 2012's "The Night Is Young," photographed by Mario Sorrenti and styled by Edward Enninful.

Sorrenti Mario
Going for the gold in April 2011's "One of a Kind," photographed by Craig McDean and styled by Alex White.

Craig McDean
Channeling Tippi in April 2013's "A Muse You Can Use," photographed by Willy Vanderperre and styled by Olivier Rizzo.

Vanderperre Willy
Taking it all off in April 2009's "Lush Hour," photographed by Stephen Lewis and styled by Marcus Teo.

Stephen L. Lewis
Beyonce in July 2011's "FIERCE, FEARLESS, FEMALE.", photographed by Patrick Demarchelier and styled by Alex White.

Patrick Demarchelier
Edie Campbell in March 2016's "Blurred Lines", photographed by Alasdair McLellan and styled by Edward Enninful.

MCLELLAN ALASDAIR
Lily Donaldson in January 2012's "Best In Class", photographed by Emma Summerton and styled by Edward Enninful.

Summerton Emma
Laura Dern in September 2007's "Fashion Party", photographed by Juergen Teller and styled by Camilla Nickerson.

Teller Juergen
Anna Cleveland in September 2015's "Back in the Lime Light", photographed by Mert Alas and Marcus Piggott and styled by Edward Enninful.

ALAS MERT AND PIGGOTT MARCUS
Charlize Theron in August 2017's "Bond Ambition", photographed by Alasdair McLellan and styled by Edward Enninful.

ALASDAIR MCLELLAN