Fast and Luxurious
A preview of the New York Auto Show was not a typical gala.
---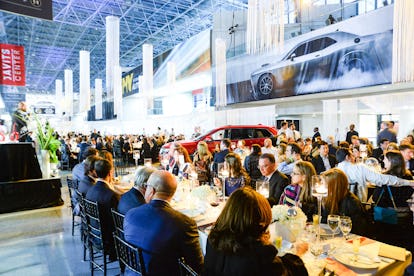 The scene at the Jacob Javits Center Thursday evening was not that of your average charity gala. Pinstriped suits outnumbered stilettos, martinis trumped champagne and the conversation lent more towards the stitching of the leather seats in Bentley's Flying Spur model than the stitching on the ladies' high fashion ensembles.
Then again, this was the annual East Side House Settlement Gala, sponsored by Jeep and SRT and Chopard, which coincides with and offers a preview of the yearly New York International Auto Show, while raising funds for the non-profit that provides educational and social services to families in the South Bronx.
And so it was not uncommon to hear one gentleman remark to his companion "I just need one for the city and one for the Hamptons," as he cruised the Aston Martin booth. Or to find another middle-aged fellow explaining with the excitement of a kid unwrapping his favorite toy at Christmas that the Alfa Romero's had until now been off the US market for years. "I have the spider convertible," he said, adding, "You would look great in that one."
Is that like a Batmobile?
The silent auction was certainly in favor of the less gentle sex, with offerings including a Hugh Hefner signed portrait (minimum bid $700) and a Cristiano Ronaldo-signed Real Madrid jersey ($900).
As dinner guests wrapped up their main course of pave de boeuf, Sotheby's auctioneer Courtney Booth took to the stage.
"I went to Princeton and now I stand in front of people and beg for money," she quipped. "My parents are so proud."
Well, she did her profession proud, coaxing out $5000 for a Mets game Little League lot, $5,500 for dinner for four at Rao's (at Arie Kopelman's table), $8,000 for a Chopard watch and motor club package and finally, $60,000 for a spanking new 2014 Jeep Grand Cherokee SRT (a red model of which was displayed throughout the meal).
Even if you didn't go to Princeton, you could tell East Side House Settlement came out a winner in that math.
Photos: Fast and Luxurious
The East Side Settlement Gala. Photo by BFAnyc.com.
Fe Fendi. Photo by BFAnyc.com.
Courtney Christensen. Photo by BFAnyc.com.
Alessandro Fendi and Barbara Tober. Photo by BFAnyc.com.
The New York Auto Show Preview at the East Side Settlement Gala. Photo by BFAnyc.com.