The New York City Ballet Gets a Stunning New Digital Art Installation
Finnish artist Santtu Mustonen's work takes over the David H. Koch theater's Promenade.
---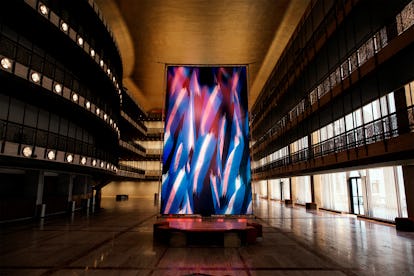 Photo by Alex di Suvero.
It may be winter outside the oversized windows framing the northern side of the David H. Koch Theater at Lincoln Center. But on Saturday, it will feel more like spring on the second-floor Promenade space thanks to the Brooklyn-based Finnish artist Santtu Mustonen. In the fifth rendition of its popular Art Series (past artists have included JR and Dustin Yellin) the New York City Ballet has given Mustonen carte blanche to transform its theatrical home. The result is the work Cross-Pollination, a colorful, abstract installation based on an assortment of spray-paint paintings Mustonen made, which have been animated digitally.
"I've been thinking about pollen and how it moves in the water," Mustonen said of the initial seed of his work, which both reflects the movement of dance and the notion of viewers and audience members interacting, or cross-pollinating (hence the title). "When you're doing a painting, you're recording a mark. But when you look at dance, you can only see the movement and then it disappears. I tried to combine those two things: it's massive brushstrokes going up and down, but it doesn't really leave a trace. But you can see the beauty of the movement."
Cross-Pollination, which is on display throughout the NYCB's winter season (including the three Art Series performances on January 28, February 3 and February 23) and is open to the public February 18 – 26, is projected on four screens on the Promenade: one each behind the Elie Nadelman sculptures that bookend the space and two that form a tent in the center of the room, accompanied by a score from the Finnish musician Tuomas Alatalo.
"When the colorful, dance-like elements [of the animation] are opening up, you can think about it as a dance or you can think about it as something that's blooming," Mustonen explained. "I never want to give too many hints—I really like that people can build the stories in their heads because they might have even better stories than I have."