New York Fashion Week's Most Popular Accessory Will Be a Hot Pink Pin, Thanks to the CFDA's New Partnership with Planned Parenthood
Fashion Stands with Planned Parenthood is giving models, designers, and showgoers alike a neon-pink chance to stand up for women's rights.
---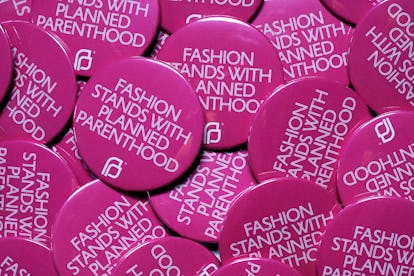 Courtesy of the CFDA
From obscure DM threads on Instagram to lines across New York that stretched for several blocks, last year, pins became an online craze popular enough to reach even all the way up to Kim Kardashian. But of course, like many things in the Trump era, they've since taken on a new significance. Which is why, on the heels of the safety pins worn post-Brexit and Lola Kirke's "F— Paul Ryan" button atop her pink floral gown at the Golden Globes, this season, the Council of Fashion Designers of America has teamed up with Planned Parenthood for Fashion Stands with Planned Parenthood, an initiative rolling out on Monday just in time for New York Fashion Week.
Thanks to designers and CFDA members like Tracy Reese, the hot pink buttons have so far garnered the support of 40-plus brands, including Proenza Schouler, Carolina Herrera, Diane von Furstenberg, Public School, Narciso Rodriguez, Tory Burch, Prabal Gurung, and Zac Posen. Each has pledged to either wear the buttons as they take their bow at the end of their show or distribute them to models and show attendees.
The initiative's goals, though, stretch much further than the front row. Whether worn by designers, showgoers, or photographer-attracting peacocks, the buttons are a show of support for the nonprofit in a time of its defunding by politicians who've pegged Planned Parenthood–which, among other things, provides healthcare vital to millions of people, many of whom are low income and in rural areas mostly lacking in alternative option–unworthy of federal tax dollars.
The pin is a call to action in the increasingly political industry, whether on the streets or on social media, where wearers are encouraged to showcase their support with the hashtag "#IStandwithPP." "Civic responsibility is an important CFDA pillar," says CFDA president and CEO Steven Kolb. As Miley Cyrus and the artist Marilyn Minter can readily attest, it's a show of support that'll no doubt bring its share of internet trolls. But it's also a rare trend dozens of designers can get behind—and one a bit more fashion week-ready than homemade, pink knitted pussy hats.
Meet the Women who Made History as Organizers of the Women's March on Washington: