Front Row Score Card: Which Celebrities Made the Most Fashion Week Appearances?
From Teyana Taylor to Kelly Osbourne, here's a breakdown of the thirstiest stars of New York Fashion Week.
---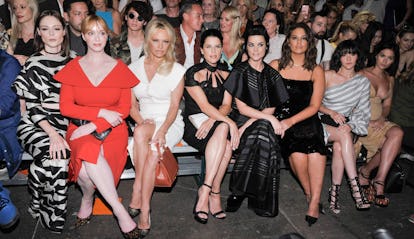 FilmMagic
At New York Fashion Week, the front row is filled with plenty of familiar faces who are attending with purpose: buyers, editors, and various patrons. Then, there are the people who make you think: who are you, and why are you everywhere?
Don't worry. We've crunched the numbers to find out which celebrities attended the most shows and presentations over the past nine days. First, we went deep on a representative selection of the front row names to determine who, exactly, was there. Then we counting up the number of shows each celebrity was photographed attending. Finally, we double checked the data using their Instagram accounts (because if you weren't pap'd at a fashion show or didn't post about it on Instagram, were you even really there?).
Mind you, we left actual fashion professionals (some of whom might actually have higher celebrity quotients than some of the people on this list) off, because, well, attending shows is their actual job. Our delineation between celebrity and merely influencer was also a bit subjective (so, our apologies to all those armed with over 100,000 Instagram followers who have the energy to run around to dozens of events this week and were left off of this list).
Keeping that criteria in mind, here are the most ubiquitous front row faces from New York Fashion Week:
Who: Cynthia Erivo, the most recent winner of the Tony Award for Best Actress in a Musical.
Notable Companion: At Vera Wang, Erivo was seated next to Simone Biles and Anna Wintour.
Shows Attended: 7 (Michael Kors, Vera Wang, Tori Burch, Tracy Reese, J. Crew, The Blonds, and Marissa Webb).
Additional thoughts: Amazingly, Erivo managed to attend all the shows while still starring in The Color Purple and taking time to appear in a special presentation of The Last Five Years to benefit the Brady Center to Prevent Gun Violence proving that not everyone spends their off-duty hours guzzling free champagne.
Who: Coco Rocha, model, Brand Director of Nomad MGMT, and now a designer in her own right.
Notable Companion: After more than a decade in the industry Rocha has friends at every fashion show.
Shows Attended: 7 (Marchesa, Anna Sui, Jeremy Scott, Zac Posen, Christian Siriano, Rebecca Minkoff and Marissa Webb).
Additional thoughts: These days, you're more likely to find Rocha in the front row than on the catwalk.
Who: Karrueche Tran, model and occasional tabloid fixture.
Notable Companion: Christina Milian. The two sported matching ketchup and mustard-colored outfits to Wang.
Shows Attended: 8 (Elements on Fifth, Vivienne Tam, Laquan Smith, Reem Acra, Tracy Reese, The Blonds, Alexander Wang, and LVL XIII.)
Additional thoughts: The Wilhelmina L.A.-signed model clearly has some connection.
Who: Kelly Osbourne, singer and Project Runway Junior judge.
Frequent Cohort: Her dog, Poppy, sat on Osbourne's lap at every show.
Shows Attended: 9 (Xuly Bet, John Paul Ataker, Jeremy Scott, The Blonds, Christian Siriano, Namilia, Milly, Francesca Liberatore, and Project Runway)
Additional thoughts: Props to whoever is responsible for Kelly's hair. Her lavender mohawk was styled in some new, elaborate fashion every single day.
Who: Christina Milian, singer and actress.
Notable Companion: In addition to being by Tran's side all week, Milian was also frequently spotted with rapper DeJ Loaf.
Shows Attended: 9 (Kith, alice + olivia, Nicole Miller, Bibhu Mohapatra, The Blonds, Vivienne Tam, HSN Presents Serena Williams Signature Statement Collection, Laquan Smith, and Alexander Wang
Additional thoughts: Milian hasn't dropped an album in 10 years and her recent TV show, Grandfathered, was cancelled over the summer, but none of that seems to have gotten her down.
Who: Olivia Palermo, socialite and Professional Fashion Show Attender
Notable Companion: Her husband Johannes Huebl.
Shows Attended: 10 (Tibi, Jonathan Simkhai, Lanyu, Altuzarra, Prabal Gurung, Delpozo, Michael Kors, Rebecca Minkoff, Banana Republic, and Tommy Hilfiger.)
Additional thoughts: Palermo actually had to fly out for a day to attend an event at a Nordstrom in Chicago, but still managed to attend more shows and presentations than most.
Who: Teyana Taylor, star of Kanye's Fade video and rapper.
Notable Companion: Her husband, NBA baller husband Iman Shumpert.
Shows Attended: 11 (Vera Wang, DKNY, Globe Fashion Week x China, Nolcha, The Blonds, Hood by Air, Baja East, Milly, VFiles, and Kith).
Additional thoughts: Teyana Taylor is solely responsible for getting the world to forget that Kanye West also released a video this summer featuring nude sculptures of some of the world's most controversial celebrities. She deserves all the shine. Taylor also pulled double duty by walking in Yeezy.
Who: Leigh Lezark, DJ
Notable Companion: Fellow member of the Misshapes Geordon Nicol and a new baby bump.
Shows Attended: 12 (Prabal Gurang, Jeremy Scott, Opening Ceremony, Timo Weiland, Jonathan Simkhai, Christian Siriano, Dion Lee, Adam Selman, Noon by Noor, Tom Ford, and Marc Jacobs).
Additional thoughts: Not only did Lezark attend 12 fashion shows and presentations, but she also revealed that not only is she pregnant and engaged to a hot neurosurgeon. That is a fantasy beyond even the imagination of RomCom screenwriters.
Who: The Beckerman Twins, former designers turned style bloggers
Notable Companion: each other.
Shows Attended: 14 (Georgine, Coach, Jeremy Scott, Naeem Khan, Calvin Luo, Rodarte, Jeremy Scott, DKNY, Sandy Liang, Tome, Jill Stewart, Kyboe, Ottolinger, and Lisa Folawiyo).
Additional thoughts: Are the Canadian Beckerman twins truly celebrities or merely influencers? You could make a very strong case for the later, but we'll give Sam and Calli the benefit of the doubt. Their frequent appearances this week earned them a profile in The New York Times (in which they were described as human glitter), so we'll count that as the first tic-tock of some sort of fifteen minutes.
Who: Caroline Vreeland, singer/songwriter and Instagram sensation.
Notable Companion: Her BFF Shea Marie, who may or may not deserve co-billing.
Shows Attended: 15 (Alice + Olivia, DKNY, Prabal Gurung, Kyboe, Jonathan Simkhai, Baja East, Tommy Hilfiger, Akris, Yeezy, Ralph Lauren, Carolina Herrera, Thakoon, Michael Costello, Macys, and Altuzarra). She also walked in Rebecca Minkoff's show.
Additional thoughts: Attending fashion shows is in Vreeland's blood. Her grandmother was Vogue editor Diana Vreeland. No wonder she took top honors.