New York Fashion Week: Men's Spring 2017 Is Unreal
From virtual reality to unexpected collaborations, here's everything you need to know from the second half of NYFWM.
---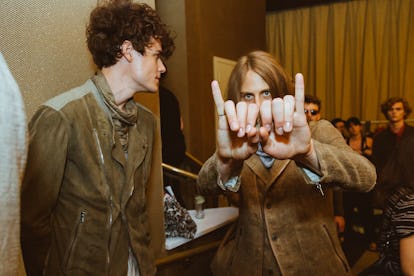 Elliott, John Elliott showed an expanded array of sunglasses and accessories in addition to his ready-to-wear line (and a beach towel?) at New York Fashion Week: Men's. And it wasn't just that, at 40 looks, it was the biggest undertaking to date — it was also his brightest.
Highlights, Just the All the best looks from the Spring 2017 season, all in one place.
Hilfiger, Tommy Two words: dandy bros.
Kid, Rich the The 24-year-old rapper you may have spotted FaceTiming Jaden Smith in the front row.
LeFlufy, Devon Halfnight Tapped into virtual reality for his Spring 2017 presentation. You'll find no Pokémon here.
Matiere Like Vetements, a French name without a French accent. But there's a lot fewer hoodies and a lot more dip-dyed, ombre, stoner chic.
O'Neil, Thaddeus The surfer, photographer, and model-turned designer (he's still pretty much all of these things) presented his Spring 2017 collection and revealed his surfing dos and don'ts. Plus, there's the matter of that official collaboration with Ugg…
Politics Maybe not the first thing you think when you view Parke & Ronen's Spring 2017 collection, but political engagement bubbled up throughout New York Fashion Week: Men's this July, from a Black Lives Matter protest at the outset, headed up by a Lanvin employee and blogger, to Maxwell Osborne's open letter to the fashion community in the wake of his first protest.
Second/Layer For all the menswear presentations over the four days of New York Fashion Week: Men's, it was Second/Layer's NYFWM debut that was the most anticipated. It was the design duo's first formal presentation, and the line to get in extended farther than those for any of the week's fashion vets.
Tong, Eugene Stylist for Second/Layer and John Elliott Spring 2017 and a street style vet in his own right. Just — don't expect to see him in mandals, even in summer.
Varvatos, John The 'elder statesman' of American men's fashion closed out the third season of New York Fashion Week: Men's with Kellan Lutz, Colton Haynes, and, of course, a party. (Soundtrack courtesy of one of his signees, because apparently, Varvatos has a record label.)
The Best of New York Fashion Week: Men's Spring 2017
Robert Geller
A great jacket is a spring wardrobe essential—and shoppers couldn't do better than this duster from Robert Geller's spring 2017 collection.
Photo by Getty Images.
Michael Kors
The combination of classic outerwear with slightly baggy pants and nautical touches felt chic and relaxed.
Photo courtesy Michael Kors.
Simon Miller
Earthy tones dominated Daniel Corrigan and Jake Sargent's Spring 2017 collection for Simon Miller, which was inspired by the rich colors of olive plantations in Spain.
Photo courtesy Simon Miller.
Tim Coppens
The sporty touches at Tim Coppens' Spring 2017 show—from hoodies to compression shirts—were a nice nod to the designer's new role as Executive Creative Director at Under Armor.
Photo by Getty Images.
Linder
The debut runway show from emerging brand Linder had the fashion crowd buzzing about their interesting denim silhouettes, such as this pair of medium wash blue jeans, covered in hundreds of rivets.
Photo by Getty Images.
Gypsy Sport
Gypsy Sport designer Rio Uribe drew inspiration from classic athletic apparel for the gender-bending brand's Spring 2017 collection, with playful takes on everything from jerseys and track suits.
Photo by Getty Images.
Ovadia & Sons
Tie-dyed pants and a boyish striped shirt from Shimon and Ariel Ovadia's Spring 2017 collection look refined when paired with a great camel coat. This is how to do athleisure like a gentleman.
Photo by Getty Images.
Thaddeus O'Neil
New York Fashion Week: Men's favorite surfer sent out a colorful line-up for the urban beach bum — a favorite look was a terra cotta, wine, and brown striped coat.
Photo courtesy Thaddeus O'Neil.
John Elliott
This season, the designer's color palate was inspired by water, with the runway transformed into a reflection pool. After seeing this look walk the runway, it seems like every guy should own a coral bomber.
Photo by Getty Images.
N.Hoolywood
John Elliott wasn't the only designer inspired by water. For Spring 2017, Daisuke Obana looked to the deep sea and beauty beneath the waves. A highlight was a striped sweater shown over blue pants with special stitch detailing.
Photo courtesy N.Hoolywood.
Tommy Hilfiger
The brand re-interpreted its iconic pieces for today, and as one can imagine, there was a lot of red, white, and blue. A thoroughly modern piece was a blue leather jacket with racing stripes – a great transition piece for those chilly days of early spring.
Photo by Getty Images.
John Varvatos
The Spring 2017 show was very much of the John Varvatos DNA. There were a ton of layered jackets and vests, with just about every model wearing a skinny scarf. A favorite look was an elongated moto jacket, in a rich carob suede. Paired with white denim and a cool pair of round glasses, this look encompasses how a modern John Varvatos man dresses.
Photo by Getty Images.
Palmiers du Mal
The brand held its second runway show this week during New York Fashion Week: Men's, but aptly named the collection 2017.01, denoting the collection's seasonless sensibility. The collection was inspired by the gypset of Laurel Canyon, and a loose fitting double-breasted jacket in stripe was a highlight.
Photo courtesy Palmiers du Mal.