Easing into Fall at the New Yorkers for Children Gala
The New Yorkers for Children fall gala, attended by Wes Gordon, Jamie Tisch, and Dree Hemingway, heralded the coming of fall.
---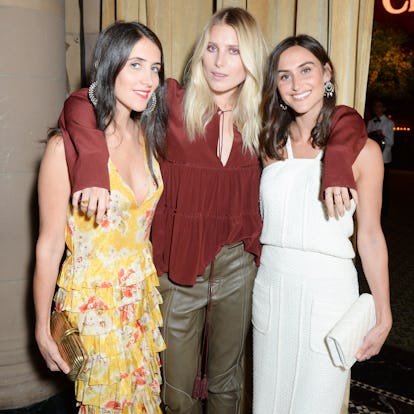 Joe Schildhorn /BFA.com
Many an editor probably jokingly referred to the past few days of New York Fashion Week as "back to school." At the New Yorkers for Children fall gala Thursday night, its 20th anniversary one sponsored by Chloé, it was actually back to school, both for the many parents in attendance and the raison d'etre of the charity, whose efforts benefit youth in foster care.
"My son's piano teacher is awful," remarked one woman to her companion during cocktails at Cipriani 42nd Street.
"They're playing with blocks and charging me like he's at MIT," said another guest of his pre-schooler.
Such tidbits only underscored the importance of the organization's educational focus on children for whom such things as piano lessons and even simply staying in high school are hardly a given.
Dinner kicked off with a performance by Cobi, accompanied on one song by the youth chorus Highbridge Voices. And then Walgreens VP Steve Pemberton, acting as emcee and paying tribute to the charity's founder Nicholas Scoppetta, who died this March, passed out awards. James B. Milliken chancellor of the City University of New York was acknowledged for his devotion to making sure such underprivileged kids can manage a college education. Jeremiah Perez-Torres, recipient of the Northwell Health Spirit Award, noted soberly that given his harrowing upbringing, "I never expected to live past my 18th birthday," while Howard University sophomore Shainek Edumundson, who nabbed the Chloé Spirit Award, declared, "I am not a statistic."
Needless to say, Christie's auctioneer Lydia Fenet managed to wrangle $300,000 out of the crowd during a live auction.
Inside the New Yorkers for Children 2016 Fall Gala
Kelly Rutherford at the New Yorker's for Children fall gala.

Tiffany Sage/BFA.com
Daphne Groeneveld at the New Yorker's for Children fall gala.

Tiffany Sage/BFA.com
Kalliope Karella and Christine Schwarzman at the New Yorker's for Children fall gala.

Tiffany Sage/BFA.com
Wes Gordon and Alina Cho at the New Yorker's for Children fall gala.

Joe Schildhorn /BFA.com
Dayssi Olarte de Kanavos and Shirin von Wulffen at the New Yorker's for Children fall gala.

Joe Schildhorn /BFA.com
Trey Songz and Kevin Liles at the New Yorker's for Children fall gala.

Joe Schildhorn /BFA.com
Danielle Snyder, Jodi Snyder Morel, and Dree Hemingway at the New Yorker's for Children fall gala.

Joe Schildhorn /BFA.com
Lydia Fenet at the New Yorker's for Children fall gala.

Joe Schildhorn /BFA.com
Jamie Tisch at the New Yorker's for Children fall gala.

Joe Schildhorn /BFA.com
Christine Mack and Jessica Creel at the New Yorker's for Children fall gala.

Joe Schildhorn /BFA.com