The Big Picture
Nicholas Cullinan brings his eye for the cutting edge to London's National Portrait Gallery.
---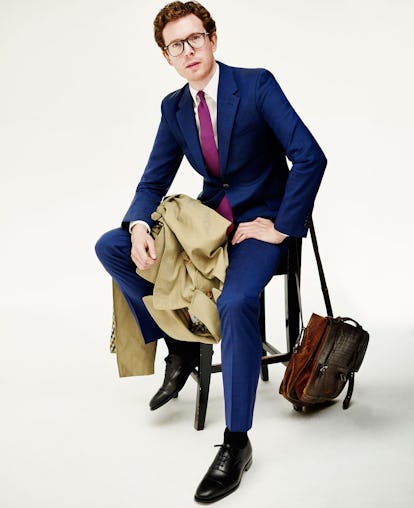 While at London's National Portrait Gallery last fall to be interviewed for the post of director, Nicholas Cullinan went in search of what he calls "probably my favorite wall text of all time." He had first glimpsed it 14 years earlier, during a graduate student stint as a visitor-services assistant at the gallery. The label, which hangs next to a painting from around 1730 of the Duchess of Queensberry, describes her as a famous beauty. And, Cullinan adds, "the final line reads, 'She reputedly died from a surfeit of cherries.'" He was delighted to discover the portrait and label still in place. Now that he has assumed the gallery's top job, making him the second-youngest -director in its 159-year history, it is unlikely to disappear anytime soon.
"I would have never thought a year ago that I would be in this situation," Cullinan, 37, said one afternoon in March, sitting in the Balcony Lounge at the Metropolitan Museum of Art in New York, where for the past two years he served as a curator of modern and contemporary art. He was soon to head off on holiday to Tulum, Mexico, before taking up his duties in London, and was still working on the Met's plans for shows at the Met Breuer, the museum's new outpost in the former Whitney building, to open in 2016. "I thought I would be at the Met for about five years," he said. "But this job was just too special to turn down."
Born in Connecticut and raised in Yorkshire, England, Cullinan speaks with a British accent and boyish excitement, his youthful face accentuated by his curly reddish-brown hair. He already exuded the easy confidence of a museum director, dressed in a dark blue suit (he favors Savile Row's Gieves & Hawkes), a white shirt and red tie, black shoes, and cuff links from the Met's gift shop. "It's quite tatty and English," he said of his style, with a touch of self-deprecation ("tatty" it is not). "Until recently, almost everything I had was secondhand. I wear everything until it falls apart."
For someone who has navigated the international contemporary art circuit in a masterly way for years, helming a national museum full of portraits dating back to the 16th century will indeed be a change of pace. "It slightly takes me out of the art world," said Cullinan, the subject, as it happens, of a recent portrait by Elizabeth Peyton, who asked him to sit for her. "The focus of the institution is a little different—it's more engaged with culture, history, and society, and that really appeals."
No one seems to be surprised by his quick ascent. "He was a curator with a career trajectory that was evident from the beginning," says Sheena Wagstaff, the chairman of his department at the Met, who hired him as assistant curator when she was chief curator of Tate Modern in London and later brought him to New York. She remembers his gift for puns in his first interview but says that "his scholarship and his mixture of gravitas and humor" were the traits that won him the job.
Cullinan worked with Wagstaff at Tate Modern from 2007 to 2015, and he garnered attention by leaping nimbly across time periods and geographic regions. "I think you should always do something a little bit different from what everyone else is doing," he told me. To that end, he developed, alongside the Tate's director, Nicholas Serota, a show with the American painter Cy Twombly; ventured through Eastern Europe to acquire art; co-curated an exhibition of Henri Matisse's cutouts (the most popular show in the museum's history); and organized the English artist Tacita Dean's 2011 installation in the museum's Turbine Hall. At the Met, Cullinan maintained his catholic tastes, helping the museum acquire work by self-taught African-American artists as well as bracingly contemporary pieces, like Amie Siegel's 2013 film Provenance, which he first saw at a gallery near his East Village apartment. "I was riveted," he remembered. "I sat on the floor and didn't move."
Cullinan was anticipating all of the things he would miss about New York, like weekly meals at his neighborhood spot, Dieci ("It's Italian-Japanese fusion"), and the last of his three guinea pigs, Margo, whom the Frick Collection's chief curator, Xavier Salomon, adopted. (Blanche and Mildred—they were all named after characters in Bette Davis films—died following the voyage to the States.) Guinea pigs? "They have a lot of personality for a small animal and are rather winning creatures," he said. "It's pretty much the only pet I have time to look after properly." His friend the artist T.J. Wilcox calls Cullinan "simultaneously wise, silly, and charming." "It's funny that he's writing these very serious texts and then goes home to feed his rodents."
When I caught up with Cullinan again, in early April, he'd moved into his new home in London and was in the midst of unpacking 60-odd boxes of books. He was preparing a show for the Prada Foundation, which would help inaugurate its art space in Milan, in May, and also beginning to consider how he would rehang the Portrait Gallery's collection. "I want to think through what the function and significance of a portrait is, both then and now," he said, explaining that he was looking at the ways in which social media is reshaping how we relate to images. "Might this make a portrait gallery even more relevant?" Asked about his favorite works within it, Cullinan mentioned a black and white photograph by the British artist Gillian Wearing of the human rights activist Shami Chakrabarti holding a wax mask of her own face. It's a chilling, slyly funny image. "It is not just a happy marriage of a great artist with a fascinating sitter," Cullinan said. "But it is also very astute about the possible gap between a person and her persona."
Nicholas Cullinan, London, 2015. Photo by David Burton.
The exterior of the National Portrait Gallery, London. Courtesy of Nando Machado/Alamy.
A hall in the National Portrait Gallery, London. Courtesy of National Portrait Gallery.
Included in the Henri Matisse show, Blue Nude (II), 1952. Courtesy of Succession Henri Matisse/DACS 2013.
Charles Jervas's portrait of Catherine Douglas, the Duchess of Queensberry, 1730, at the National Portrait Gallery. Courtesy of National Portrait Gallery, London.
Simon Castets, Michaela de Pury, and Cullinan, New York, 2014. Courtesy of Zach Hyman/BFAnyc.com.
A projection by Tacita Dean, at Tate Modern, 2011. Courtesy of Oli Scarff/Getty Images.
A still from Amie Siegel's Provenance, 2013, at the Met, New York. Courtesy of the Metropolitan Museum of Art.