Nicholas Hoult Prepared to Play J.D. Salinger By Doing Yoga and Typewriting His Own Short Stories
"I know it makes me sound like such a hipster."
---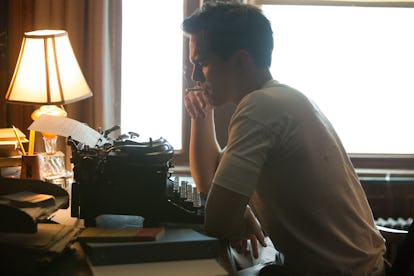 Photographer: Alison Cohen Rosa
The moment Nicholas Hoult read the script for Rebel in the Rye, he was determined to nab the lead role of J.D. Salinger. "I was so moved by the story, and the things that he stood for," Hoult said of playing the notoriously elusive writer in the biopic, in theaters today. Shot in New York over a course of just 26 days, the film chronicles Salinger's rise to fame and early self-imposed retirement. It also sheds light on his famously reclusive life, and co-stars Kevin Spacey as his mentor, Sarah Paulson as his literary agent, and Zoey Deutch as his love interest. Here, Hoult talks about transforming into Salinger in the Danny Strong-directed film.
How did you nab the role?
I read the script and loved it—I was astounded to learn all these things about him. I'd read some of Salinger's work before, but like most people, I didn't know much about his life because he was so secretive and didn't want to be in the limelight. I was so moved by the story, and the things that he stood for. So the moment I read it, I thought "Yes, I need to play this role." I Skyped with Danny, who was doing his due diligence in terms of casting the role; it's a hard one to cast. We Skyped and then I flew to New York to do an audition. It was a no-nonsense reading. There was no small talk before. I felt like a sprinter about to start a race. Then I got a phone call after saying I got the part.
Salinger was the literary world's most famous recluse. With so few biographical sources, what was your research process like?
It was really interesting. To research I spent a lot of time in New York, and read all of his novels and biographies, anything I could get a hold of. There's not many videos or recordings. He took his face off of book covers. He always felt like a bit of an outsider. After the war, he had such a huge struggle coping with PTSD, until he found the Hindu religion, and dedicated himself to writing. But he felt publishing clouded the purity of it, so he stepped back from the public eye. These are the kinds of stories you hear about him. I also did war research and learned how people from that era would have spoken growing up where he did at the time. Rather than doing an imitation of him, since I couldn't know how he sounded, or what his mannerisms were, I tried to create a character from what I gained from my research. I also took up yoga, and went to the locations he frequented, trying to pick up any little vibe.
Did Danny work with you throughout this process?
Danny had me writing short stories, so I had a typewriter at home. I'd wander around the city, then go home and write short stories which I loved. It's interesting how that changes your perception, and creates new synapses.
Occasionally I write thank you notes or letters to people [on the typewriter]. To receive a hand-typed note is amazing. I know it makes me sound like such a hipster, but putting on a record and sitting at the typewriter is something that really focuses you. It's so meditative—the sound, the rhythm, I love it.
What kind of short stories did you write for him?
A lot of his writing focuses around young people, obviously, so I tried to do something similar. I wasn't trying to imitate his writing, but I'd write about things I'd see and add a spin like a dad and daughter, then go home and expand on it.
What haunts did you visit in NYC?
Salinger went to the The Stork Club a lot, it sadly doesn't exist anymore. But I went to Cafe Dante, jazz clubs on the Upper East Side, around the Village, and we even went to a few hindu temples. We did swing dance lessons. We were kind of all over town.
How long was the entire research process?
Quite a long time. The movie didn't start shooting for a year from when I got the role, so I had time. I was actually supposed to do another movie during that year, but I pulled out of that to prep for this. I did not want to feel tired and convoluted going into it.
Did you feel any pressure playing one of the biggest literary greats of all time?
Oh f— yeah. It was absolutely terrifying. I felt pressure and a huge sense of responsibility just because the more you read about someone, the closer you feel to them in a way, and the more you want to do their story justice.
What did you learn about yourself while shooting? It's such an emotionally driven, solitary role.
The key thing for me was his drive. I wouldn't describe it as ambition, though. It was the pure dedication to his art that I found truly inspiring, It's something I would like to take away and emulate myself. He wasn't willing to compromise, and he wouldn't negotiate. Occasionally editors would change a word in stories he'd written and he would blow up and never speak to people again. Of course you have to be more negotiable, but I just really respected his artistic approach to things. That's why he was so successful.
What was it like working with Kevin Spacey?
To work with one of the best actors in the world, it sort of animates you. Kevin came in so smart about the character, not wanting to make it sentimental. He brought so many different levels to that character in terms of his own goals and failures. It was phenomenal to watch him and a pleasure to be in scenes with him. It was really a master class. The best part about Spacey is that he does incredible impressions. You're just sitting there and suddenly you're with Marlon Brando. He started doing impressions because his mum loved them, so he became a great impressionist. It was so much fun to be around him. Also, he rides around New York on a little electric scooter. I had dinner with him, and after dinner he unfolded this little electric scooter and went whizzing off down the side walk. It was surreal. There are all these funny paparazzi shots of him on this scooter from when we were shooting.
Can he do an impression of you?
I'm sure he can, but he hasn't done it to my face yet.
Any particularly memorable moment from set?
So often what's funny on set isn't once you're off! In the makeup chair during lunch time we would play a game I made up called three minute art, where myself and the makeup team would look up a famous painting, and give ourselves 3 minutes to replicate that piece of art, and then we'd rate them and see who did the best in the allotted time. When Sarah Paulson turned up, she looked around the trailer where the drawings were all hung up and said, "Jesus, I thought someone was strangely proud of their kid's artwork." Little did she know it was made by adults.
Marc Jacobs's first kiss was with a girl, but it was just for show: