Nick Jonas on "Goat," the Hazing Drama That Heralds His Arrival as a Serious Actor
The Disney Channel star turned serious actor plays a frat brother unsure about Greek hazing rituals, alongside his co-star, the up-and-comer Ben Schnetzer.
---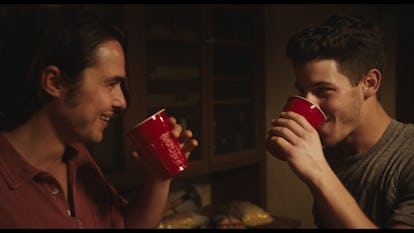 During a year when violence on college campuses has come to the forefront of the national conversation, Goat, the new film from director Andrew Neel, looks at fraternity hazing in particular. Starring Ben Schnetzer (Brad Land) and Nick Jonas (Brett Land) as brothers, the movie tells the story of Brad pledging Phi Sigma Mu (where Brett is a member), following a harrowing assault the previous summer. The pledging process, and "hell week" in particular, is framed in violence from the start, though even without that setup, the hazing scenes are hard to watch. Excessive drinking, bondage, and psychological games are the norm, and – especially given Brad's fragile mental state – the fraternity comes off as downright sadistic.
"It's not an indictment of fraternity life and the Greek culture by any means," said Jonas, from The Club Room of the Soho Grand Hotel in New York on Monday, ahead of the film's premiere. The film made its debut at the Sundance Film Festival to raves. "This is just the darkest, most extreme side of this and showing what that looks like."
But Goat isn't all that hyperbolic. Often reserved as an acronym for "Greatest Of All Time," in this case, the title refers to the fraternity mascot, which the pledges are made to care for – a not uncommon practice known as "goat hazing"; last year a video made the rounds allegedly showing a group of frat guys beheading a goat. Party scenes inside the frat house will look all too familiar to anyone who attended one in college.
"My research was in speaking to friends of mine that had gone to college, first of all, and also gone through the fraternity experience," said Jonas. "Also, Frat House, the Todd Phillips documentary was a really helpful tool for a behind-the-curtain look at this world, which is pretty crazy."
Neel asked Schnetzer, meanwhile, to reread Lord of the Flies to prepare.
"We also drank with all of the brother [characters] as a bonding experience – which actually really helped," said Jonas. "It sounds funny, but those moments are kind of crucial when you need to know what that brother's like when he's drunk. The drinking is such a big part of the whole thing; it can't be overlooked."
Mostly, that drinking culture has been fodder for comedies like Neighbors and the '70s classic Animal House. "This is definitely not a comedy…" said Jonas, but an unexpected tragic twist toward the end of the film, and a poignant undercurrent keeps Goat from becoming a simple fraternity take-down.
The acting coming out of Jonas and Schnetzer also helps. Jonas is, of course, the Disney Channel star turned boy band front man, to, now, solo artist and serious actor. The 24-year-old has had recurring roles on the TV shows Kingdom and Scream Queens and will appear alongside Dwayne Johnson, Kevin Hart and Jack Black in 2017's blockbuster Jumanji.
Schnetzer, 26, gained prominence with 2013's The Book Thief, and has since starred in 2014's Pride and 2016's Warcraft. He has a (delightful) supporting role in Snowden, out now, and is being heralded as an actor one to watch.
The duo's onscreen familial chemistry is part of the success of Goat, which they hope will bring new attention to the issue of hazing. Just last month, a fraternity member at Texas A&M died inside a frat house – without much media fanfare.
"When I became aware of this story, I think it opened up my eyes to seeing two things – first, how often these things happen, what happens in this film," said Jonas. "And second, how often it's quickly overlooked in the news cycle."
"Goat" Stars Nick Jonas and Ben Schnetzer
Ben Schnetzer and Nick Jonas in "Goat"

Courtesy of Paramount.
Ben Schnetzer and James Franco in "Goat"

Courtesy of Paramount
Watch Nick Jonas and Ben Schnetzer talk "Goat" at the Sundance Film Festival: