Nick Jones: Nick at Night
Englishman Nick Jones exports his members-only club Soho House to Hollywood.
---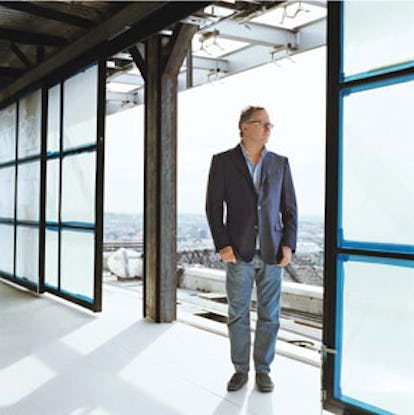 Los Angeles is a city that has long loved clubby restaurants—think Chasen's, Spago, the Grill or the current de facto insiders' clubhouse, the Tower Bar. But it has never had a tradition of members-only establishments, apart from a few snobby Westside country clubs and the creaky high-WASP California Club downtown. Even so, a bright-eyed, gap-toothed Englishman named Nick Jones aims to fill what he sees as a lucrative niche.
In the lead-up to the March opening of Soho House West Hollywood, Jones and his team, assisted by a 20-person membership committee, have been scouring the town for 600 founding members willing to pay $1,500 in annual dues for the chance to rub elbows with "like-minded people," he says. Whether one Englishman's idea of Brit-pack cool will take root in the TMZ, where celebrities typically gain free access everywhere and warring talent agencies aggressively stake out their dining turfs, remains to be seen.
"I suppose that suddenly people are going to go, 'Yes, we'll pay our money to be a member of this club,'" Jones says over morning coffee at Cecconi's, the restaurant he opened in February 2009 at the prime Robertson Boulevard location formerly occupied by Morton's. "We hope so."
Jones, 46, points to the large membership roster, some 4,500 members, at his first U.S. club, Soho House New York, which debuted in 2003 with a dining room full of Swarovski chandeliers and an equally sparkling membership roster. (The club's social wattage, detractors say, has dimmed considerably as membership has grown to its present, less-than-exclusive size.)
Of perhaps more significance in L.A., Jones possesses considerable cachet as a result of running, since 2005, a lavish "pop-up" Soho House during Oscar week. "Other Oscar houses were tacky, but Soho House spared no expense," says British-born decorator Amanda Masters, who spent up to four months a year creating Jones's party palaces, which included a rented mansion in the Hollywood Hills. "People were dazzled. Nick imported the whole Brit-pack mentality."
With its free food, ample drinks and stringent press restrictions, Soho House's Oscar headquarters gained a reputation for celebrity turnout and late-night partying. Jones acknowledges that the pop-up was more about establishing the Soho House brand in L.A. than turning a profit, and he was often right in the thick of the bacchanal. "I remember one night there was a police helicopter above us with a searchlight coming down," says Jones, chuckling at the memory. "Just by running [the Oscar house] for many years, we got to know a lot of people."
Jones's first permanent foothold in the city was Cecconi's, which opened during the economic crisis but became a buzzy hit with the Beverly Hills platinum-card brigade. Over the past year Jones and his mainly British team have been courting prospective Soho House members at lunch meetings with agency honchos and even occasionally by pitching VIPs at home.
"As to whether we will succeed in L.A., it's very difficult to give an answer that doesn't make us sound either arrogant or clueless," says membership director Tim Geary, a Cambridge-educated former model–cum–novelist who helped launch Soho House New York. He notes that the mix of members at Soho House West Hollywood will more closely resemble that of the London original than the New York branch, where even he concedes the doors have been opened too wide. "We lost our way a little bit," he says.
In mid-January a "hard-hat" dinner at long tables set amid construction debris provided a first peek of the new club for 80 guests, including Jennifer Aniston, Stephen Fry, novelist Bret Easton Ellis, Italian aristocrat and microbudget filmmaker Tao Ruspoli and lovebirds Ryan Phillippe and Abbie Cornish. If the crowd didn't quite represent the crème de la crème of the local social establishment, it was at least whole milk. According to Jones, that's about how it should be.
"Getting the right mix is not all about the power brokers," he explains, adding that he wants to attract "creative" people who have personal connections with the membership committee rather than cold-calling the top names on a Power List. "The perfect room is a mix of young and established people. It's not all about one set."
As for one social contingency that arguably defines L.A. more than any other city, Jones claims that celebrities will have to pay their membership dues just like ordinary mortals. So would the Jonas Brothers be turned away from the door if they arrived without the proper credentials?
"Not if my daughter is around, because she loves them," jokes Jones before laying down the law. "If you're not a member, you won't get in."
Jones grew up near London as the son of an insurance-broker father and a mother who entertained frequently. Diagnosed as dyslexic while in school, he never went to college but instead entered the hospitality business while still in his teens. Within a few years he was a marketing manager of the five-star Grosvenor House in London, and in his mid-20s he opened his first three London restaurants. They were a disaster.
"The food was disgusting," Jones recalls merrily. "The service was diabolical. During the first three years of running those restaurants, I learned what the customer wants, because it was absolutely the opposite from what I was doing."
He righted himself in 1992 with a small bistro called Café Bohème and, later, with the first Soho House, which debuted in 1995 in a warren of Georgian rooms above the restaurant. It had nothing to do with the traditional gentlemen's clubs of Pall Mall—none of which, curiously, Jones has ever visited. "I always thought, Why would you want to go to a club full of men?" he says. "Soho House changed what a private members club should be, which is 50 percent women, 50 percent guys. It turned the stuffiness on its head." (And how: Celebrity visitors have included Kate Moss, Lady Gaga and Nicole Kidman, and during a children's party there in 2002, the two-year-old daughter of Sadie Frost and Jude Law ate half of an ecstasy tablet she found on the floor.)
"Whereas the Groucho Club members had been stalwarts, Soho House got a lot of the young writers and producers who didn't want to be in the Groucho Club," says director Alek Keshishian, who frequented Soho House while living in London in the early 2000s. "It was a refuge, and I could take celebrity friends without having it reported in the press."
Today Jones has five clubs in England, including Babington House, a historic Somerset country estate. Following a $200 million cash infusion from English rag-trade tycoon Richard Caring, the Soho House brand is expanding aggressively. Later this year Jones will open clubs in Berlin and Miami, with plans for more in 2011. Between flights he lives in London with his second wife, British TV presenter Kirsty Young, and their two children, and he recently purchased a home in Beverly Hills. (Jones also has two children from his previous marriage.)
Jones can seem restrained on first meeting, though he proved to be an attentive and chatty host at the hard-hat dinner. The secret of his success, says Frances Pennington, vice president of global marketing at Juicy Couture, who advised him on his Oscar house, is that he is a master at creating a "vibe."
"When you walk into Cecconi's, there's an energy," she says. "It's part of Nick's brand, and it's something that's hard to bottle." Adds Keshishian: "He's got a great sense for creating sanctuary. You can go there and let people come to you."
Likely part of what drives Jones is a childhood memory he shares of eating out with his family and discovering for the first time just how inflexible restaurants can be to their customers' wishes. As he boasts about instilling his staff with "yes culture"—a service attitude that puts the customer first—Jones sounds less like an English social arbiter than an American entrepreneur. "There's no God-given right for this to work," he says. "I have a gut feel that the location is fantastic. I think people will get it. But we've got a lot to deliver first."