10 Things to Know About Nicky Hilton's Wedding
The heiress married British banking heir James Rothschild in Valentino.
---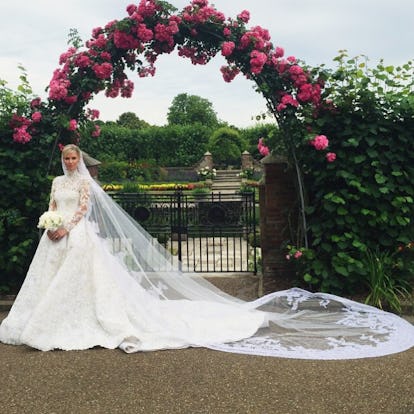 On Friday, July 10th, hotel heiress Nicky Hilton traded her famous last name for that of another heir: James Rothschild. The two were wed at Kensington Palace in London (with numerous celebrations before and after). See inside the ceremonies, plural, here.
Nicky wore a Giambattista Valli lace dress with jewel embellishments to her "night before the night before" party at Harry's Bar in London.
Every celebration warranted a cake.
The actual rehearsal dinner took place at the Spencer House in London.
Paris took her Maid of Honor Instagram duties seriously.
Nicky wore her hair in a classic, unfussy up-do.
The wedding was held at Kensington Palace.
The bride wore a custom Valentino Haute Couture wedding dress.
And its veil got caught under a Rolls Royce. Happens to the best of us.
Her custom Louboutins with the date of her wedding and "Nicky Rothschild" embroidered on them went unscathed.
Everyone gathered outside for one final time on Sunday. (For brunch, of course.)