Nico, the First Model-Turned-Rocker, is Getting the Biopic Treatment
The film will feature the final days of Nico, the model who became a rock star at Andy Warhol's insistence​.
---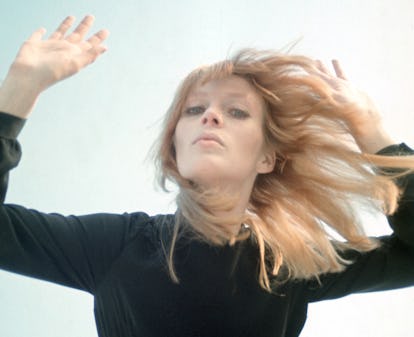 This content is subject to copyright.
Brian Eno once quipped, "The first Velvet Underground album only sold 10,000 copies, but everyone who bought it formed a band."
At band manager Andy Warhol's insistence, that album, The Velvet Underground & Nico, also famously featured vocals on several songs by German "it" model Nico (hence the album name), and maybe every model who's heard that tale thought to themselves, "Hmmm, maybe I can pursuit music, too." Everyone from Kate Moss to Tyra Banks has taken their turn behind the microphone, but the model who started it all was Nicol.
Now she'll get the biopic treatment. Italian director Susanna Nicchiarelli is helming the flick to be titled Nico, 1988.
Nico's life included everything from landing an exclusive job with Chanel, filming parts in movies like La Dolce Vita, partying at Warhol's Factory and concert tours around the world with both the Underground and as a solo musician. Nicchiarelli's film will bypass all the glamour though and get right to her life's tragic end.
"Most people think, as Andy Warhol once said, that after her experience with Velvet Underground and the Factory – and after having had sex with most of the rock stars of those years – Nico simply 'became a fat junkie' and disappeared," Nicchiarelli said, quite bluntly, in a statement announcing the project. "But is this how her life really went?"
The film will begin during Nico's final solo tour in 1987 and end, dimly, at her death in 1988 at the age of 49. Though the singer and model was battling a then fifteen-year-long heroin addiction at that point, her end came during a trip to Ibiza. While riding a bicycle she had a heart attack, fell off and hit her head, causing a fatal blow.
Bleak stuff, but perhaps not a surprise. Biopics about rock stars or models don't often have happy endings. Especially the one about models.
In fact, the only other notable model biopic, HBO's Angelina Jolie-starring Gia, concerned supermodel Gia Marie Carangi's untimely death at due to heroin addiction and disease. Being very pretty and having a happy, tragedy-free life perhaps does not make for the most compelling biopic project.
The film has already found its star in Danish actress Trine Dyrholm. The 44-year-old thespian is fresh off a win for best actress at the 2015 Berlin Film Festival Award for her work in Die Kommune. (In case you're wondering, yes, she can sing too. She once recorded a country-tinged version of "I Will Survive" for a Danish kid's film about computer animated worms that enjoy disco music).
The script is based on interviews with Nico's son Ari, but Nicchiarelli adds "the entire film is constructed following the inspiration of Nico's music, her performances and the lyrics of her songs."
"It will tell us more than any other dialogue or situation in the film," the filmmaker added.
So, we're not exactly talking a popcorn muncher of a fun film, but hopefully, it will provide insight​ into one of the more notable lives to bridge the worlds of fashion and rock 'n' roll.