Nicola Formichetti Goes to Tokyo, and Jonathan Anderson Is Becoming a Curator
From Diesel's anniversary show and Jonathan Anderson's new curatorial gig to the designers showing off the official New York Fashion Week calendar, here's what's going on beyond the halls of the CFDA.
---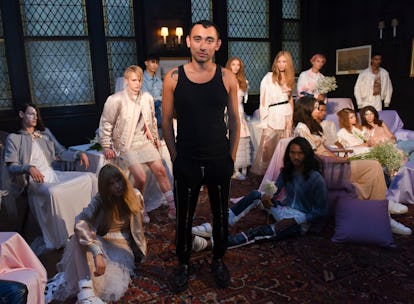 Getty Images
Ailes, Roger The lawyer who prosecuted Hulk Hogan's case against Gawker — and who was recently named Melania Trump's attorney in her suit against the Daily Mail — is having a pretty good media run. Roger Ailes may have just hired him to pursue a case against New York magazine, which ran a lengthy feature about his tenure at Fox News last week.
Anderson, J.W. Northern Irish designer Jonathan Anderson is adding a new line to his resume: museum curator. He'll preside over a new exhibition at the Hepworth Gallery in Wakefield, England, entitled "Disobedient Bodies," that purports to explore the relationship between gender identity and fashion — themes that have also been prevalent in Anderson's own work.
Beyoncé It was her birthday Monday. Most people treated it like a national holiday. Beyoncé went about her business like the global superpower she is.
Diesel Staging a see-now, buy-now show in Tokyo today. And to mark the occasion, creative director Nicola Formichetti has unveiled the Fall 2016 "For Successful Living" campaign, photographed by none other than Terry Richardson.
Fashion Week, New York Meet the designers who aren't doing CFDA Fashion Week — and who, instead, are showing their collections on their own terms.
Martin, Catherine Costume designer of films like Moulin Rouge! and The Great Gatsby. (And she's married to Baz Luhrmann.) Here, she shares her culture diet, including a love of Marie Kondo and Christina Aguilera.
Pavlova, Odette The Russian model, who walked 62 shows during Fall 2016, never resorts to coffee to keep her going. She reveals her beauty secrets, here.
See the most popular videos on W: