Nicole Kidman and Amy Schumer Are Making a Movie About Tug Boats and Opera
Amy Schumer and Nicole Kidman are teaming for She Came To Me, a dramedy we couldn't have seen coming about tug boats and opera.
---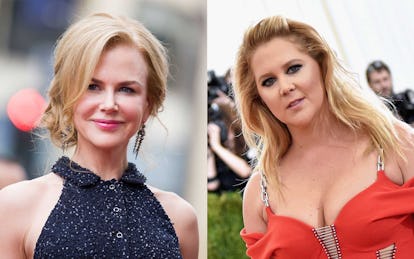 (L) Vincent Sandoval| (R) Mike Coppola / Getty
Out of all the Hollywood careers you'd expect to collide at this point Amy Schumer, our reigning queen of every woman comedy, and Nicole Kidman, at this point the world's most famous art house cinema thespian, might be amongst the least likely suspects.
Then again, out of all the subject matter you'd expect to be tied together in one movie script the world of tug boats and the world of opera would also make a less than obvious combination.
Yet, somehow, all of these disparate elements are coming together for a new film, and Steve Carrell is along for the ride, too.
The Schumer-Kidman-Carrell troika have signed on to top line She Came To Me, the next film from indie director Rebecca Miller.
There's not a lot of information about what exactly the film is all about, but Variety reports it centers on, "two intertwining love stories, set in the world of contemporary opera and tug boats." The Hollywood Reporter adds it's "a sweeping comedic drama, a multigenerational story about family and the complexities of modern life." The film will be an indie production from OddLot Entertainment, the company just coming off of success with Hell or High Water.
So, basically, Schumer, Kidman, tug boats, opera, and a noted indie auteur all coming together in a dramedy? Should be interesting.
The project was compelling enough that Schumer dropped out of starring in a big budget Barbie doll movie (a project that made lots of headlines when it was announced) to sign on. After success in mainstream comedy with her Comedy Central project and her box office hit Trainwreck, it seems Schumer is dipping her toes into the more serious indie film waters (she'll also appear in the upcoming war-drama Thank You For Your Service). It something that seems pretty much de rigueur for comedy stars after Bill Murray's later career. It can certainly help build and round out a comedian career. For more evidence: just see what Little Miss Sunshine did for Carrell's own career trajectory in 2006.
For Kidman, taking the role seems right on even if she may not be known for her comedic chops in a lot of the public's mind. Still, Kidman seems to keep a running list of all the world's noted auteurs somewhere in her phone and is intent on checking off working with them all. After recent or upcoming work with Warner Herzog, Sofia Coppola, Chan-wook Park and John Cameron Mitchell amongst others, it was only a matter of time until she teamed up with Miller.
And while many seems to be convinced she's "back" and "doing her best work in years" thanks to Big Little Lies (note: she's been nominated for 2 Oscars, 4 Golden Globes, and an Emmy since 2010 alone, come on, she didn't go anywhere), it is true she's enjoying a certain pop culture resurgence. Something even she seems to be aware of.
"It's an amazing reaction because I'm usually either in very avant-garde art films, or unusual films, or things that are very, very divisive," she recently told Vogue about the public's reaction her HBO mini-series. "To be in something that is so accessible and still topical is very interesting to me."
So maybe teaming with Schumer and Carrell could keep the moment going. We also know she's had killer comedic chops ever since her breakout role in To Die For.
It should certainly be interesting to see them together. Kathy Griffin, one of Schumer's most immediate foremothers of "I'm just a woman telling it like it is" comedy, once named a special Kathy Griffin is …not Nicole Kidman poking fun of how separated the show business careers of a noted female stand-up and an A-list actress like Kidman once were. Things certainly have changed.
As for Miller, the director and wife of Daniel Day-Lewis, is relatively new to comedy. After a career directing drama, she shifted focus last year with Maggie's Plan, a screwball twist on romantic comedy conventions. It wasn't a major hit, but it did delight critics.
While the film had a cast that included Greta Gerwig, Ethan Hawke, Travis Fimmel and padded out by SNL vets Maya Rudolph and Bill Hader, it was Julianne Moore who found herself with the broadest comedic role; that of an eccentric Ivy League professor with a Danish accent.
So don't be surprised if Kidman gets the most comedic material to work with. Hmm, perhaps the movie will find Kidman as an over-the-top Opera diva juxtaposed against Schumer's salt-of-the-earth tugboat captain straight woman. Seems plausible.
At 49, Actress Nicole Kidman Is Still Quite Impressionable:
Nicole Kidman Has Taken a Lot of Risks on the Red Carpet, and They Always Pay Off
Nicole Kidman (Photo by Barry King/WireImage)

Barry King/WireImage
Nicole Kidman and Tom Cruise at the Director's Guild of America in Hollywood, California.

Ron Galella/WireImage
Nicole Kidman (Photo by Barry King/WireImage)

Barry King/WireImage
Nicole Kidman (Photo by Barry King/WireImage)

Barry King/WireImage
Nicole Kidman and Tom Cruise during "Eyes Wide Shut" Los Angeles Premiere at Mann Village Theatre in Westwood, California, United States.

SGranitz/WireImage
Nicole Kidman during 9th Annual Screen Actors Guild Awards.

Jeff Kravitz/Getty Images
Nicole Kidman (Photo by Barry King/WireImage)

Barry King/WireImage
Nicole Kidman during 53rd Annual Golden Globe Awards at Beverly Hilton Hotel in Beverly Hills, California, United States.

Ron Galella/WireImage
Nicole Kidman and Tom Cruise (Photo by Kevin Mazur Archive/WireImage)

Kevin Mazur Archive/WireImage
Nicole Kidman in Tom Ford for Gucci. (Photo by Gregory Pace/FilmMagic)

Gregory Pace/FilmMagic
Nicole Kidman (Photo by Steve Granitz/WireImage)

S. Granitz/WireImage
Nicole Kidman at the The Kodak Theater in Hollywood, California (Photo by Jim Smeal/WireImage)

Jim Smeal/WireImage
Actress Nicole Kidman arrives for the 80th Annual Academy Awards at the Kodak Theater in Hollywood, California on February 24, 2008.

AFP/Getty Images
Nicole Kidman arrives at the Golden Globe Awards at the Beverly Hilton January 20, 2002 in Beverly Hills, California.

Gregg DeGuire/WireImage
Nicole Kidman during The 76th Annual Academy Awards – Arrivals at The Kodak Theater in Hollywood, California, United States.

SGranitz/WireImage
Nicole Kidman during The 62nd Annual Golden Globe Awards – Arrivals at Beverly Hilton Hotel in Los Angeles, California, United States.

SGranitz/WireImage
Actress Nicole Kidman arrives on the red carpet for the 68th annual Golden Globe awards at the Beverly Hilton Hotel in Beverly Hills, California, on January 16, 2011.

AFP
Actress Nicole Kidman arrives at the 17th Annual Screen Actors Guild Awards at The Shrine Auditorium on January 30, 2011 in Los Angeles, California.

Barry King/FilmMagic
Nicole Kidman arrives at the 83rd Annual Academy Awards held at the Kodak Theatre on February 27, 2011 in Hollywood, California.

Jason Merritt/Getty Images
Nicole Kidman arrives at The 53rd Annual GRAMMY Awards held at Staples Center on February 13, 2011 in Los Angeles, California.

Steve Granitz/WireImage
Actress Nicole Kidman arrives at the 45th annual CMA Awards at the Bridgestone Arena on November 9, 2011 in Nashville, Tennessee.

Jon Kopaloff/FilmMagic
Nicole Kidman arrives at the 69th Annual Golden Globe Awards at The Beverly Hilton hotel on January 15, 2012 in Beverly Hills, California.

George Pimentel/GettyImages
Nicole Kidman attends the "The Paperboy" premiere during the 65th Annual Cannes Film Festival at Palais des Festivals on May 24, 2012 in Cannes, France.

Vittorio Zunino Celotto/Getty Images
Nicole Kidman arrives at the 70th Annual Golden Globe Awards held at The Beverly Hilton Hotel on January 13, 2013 in Beverly Hills, California.

Jason Merritt/Getty Images
Nicole Kidman attends the 55th Annual GRAMMY Awards at STAPLES Center on February 10, 2013 in Los Angeles, California.

Larry Busacca/WireImage
Nicole Kidman attends the World Premiere of "Paddington" at Odeon Leicester Square on November 23, 2014 in London, England.

Karwai Tang/WireImage
Nicole Kidman arrives at the 87th Annual Academy Awards at Hollywood & Highland Center on February 22, 2015 in Hollywood, California.

Jeffrey Mayer/WireImage
Nicole Kidman arrives at Women In Film 2015 Crystal + Lucy Awards at the Hyatt Regency Century Plaza on June 16, 2015 in Los Angeles, California.

Jon Kopaloff/FilmMagic
Nicole Kidman attends the opening ceremony and "Grace of Monaco" premiere at the 67th Annual Cannes Film Festival on May 14, 2014 in Cannes, France.

Tony Barson/Getty Images