Nicole Kidman Is Unrecognizable in the First Trailer for the Upcoming Thriller Destroyer
Her brunette hair is the least surprising part of the look.
---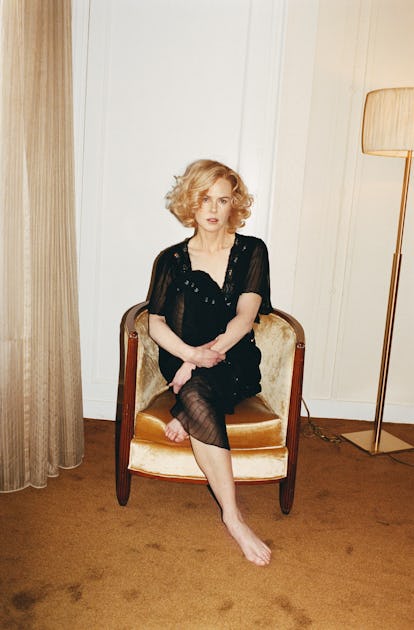 Photographer: Juergen Teller Stylist: Zoe Bedeaux
Nicole Kidman is one of the most recognizable actresses in the world, but in the upcoming crime thriller Destroyer she looks nothing like herself. The film just released its first official photo, which shows Kidman with shaggy brown hair and dark bags under her eyes.
This isn't the first time we've seen what Kidman looks like in the film. Back in December 2017, photos surfaced of Kidman on set, looking nearly like a zombie with her piercing contacts and dark circles around her eyes. And now we have a better sense of how that look fits into the film.
Her character's appearance furthers the storyline, which focuses on Kidman playing a burned-out LAPD detective named Erin Bell. When Bell was younger, she was involved in a sting operation, embedding herself within a gang in the California desert. It didn't go as planned, though, and the movie picks up years later, as she's confronted by the leader of the gang. "She must work her way back through the remaining members and into her own history with them to finally reckon with the demons that destroyed her past," the film's description teases.
One of the things that drew Kidman to the part was the opportunity to work with director Karyn Kusama. A couple of years ago, Kidman promised that she would be working more with female directors. "I'm making a movie with a female director. That's the only way the statistics are going to change—when other women start to say, 'I'm only going to choose a woman now,' " she said. "Every 18 months, there has to be a female director in the equation." She later followed that up by saying, "We as women have to support female directors. Hopefully it will change over time, but everybody keeps saying, 'Oh, it's so different now, oh, it's so different now,' and it isn't."
Kidman is ushering in that change, though. Outside of working on Destroyer, due this coming December 25, Kidman is working with another female director, Andrea Arnold, who is helming season two of Big Little Lies. Kidman recently celebrated the end of filming, writing on Instagram, "That's a wrap on #BigLittleLies Season 2 filming! What a beautiful journey this has been with my Monterey 5 sisters and our passionate dedicated crew. Thank you HBO for the amazing opportunity and thank you Andrea Arnold for being our fearless leader, and of course the one and only Meryl Streep for believing in us. I love you all. xx."