Nicole Kidman Is in Talks to Play Gretchen Carlson in Roger Ailes Film
Charlize Theron is already confirmed as Megyn Kelly, and Margot Robbie is circling this Fox News extravaganza, too.
---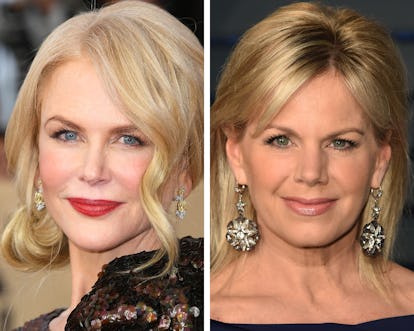 Composite. Getty Images
Nicole Kidman is reportedly in serious talks to star as Gretchen Carlson in the upcoming movie about former Fox News bigwig Roger Ailes. Should Kidman's deal close, The Hollywood Reporter reports that she'll be starring alongside the already confirmed Charlize Theron as Megyn Kelly in the Jay Roach-directed and Adam McKay-produced drama. Can anyone say awards-show circuit?
Additionally, THR writes that Margot Robbie is in talks to play an associate producer at Fox News who gets involved with both characters. Both Carlson and Kelly, former prominent personalities on Fox News—Carlson with Fox and Friends, Kelly with The Kelly File—publicly accused Ailes of various instances of sexual harassment while they worked for the network. They eventually quit Fox News for other opportunities in the media.
Among other instances, Carlson—who was the first Fox News woman to go public with a sexual harassment lawsuit against Ailes—said Ailes frequently implored her to engage in a sexual relationship with him to advance her career. When she rejected Ailes, she says he labeled her a "man hater" and showed increasingly nasty hostility to her in the workplace. "I just wanted to stand up for myself, first and foremost," she explained at the time. "And I wanted to stand up for other women who maybe faced similar circumstances."
Separately, Kelly claimed Ailes frequently asked her to wear "very sexy bras" to the office, ultimately equating the years-long harassment she endured as "a suicide mission" for her and her career. "I'd been at the company 12 months when he was doing this to me. I wasn't Megyn Kelly of today. I had no power," she explained. "And he was on the cover of industry magazines as the most powerful man in news. There was no one to go to." Ailes died of a subdural hematoma last May, but he denied all of Kelly's and Carlson's claims before his death.
The film has yet to solidify a title or premiere date. The role of Ailes also hasn't been cast. But with a power couple like Theron and Kidman potentially on board, hopes are high.