Nicole Kidman Crashed Sandra Bullock's Oscars 2018 Red Carpet Interview
Practical Magic reunion alert.
---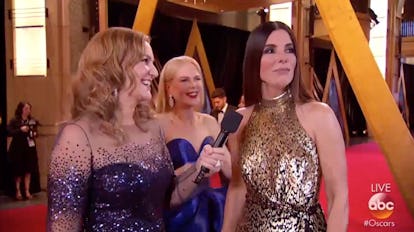 ABC
When Nicole Kidman hits a red carpet, everything stops for a moment—including, it seems, Sandra Bullock's own red carpet interview at the 2018 Academy Awards.
While Bullock was mid-chat (discussing her forthcoming film Ocean's Eight) with Vanity Fair's Krista Smith during ABC's red carpet pre-show , Kidman snuck around back and made her way up to surprise Bullock. And what resulted was practically magic: a nostalgic Practical Magic reunion nearly 20 years after the campy film's debut to be exact.
The two iconic actresses went on to virtually ignore the interview and instead chatted primarily about the '90s witchcraft rom-com. "We were talking about when we shot together," Bullock said to Kidman, referencing their roles as witch sisters Sally and Gillian Owens.
"I love that movie," Kidman replied. "I showed it to my kids…we are really good sisters."
"I think we are really good drinkers too," Bullock added, referencing a bottle of tequila that they apparently shared on the Practical Magic set.
The magical reunion was not lost on Twitter, who took notice immediately and responded with appropriate excitement. "I was not ready for a Practical Magic reunion," wrote{: rel=nofollow} one user. "I almost burst into tears at this Practical Magic reunion," tweeted{: rel=nofollow} another. "Make Practical Magic 2," implored{: rel=nofollow} another. See more of Twitter's reactions here:
And since a Practical Magic sequel has yet to be confirmed beyond Twitter's musings tonight, relive the moment between the two Academy Award–winning actresses below:
Related: Nicole Kidman Gave a Shout Out to the Women's Movement in Her Golden Globes' Acceptance Speech