Nicole Kidman, Not-So-Secret Chanteuse, Sings The Undoing Theme Song
No one should be surprised that Nicole Kidman warmed up her pipes to perform the theme song of The Undoing, HBO's mysterious limited series.
---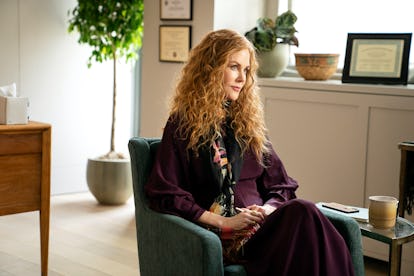 Courtesy of HBO.
By now, you've probably heard people talking about Nicole Kidman's performance in HBO's The Undoing as one half of a wealthy Manhattan couple that becomes embroiled in a tragedy (that shall not be spoiled if you haven't seen the first episode).
The mysterious series opens up with a title sequence that features a slow, dazzling rendition of "Dream A Little Dream of Me." The song was popularized by Doris Day, Nat King Cole, and Mama Cass Elliot, but if this iteration of the 1931 standard sounded familiar, that's because the voice behind it was none other than the show's star.
This arrangement of the classic song is a little bit creepy when juxtaposed with images of a young red-haired girl. It could be a nod to the younger version of Kidman's character, Grace, a discerning therapist who finds herself at the center of a gruesome mystery in her Upper East Side community, though only one episode has been released and the meaning behind the opening credits remains to be seen.
But why should anyone be surprised? After all, Kidman did receive an Oscar nomination for her role as Satine in Baz Luhrmann's musical Moulin Rouge! and she will undoubtedly sing multiple songs in Ryan Murphy's upcoming movie musical adaptation of Broadway's The Prom on Netflix. And during quarantine, the chanteuse joined her husband Keith Urban on Instagram for some live performances, where she played the tambourine and provided some casual backup vocals.