Nicole Kidman Uses the Wings of Her Dior Dress as an Inspiring Metaphor
A tried-and-true concept in the Kidman household.
---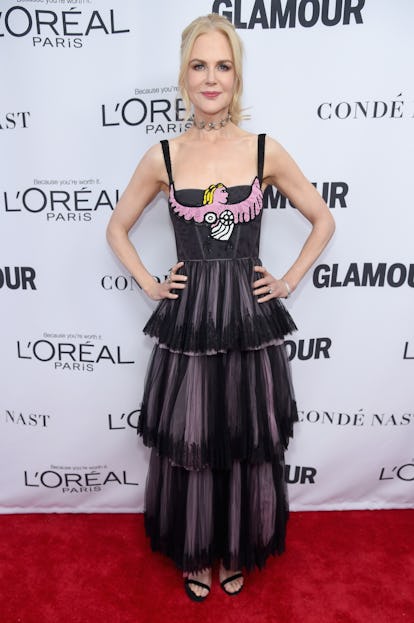 Jamie McCarthy/Getty Images for Glamour
In times which Nicole Kidman calls "extraordinary," the actress is managing to fly above it all — courtesy of some high-fashion wings and a bit of love and positivity.
Dressed in a Christian Dior tiered gown adorned with a literal cartoon bird, Kidman accepted her Glamour Women of the Year award Monday night at the Kings Theatre in Brooklyn, New York, explaining that her dress was a reminder of the individual's limitless potential.
"I want to be able to say thank you for supporting me, for embracing me, for giving me chances, for allowing me to fall and fail, and then allowing me to get back up and brush off my knees, even if they're bloodied, and fly," she said. "I'm wearing wings tonight, and I tell you, to all of those young girls and boys, even if your wings get clipped, you can build them back and you can fly."
The message came after the actress thanked her husband Keith Urban for his unyielding support, admitting that despite being a "strong woman," she still needs the help her partner, for more than a decade, offers her.
"He gives me so much strength at times, and he gives me so much love," she said, adding, "I'm very, very fortunate and I know so many people in this room don't have that, but I have it, and I want to acknowledge it."
But ultimately, it was Kidman's upbringing, she explained, in a household consisting of a feminist mother and a loving father where "everyone was equal" that taught Kidman the concept of "good love." It what she uses to navigate "unchartered territories." (The actress did not directly mention politics or the current climate in Hollywood in a post-Weinstein era, but spoke instead to vague concepts of uneasiness.)
The Big Little Lies actress ended her speech — in a night with several political calls-to-action from fellow Women of the Year, including Gigi Hadid, Maxine Waters and Samantha Bee — with a warning that, Dior dresses aside, birds of a feather, should no longer, flock together.
"It's so easy for us to gravitate towards the places in the world that are safe," the actress said. "The people who are most like us the people, whose gender whose sexuality or race we share, but I'm convinced the galvanization of all of us together is what's essential. I truly believe we must share the good love that we receive whenever we see that it's needed.
"It's about building bridges. Bridges bring understanding, they bring empathy, but they bring change, and that's what we need, we need change."
Related: With Reese Witherspoon's Schedule Cleared, Big Little Lies Season 2 Finally Seems to Be Happening
Nicole Kidman Could Go on "Survivor" and Crush It:
Nicole Kidman Has Taken a Lot of Risks on the Red Carpet, and They Always Pay Off
Nicole Kidman (Photo by Barry King/WireImage)

Barry King/WireImage
Nicole Kidman and Tom Cruise at the Director's Guild of America in Hollywood, California.

Ron Galella/WireImage
Nicole Kidman (Photo by Barry King/WireImage)

Barry King/WireImage
Nicole Kidman (Photo by Barry King/WireImage)

Barry King/WireImage
Nicole Kidman and Tom Cruise during "Eyes Wide Shut" Los Angeles Premiere at Mann Village Theatre in Westwood, California, United States.

SGranitz/WireImage
Nicole Kidman during 9th Annual Screen Actors Guild Awards.

Jeff Kravitz/Getty Images
Nicole Kidman (Photo by Barry King/WireImage)

Barry King/WireImage
Nicole Kidman during 53rd Annual Golden Globe Awards at Beverly Hilton Hotel in Beverly Hills, California, United States.

Ron Galella/WireImage
Nicole Kidman and Tom Cruise (Photo by Kevin Mazur Archive/WireImage)

Kevin Mazur Archive/WireImage
Nicole Kidman in Tom Ford for Gucci. (Photo by Gregory Pace/FilmMagic)

Gregory Pace/FilmMagic
Nicole Kidman (Photo by Steve Granitz/WireImage)

S. Granitz/WireImage
Nicole Kidman at the The Kodak Theater in Hollywood, California (Photo by Jim Smeal/WireImage)

Jim Smeal/WireImage
Actress Nicole Kidman arrives for the 80th Annual Academy Awards at the Kodak Theater in Hollywood, California on February 24, 2008.

AFP/Getty Images
Nicole Kidman arrives at the Golden Globe Awards at the Beverly Hilton January 20, 2002 in Beverly Hills, California.

Gregg DeGuire/WireImage
Nicole Kidman during The 76th Annual Academy Awards – Arrivals at The Kodak Theater in Hollywood, California, United States.

SGranitz/WireImage
Nicole Kidman during The 62nd Annual Golden Globe Awards – Arrivals at Beverly Hilton Hotel in Los Angeles, California, United States.

SGranitz/WireImage
Actress Nicole Kidman arrives on the red carpet for the 68th annual Golden Globe awards at the Beverly Hilton Hotel in Beverly Hills, California, on January 16, 2011.

AFP
Actress Nicole Kidman arrives at the 17th Annual Screen Actors Guild Awards at The Shrine Auditorium on January 30, 2011 in Los Angeles, California.

Barry King/FilmMagic
Nicole Kidman arrives at the 83rd Annual Academy Awards held at the Kodak Theatre on February 27, 2011 in Hollywood, California.

Jason Merritt/Getty Images
Nicole Kidman arrives at The 53rd Annual GRAMMY Awards held at Staples Center on February 13, 2011 in Los Angeles, California.

Steve Granitz/WireImage
Actress Nicole Kidman arrives at the 45th annual CMA Awards at the Bridgestone Arena on November 9, 2011 in Nashville, Tennessee.

Jon Kopaloff/FilmMagic
Nicole Kidman arrives at the 69th Annual Golden Globe Awards at The Beverly Hilton hotel on January 15, 2012 in Beverly Hills, California.

George Pimentel/GettyImages
Nicole Kidman attends the "The Paperboy" premiere during the 65th Annual Cannes Film Festival at Palais des Festivals on May 24, 2012 in Cannes, France.

Vittorio Zunino Celotto/Getty Images
Nicole Kidman arrives at the 70th Annual Golden Globe Awards held at The Beverly Hilton Hotel on January 13, 2013 in Beverly Hills, California.

Jason Merritt/Getty Images
Nicole Kidman attends the 55th Annual GRAMMY Awards at STAPLES Center on February 10, 2013 in Los Angeles, California.

Larry Busacca/WireImage
Nicole Kidman attends the World Premiere of "Paddington" at Odeon Leicester Square on November 23, 2014 in London, England.

Karwai Tang/WireImage
Nicole Kidman arrives at the 87th Annual Academy Awards at Hollywood & Highland Center on February 22, 2015 in Hollywood, California.

Jeffrey Mayer/WireImage
Nicole Kidman arrives at Women In Film 2015 Crystal + Lucy Awards at the Hyatt Regency Century Plaza on June 16, 2015 in Los Angeles, California.

Jon Kopaloff/FilmMagic
Nicole Kidman attends the opening ceremony and "Grace of Monaco" premiere at the 67th Annual Cannes Film Festival on May 14, 2014 in Cannes, France.

Tony Barson/Getty Images