Nicole Warne's Guide to a Well-Documented Jet Set Lifestyle
It helps when your fiancé is a photographer, and the destinations include Mykonos, Tokyo, and Iceland.
---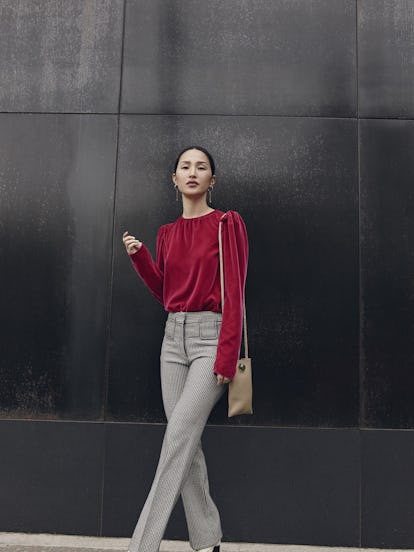 Photograph by Matthew Sprout, Styled by Lindsey Fruitier, Edited by Sam Milner. Hair by Shingo Shibata at The Wall Group; makeup by Rie Omoto at See Management; Photography assistant: Mark Luckasavage; digital technician: Sloan Laurits; fashion assistant: Felicia Logozzo
Flying off to enviable destinations is both a personal passion and occupational hazard for lifestyle blogger and social media favorite Nicole Warne. Known to her millions of fans as Gary Pepper Girl (the name of her travel and beauty-filled site), the Australian native follows an unrelenting schedule that has her globe-trotting for magazine shoots and partnerships with brands like L'Oreal and Louis Vuitton. Never one to rest on her laurels, she also manages to fit in some exploration-oriented trips with her fiancé, photographer Luke Shadbolt.
Who better, then, to wax poetic about the merits of in-flight epidermal hydration and the best cures for jet lag?
What's your summer vacation destination? I just spent one and a half days in Mykonos with Net-a-Porter and it was an idyllic introduction to Greece. We're booking a trip to go back as I've been wanting to visit my whole life. Our dream destination list is: Santorini, Milos and Zathynkos.
What's your favorite hotel in the world and why? For work, I love the Park Hyatt Place Vendome. I stay [there] during fashion week and it really feels like a home away from home. For vacation, Amilla Fushi in the Maldives was surreal. It has super chic and modern apartments floating on the water and we would wake up and go snorkeling straight from our balcony every morning along the coral beds.
What's the most luxurious hotel bathroom you've ever seen? I remember staying at the Mandarin Oriental in Hong Kong and thinking to myself how impressive the marble bathroom was. My fiancé and I joked that we could happily retire anywhere in the world with that apartment, as it was all you needed.
Off-season destination of choice and why? Iceland. We visited during mid-season in autumn so the weather was still bearable and had enough light to go out exploring. The natural landscapes and experiences there are breathtaking and made even more special without any tourists around.
Nicole Warne's Travel Photos, From Mykonos to Tokyo
The Blue Lagoon in Iceland.

Copyright 2016. All rights reserved.
Warne in Uluru, Northern Territory, Australia.

Copyright 2016. All rights reserved.
Warne at Luke Pukaki, in New Zealand.
Warne in Green Turtle Cay, Abaco, Bahamas.

Copyright 2016. All rights reserved.
Warne and Shadbolt in Troltunga, Norway.
Warne in Mykonos, Greece.

Copyright 2016. All rights reserved.
To-do in Ka'ena Point in Oahu, Hawaii: pull over when you spot hidden rock pools and float in them.
Copyright 2016. All rights reserved.
Favorite mode of travel: Plane for international trips and car for road trips. I feel so zen on flights because I can disconnect from the online world for a few moments. My road trips through Iceland, Norway and France are some of my fondest memories.
Best travel shoe: I recently bought a pair of Louis Vuitton slides in Cannes and they're so comfortable to wear in-flight. I pack an extra pair of socks too.
Go-to travel outfit: Black jeans, a cashmere or wool knit, a scarf, slides or sneakers and a thick coat that doubles as a blanket in-flight.
What's something you would never wear on a plane? Fluro [fluorescent colors].
Best freebie you've nabbed from a plane? You get grey pajamas in business class on Qantas flights. They're iconic to Australians because it has a big kangaroo logo across the chest, so they remind you of home if you're overseas. I love collecting them.
Favorite airport lounge or restaurant: Qantas First Class Lounge in Sydney. I fly frequently so my Chairman's Lounge membership is a godsend – if you book in advance, they do day massages and the restaurant has by far one of our most famous chefs, Neil Perry.
Best beauty products for travel: My skin specialist Melanie Grant recommended Cosmedix Rescue Balm and now I never fly without it. I use it as an in-flight mask and use SK-II Cloth Masks once I land to rehydrate my skin. A satin eye mask is also my secret weapon.
Five essential pieces of clothing/accessories you can't travel without: Jeans, an off-the-shoulder top, a pair of flats, a pair of heels and a backless dress in case I have an unexpected event or meeting to attend.
Survival secret for looking fresh and polished coming off of a long flight? I'm diligent with my skin care routine in-flight as I fly so often for work. I apply my Cosmedix Rescue Balm 1-2 times per flight and take my own water bottle so I can refill and drink at least 3 liters. About 20 minutes before descending I'll cleanse my face, apply a brightening skin serum, sunscreen, eye cream and lip balm. I'll brush my teeth, spray some perfume and apply a little bit of make-up if I'm going straight to a meeting. Voila.
Best cure for jet lag: Melatonin: it will put you to sleep and get you in the time zone. Either that or getting outdoors and doing a work-out, even if it's as simple as going for a walk.
Best souvenir you've ever picked up and where? I collect souvenirs everywhere I go so it's hard to say. I like to invest in the local vendors in each city as I feel it's important to support the locals. I recently bought these exquisite, one-off gold and natural stone rings in Mykonos that were like nothing I've ever seen before.
Dream future travel destination: South America, specifically Patagonia and Bolivia.