Benchmark
With their collection for Versace Home, Nikolai and Simon Haas are sitting in the hot seat.
---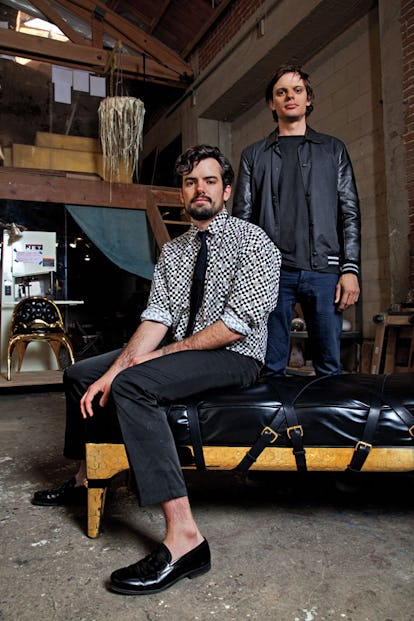 Last fall, the Los Angeles–based furniture designers Nikolai and Simon Haas flew to New York for a meeting with Donatella Versace. They arrived toting a Trader Joe's bag packed with samples—a hunk of blue-green resin produced from a 100-year-old cactus, their signature "hex tile" carved from extruded brass rods—and a gift for Versace: one of their polished-bronze Hematite vases. The brothers first discovered hematite in the mineral hall at the American Museum of Natural History in Los Angeles and re-created its globular forms by filling pantyhose with wet plaster, prodding it into encased sections, and tightly binding the whole thing with string. Cast in gleaming bronze, the resulting vases appear both natural and hypermanipulated, supple as offal, and torqued as metal. Versace immediately proposed a project. Showing them a photograph of an empty corner in her new apartment, she asked them to create a chair.
Within six months, the collaboration catapulted to fabric designs for Versace's women's collection and 12 pieces for Versace Home—including the belted leather Bondage bench and a resin lamp emblazoned with the signature gold Medusa. "I love seeing a remix of Versace through the eyes of someone new," the fashion designer said. "It takes guts to suggest something as radical as the Haas Brothers' creations."
The 28-year-old fraternal twins, whose older brother is the actor Lukas Haas, began their careers as fabricators, making custom objects for artists, architects, and a widening circle of friends. When Tobey Maguire commissioned a table, they produced a spare rectangle constructed from unfinished brass—its surface left to run riot, collecting a patina of fingerprints and spills. For Lady Gaga's performance of "Judas" on The Ellen DeGeneres Show, they created sweeping angel wings hitched to gold harnesses. "It's always been about finding a client who would take a big leap of faith on us," Nikolai said. "We've been really lucky."
The Haas Brothers studio is on the edge of downtown Los Angeles, an urban isthmus bordered by three freeways and impervious to gentrification. Their workspace, with its high ceilings and array of power tools, brings to mind a trade school supershop, an overcrowded storage unit, or some enigmatic guild. When I visited, a dressmaker's dummy wrapped in a black-bear overcoat from a '40s Russian-army officer's uniform was standing beside an industrial sewing machine and a desktop computer. The twins were discussing fur—its unique qualities, provenance, and design possibilities. They were preparing for Design Miami/Basel, which opens this month, where R 20th Century (the New York gallery that represents the Haas Brothers) is showing "Beast Feast," a collection of massive club chairs and couches balanced on meticulously sculpted animal feet and covered in lavish fur—reindeer from Iceland, North American bison. "The bison fur is intense," Simon marveled. "It's like memory foam: If you put your hand in it, your handprint remains." On one of the worktables, the strong legs of the Donatella chair were turned out into a demi-plié. The black leather upholstery, plump as a push-up bra, had been tufted Chesterfield-style. "Its weight and curves are like a body," exclaimed Nikolai.
At times, the brothers have considered reeling in their vision, but exuberance always wins out. "We're so excited about every project," said Nikolai unselfconsciously. "Not a lot of people have the opportunity to dream of something and then make it exist in the world forever."
Caption: Clockwise, from top left: Simon Haas, seated on the Haas Brothers for Versace Home Bondage bench, and Nikolai in their studio in downtown Los Angeles in March (their Donatella chair is in the background); the print they designed for the Versace fall 2013 collection; their bronze Hematite vase; their Honeycomb side table for Versace Home.