Nina Agdal Drinks Dirty Martinis—And Fresh Green Juice
The Danish model just let W into her bedroom, now she's letting everyone get a glimpse into her nighttime beauty routine.
---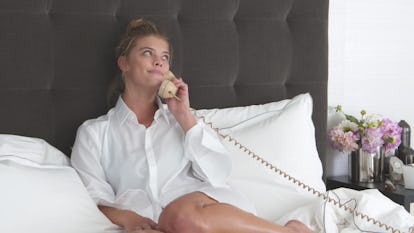 Model Nina Agdal has already shared with W that she brings rose water wherever she goes in her "In Bed With" interview, but now she's diving deeper and spilling more of her beauty secrets. Between dirty martinis and a good face mask, Agdal shares what makes her feel sexiest, here.
Your look in three words: Natural, fresh, simple.
Travel kit snapshot: Lip balm, warm socks and eye masks. A good hair day starts with: I barely use any hair products, but I start with damp hair from showering the night before, and possibly some Oribe Dry Texturizing Spray. I mostly have my hair up though.
Makeup miracles: Laura Mercier Foundation Primer, rosewater spray, a Beauty Blender and Lash Star Beauty Illuminator. Nails must be: Essie in Bordeaux. Sheet mask or mud mask: Dr. Jart's Firming and Brightening Sheet Masks. Bronze or blush: I don't really like blush, but I like bronzer from Nars. Beauty from the inside out: Water, coconut water and fresh green juices.
Exercise obsession: Y7 Yoga, boxing, SoulCycle and SLT. Product that you borrow from the boys: T-shirts or sweaters. Product that you picked up from the pros: The Lash Star Beauty Illuminator that I got from Tracy Murphy.
If you're staying in for the night, you are: Listening to music, playing dice and eating Chinese food. Evening drink of choice: A dirty martini.
In tub must have: I don't really take baths, but would imagine a lit candle and some tunes.
Fragrance you would like to go to bed with: Just the smell of being clean.
Watch: Big Spoon or Little Spoon? Model Nina Agdal Answers the Important Questions: