Nina Arianda's Latest Tale
The actress discusses her new play, "Tales from Red Vienna," her very attractive parents, and more.
---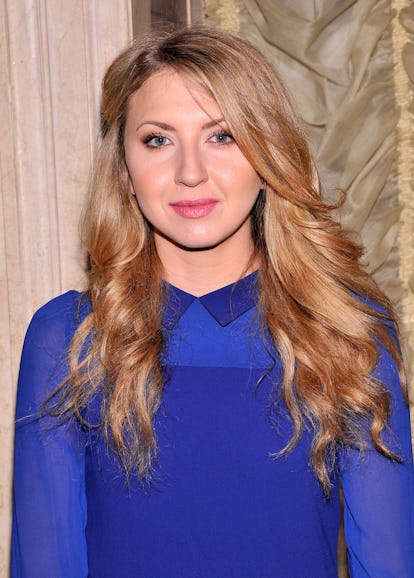 Nina Arianda had the kind of early career that plants pipe dreams in the minds of aspiring actors high-tailing it to New York City. In 2010, just a few months after graduating with an MFA from NYU's Tisch School of the Arts, Arianda was cast in rather meta-form as Vanda, a struggling actress auditioning to play a 19th century European countess in a play within a larger play called "Venus in Fur." The show had an extended run at Classic Stage Company and, when it ended, Arianda had her Broadway debut as Billie Dawn in "Born Yesterday," for which she earned a Tony nomination. Then "Venus in Fur" moved to Broadway and Arianda was nominated again, this time winning a Tony in 2012.
It was all rather heady stuff for the Clifton, New Jersey native who grew up the only child of Ukrainian immigrant parents. It's understandable she took a break from the stage, appearing in Woody Allen's "Midnight in Paris," on the TV shows "The Good Wife" and "Hostages," and in the movie "Rob the Mob," which opens this Friday. (She will also appear in the upcoming "The Humbling" directed by Barry Levinson.)
But Arianda couldn't stay away from the floorboards for long, and is back at it in "Tales from Red Vienna," which opens tonight at New York City Center in a Manhattan Theatre Club production. Though she won't earn a Tony nom—it's off-Broadway—the 28 year-old has plenty of scenery to chew as Helena, a World War I widow in 1920s Vienna who turns to prostitution as a means of survival. Here, Arianda discusses her latest role.
This is your first time on a New York stage since "Venus in Fur." I can only imagine the flood of theater offers that must have poured in after that. What made you decide on this project?
I think initially when I read this—and it sounds very masochistic of me—it scared the shit out of me. The story and her journey did. And for some reason I'm attracted to things I don't quite understand and scare me. I regret it later. I have a whole process of, "Why would I do this to myself?" But I thought that it was intriguing and important for this story about this specific woman and just that plight of women at that time to be told.
I read that you decided you wanted to become a professional actor when you were 9. The first time I ever recited or performed anything in front of an audience I was 3 years old and that unfortunately is on tape…
Is it on YouTube? Oh god forbid, no it's locked down on VHS. It was a Ukrainian independence rally in Jersey. Everyone wanted me to do the standard kid stuff and my mother refused and gave me a very patriotic political poem to memorize. It was an audience filled with seniors and when I finished it—I think it was the cuteness factor if we're really going to be realistic—they got up on their chairs and propped themselves up on their walkers and clapped for me. And I was so moved that somehow I remember this. They were very moved and that changed something in me. And then my mom sent me to an acting class because my English sucked. At 9, I said "Let's get an agent, let's get this popping." And that's when we started going to these amazing schools in New York. It's amazing how my parents really went with it and supported me so fully.
I noticed you thank them in the Playbill for being incredibly supportive, loving and incredibly good-looking. Absolutely. They are incredibly good-looking. I'm not going to lie about that. Listen, if you got it, flaunt it.
How are you handling what's happening in the Ukraine now? It's very moving and intense because this is exactly what my grandparents fought for. What's happening right now is extraordinary. It's scary, but it is so very, very important. And the thing that moves me most is it's not just students and the younger generation. Everything that's happening is very Ukrainian. The fact that it's peaceful is Ukrainian. The fact that it's organized and somehow unbelievably thoughtful in almost a comical way is very Ukrainian.
Photos: Nina Arianda's Latest Tale
Nina Arianda. Photo by Getty Images
Michael Epser and Nina Arianda in "Tales from Red Vienna." Photo by Joan Marcus
Nina Arianda in "Tales from Red Vienna." Photo by Joan Marcus
Michael Goldsmith and Nina Arianda in "Tales from Red Vienna." Photo by Joan Marcus