Young Artists: Nina Chanel Abney
At Parsons The New School, Nina Chanel Abney was among the youngest artists in her class, but after her first gallery show she quickly shot through the ranks.
---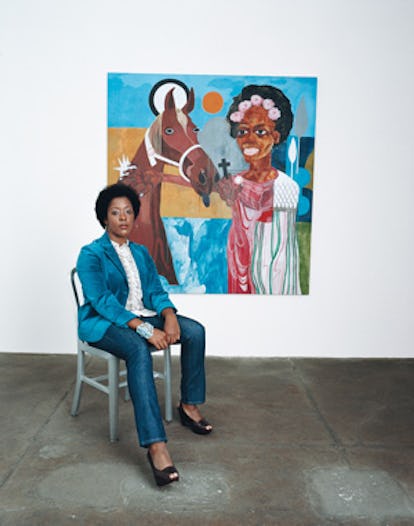 Half of Nina Chanel Abney's fourth-floor walk-up apartment in Jersey City, New Jersey, looks like it belongs to a typical 26-year-old. Comedy and Spike Lee DVDs are stacked on shelves around a TV, lucky bamboo shoots garnish a blond wood coffee table, and a jumbo-size bag of Twizzlers sits on her kitchenette table. To the left of the futon, however, an entire wall is covered with her latest 7- by 12-foot diptych: Two canvases, exploding in a riotous palette of colors, show the aftermath of a murder at a casino. Cartoonlike figures—including a mustached cocktail waitress crouched on a barstool and a bespectacled man wrapped in an American flag with his brain oozing out of his head—shrink in horror. Several characters wear elbow-length yellow rubber gloves, which, along with ambiguous depictions of race and gender, is a recurring motif in Abney's work. "Everyone in the painting is kind of a suspect," she says. "I use rubber gloves to symbolize that someone has done dirty work."
Abney, whose reserved demeanor contrasts with her art's high-octane, politically charged voice, graduated from Augustana College, a small liberal-arts school in Illinois, then spent a year working on an assembly line at Ford in her hometown of Chicago while preparing her art school applications by night. When she arrived at Parsons The New School of Design in Manhattan, she was one of the youngest students in her M.F.A. program and had never set foot inside a gallery. But she quickly grew savvy; her senior thesis was a stunning, enormous painting called Class of 2007. In it, she portrayed her classmates with black skin and sporting orange jumpsuits, and herself, the only African-American in the group, with white skin, wearing a prison guard uniform. The day after she unveiled the piece, KravetsWehby gallery invited her to join.
Last spring the gallery featured her first solo show, "Dirty Wash," in which she used wild, bright colors on extra-large canvases to depict narratives including political figures in scandalous situations—think Condoleezza Rice posing seductively in a bikini. "I'm fascinated by how celebrity news has become not more interesting, but more important than politics," she says. "I like to infuse that with race issues."
The show sold out within days, catching the eye of major collectors like Donald and Mera Rubell, who flew to New York to see it (and acquired, in addition to other work, Class of 2007). This December the couple will include Abney in their Miami museum's exhibition "30 Americans," which will highlight the work of African-American artists. Abney, the youngest painter in the show, will have her own room. "She fits in with the narrative thread that starts with Robert Colescott," Donald says. "She's a powerful storyteller," Mera adds. "There's a mystery in her work."
Abney agrees. "I have a definite story in my head," she says, "but I like to leave it to the viewer to figure it out."