Nina Yashar, Milan
For this design gallerist, fabulousness is all-encompassing.
---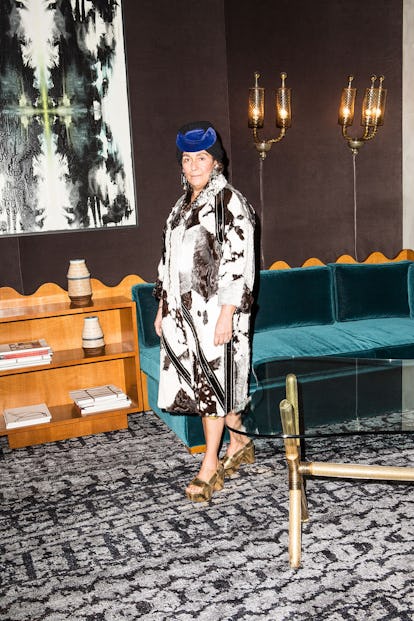 Photographer: Jeremy Liebman
Whether she is furnishing a room or merely entering one, there is something wonderfully theatrical about Nina Yashar. And while the design maven, who was born in Tehran, concedes that her friend Miuccia Prada holds some sway over her wardrobe, she is not really the type to take direction from anyone. "I do not follow any specific rules to determine my style," declares Yashar, a former rug dealer whose gutsy, glamorous taste is informed by instinct. At Nilufar, her gallery on the Via della Spiga, vintage and contemporary pieces by designers like Carlo Mollino, Gio Ponti, Ico Parisi, Martino Gamper, Bethan Laura Wood, and Lindsey Adelman mix with abandon. (The Jean Royère sofa shown behind Yashar, is from 1957; the Archimede Seguso table is from the '40s; and the painting is a recent work by Tony Wetfloor.) It was Yashar who famously enabled Gamper to carve up an entire suite of Ponti hotel furniture in 2007 and give it a "new destiny" as reconfigured tables, bureaus, and chairs. She has also collaborated with the art dealer Daniele Balice on a series of "fictional living spaces" in Paris and Beirut, affectionately called Spot and Squat. "I like to show objects and furniture in a series of rooms because I love to let the viewers dream, thinking that any room could be a part of their home," she explains. "I like people considering objects related to their real life." Coming from Yashar, "real" is, of course, a relative term. To inaugurate her new warehouse space during the Milan Furniture Fair in April, she presented a succession of artfully curated tableaux. The "house" that inspired them? La Scala.
Hair by Simone Prusso for TIGI at Atomo Management; Makeup by Cosetta Giorgetti at WM Management. Fashion Assistant: Camilla Sossi.