The New Guard: Nina Yashar
When it comes to taste, Nina Yashar, Milan's interior design doyenne, has the Midas touch.
---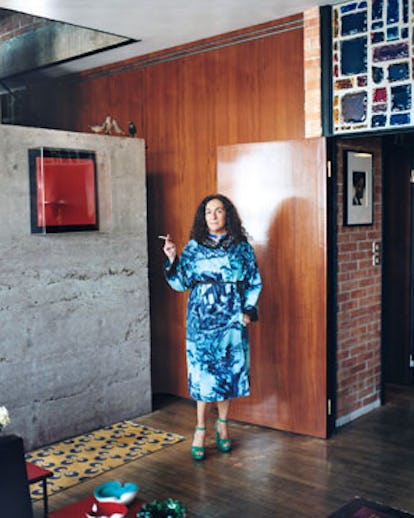 Who makes the taste of the tastemakers? Is there an éminence grise behind the scenes who helps shape the vision of fashion royalty and the rest of the benign despots who dictate style to the masses? One answer might be found inside Nilufar, the legendary gallery on Milan's Via della Spiga, where mere displays of furniture and rugs take on the qualities of zen portals into the very heart of design. The gallery (nilufar means lotus in Farsi) is the brainchild of Nina Yashar, who for over 20 years has reigned as the high priestess of modern design in Italy. The Iranian-Italian Yashar, 55, a close friend to many well-placed fashion-industry titans, is famed as both discoverer of and impresario to an array of rising stars. In a more general sense, she is known as the purveyor of an offbeat, rarefied style of luxury home furnishing to an international circle of well-heeled and demanding clients. The fortunate pedestrians who wander into Nilufar between stops at nearby Tod's and Lanvin find themselves afloat among three luminous floors showcasing a wildly eclectic yet strangely logical assemblage of furniture that mixes modernist masters like Carlo Mollino and Verner Panton with the work of cutting-edge young talent like Bethan Laura Wood and ­Martino Gamper. Somehow it all manages to be harmonious, displayed with rugs ranging from traditional Persian tribal to the avant-garde Plan B series by the husband-and-wife team Caturegli and Formica.
"I have never had the kind of taste that speaks to everyone," Yashar said. "I have a rather small nucleus of persone illuminate—enlightened people. For me, an ­illuminato is one who is linked to the aesthetic world—whether for work or for passion—but above all is someone who is willing to change, to evolve, to keep on challenging the standards he or she lives by. That's how I live: The leitmotif is constant change."
Yashar had temporarily touched down from her peripatetic schedule of hunting for rare pieces, ideas, and ingenues—and displaying her own wares at design salons around the world—for a well-deserved week at home. She was drinking coffee and ­mineral water while we sat chatting in the sprawling duplex of a famous Milan building—designed by the architect ­Giandomenico Belotti in 1958 and owned by a friend and client of hers, a key player in the fashion business who prefers to remain anonymous. The high-ceilinged penthouse, with its views over Parco Sempione, is a trove of early-modern design, thanks to this diminutive, vibrant woman with enormous charisma and a nimbus of curly dark hair often tied back with a signature scarf. Yashar has a big laugh, along with a face that can morph from ­mischievous schoolgirl to steely byzantine empress; she has both a romantic, extravagant personality and a reputation as a hardheaded businesswoman who doesn't suffer fools.
"I choose things based on intuition, on instinct," Yashar said. "The pieces have to have originality, creativity, and functionality—that is fundamental. And they should be unique. What I offer my clients is a source through which to express their own individuality."
Though Yashar was born in Tehran in the fifties, her father, Houchang, relocated the family to Milan in 1963, where he quickly became a leading merchant of oriental rugs. Yashar, the older of two daughters (she and her sister, Nilu, 50, both worked in the family trade), was schooled in the sometimes harsh reality of business by her father.
"When I was 21, he sent me on my own to Romania to buy up a stock of carpets in a factory in the middle of nowhere," she told me. "I had to do hard bargaining with people who looked at me as if I were a Martian, and I had to bribe a hotel manager to find me a room." She earned a degree in art history from the University of Venice at 24 and then, in 1979—backed for a year by her dubious but supportive father ("He always told me I had no commercial sense," she said)—­Yashar opened the first Nilufar, a rug shop, on Via Bigli, the stylish central-Milan street. "I used to walk around the city studying window displays thinking,
How can I make myself stand out?" she recalled. Steeped in the knowledge she had gained from her father of precious antique Persian rugs, she began to source and sell ­pieces from India and Asia, gradually adding certain French carpets never before seen in Italy. In 1989 she opened a second shop—the present seat of Nilufar—where, near the heart of the rapidly expanding high-fashion district, she began to express herself in earnest, throwing all her ingenuity into a series of groundbreaking shows. Earlier exhibitions such as "La Rosa nel Tappeto"—a study of the rose motif in carpets from various countries—had introduced the dramatic floral Turkish kilims to Milan buyers; now, in the new space, Yashar featured, variously, Iranian Gabbeh, ­Chinese, and Tibetan rugs.
Then, on a scouting trip to New York in the late nineties, ­Yashar spotted a rug in a store on 54th Street with a dramatic abstract pattern the like of which she had never seen before: "I said, 'What is that?' They told me it was Swedish, and I said, 'I'm going to ­Sweden!' " A few weeks later she bought a collection of Märta Måås-­Fjetterström rugs in Stockholm and accepted an invitation to view what was described to her as a huge warehouse full of strange-looking modern furniture. Yashar had no idea what she was seeing but bought several dozen pieces on instinct. "When I got everything back to Milan," she said, "I was told that they were all classic masters from the fifties and sixties—Alvar Aalto, Hans Wegner…"
Yashar promptly organized the 1998 exhibition "Swedish Rugs and Scandinavian Furniture," much to the mystification of some of her longtime clients. "People would come by the shop, look at the display, and ask: 'Has this place changed owners?'" she said.
The show was a success, and Yashar began to pursue her new interest in early-modern and contemporary furniture by including an array of European and American designers. She expanded the gallery to three floors, had it renovated by a friend—the designer GianCarlo Montebello—and presented her first displays of the mixed genres for which she would become famous: furniture, rugs, and objects from France, Tibet, Scandinavia, and India. From then on, each show was a departure. Exhibitions featuring Charlotte Perriand, Jacques Adnet, and other French ­rationalists were followed by the work of industrial design superstar ­Roger Tallon, the silicone rugs of Gaetano Pesce, and the sculpted metal furniture of Paul Evans. "Nina was different from any other dealer," Montebello said. "She has a great intuitive capacity to put very different styles together, and her work shows courage, an enormous independence and energy, and a great generosity."
In 2005, Yashar was the first Italian dealer in her field to be invited to Art Basel Miami Beach. With her keen sense of the zeitgeist, she also began to feature Italian masters like Mollino, Gio Ponti, Ettore Sottsass, and Piero Fornasetti precisely when international collectors—along with designers like Donna Karan, Marc Jacobs, Stefano Gabbana, and Domenico Dolce—were starting to rediscover them.
Before then, such work "was practically given away by Italian dealers," Yashar said. In 2005, a Mollino table was ­auctioned by Christie's for $3.8 million—at the time, a record for 20th-century furniture. Throughout all of her impulsive changes over the years, Yashar has continued to attract ever growing numbers of illuminati. Miuccia Prada was one of her first clients, followed by Anna Zegna and other distinguished names to whom Yashar devotes enormous time and energy but whom she refuses to discuss. ­Yashar is as reluctant to gossip as she is open about her passion for beautiful things and her belief in hard work. "If anybody thinks I succeeded overnight, they are wrong," she said. "I put together this business little by little, working like an ant, endlessly. But e­very so often, I would make these tremendous leaps of faith—turn everything upside down."
Some of the most rewarding risks she's taken have to do with sniffing out and promoting new talent. Her most spectacular discovery so far has been Gamper, the young woodworker from Merano who, in 2004, was still a student at London's Royal ­College of Art when ­Yashar saw his tables and chairs. Three years later, after Gamper publicly dismembered a suite of Gio Ponti furniture before putting everything back together in his own inimitable fashion at Design Miami/Basel, he was a legend. The font of the idea was, of course, Yashar's—she had found the furniture in a hotel in Sorrento. Gamper's symbolic destruction of the old and its transformation into the new was, in effect, also the world premiere of Yashar's iconoclastic manifesto. In 2011 Gamper won London's prestigious PAD prize for his bold, geometric Off-Cut Table, and for the last five years he has produced work exclusively for Nilufar.
There was a custom-made Gamper bathroom mirror in the apartment of Yashar's fashion-world friend—something ­Yashar pointed out with pride as she took me around the ­Parco ­Sempione penthouse. She was dressed head to toe in Prada (laughing, she called herself a "Prada victim"), and her attire perfectly complemented the decor: The spare, occasionally playful lines of the furniture were lent warmth and comfort by the subtle interplay of ­artfully faded colors and a certain indefinable logic in the juxtaposition of the pieces, which included a spectacular silver Paul ­Evans cabinet and a couch by Jean Prouvé. While the works ­varied wildly in age and provenance, when combined with brick, concrete, and wrought iron detailing, everything fit with the relaxed­, early-­modern mood. Adding to that was artwork such as ­Francesco Vezzoli's painting of Anita Ekberg and Kathe Burkhart's painting Up Your Ass, making the atmosphere simultaneously grand, offbeat, and elegant—an interior that is less a showplace than a private refuge. The owner, who worked on the decor in partnership with Yashar, who provided the pieces, said that he most loves the fact that it doesn't look like a typical Milanese apartment, that it reflects his personality, and that it makes him happy.
In Yashar's home—another rambling, airy Milanese penthouse, which she shares with her husband, Angelo, a consultant for Prada, and their daughter Lavinia, 20, a medical student—Carlo Mollino chairs and Victorian candlesticks mingle with anime-­inspired paintings by young Italian artists in front of a glorious wall designed by Montebello and frescoed with gold-leaf representations of 16th-century Mogul Indian motifs. Yashar was showing me a different kind of project—one she launched when Lavinia was just 7—that has left its mark on the design world. Crossings, two extraordinary catalogs published in 1999 and 2000, brought together a panoply of design objects of distinct styles, to numinous effect: A Khorassan carpet from the fifties was paired with a contemporary vase by Pesce, and 19th-century Mongolian rugs were combined with a seventies ceiling lamp by Finnish designer Ilmari Tapiovaara. Published in editions limited to 3,000, the catalogs quickly became cult objects. Leafing through them, one is a step closer to understanding Yashar's formative vision for Nilufar. "With ­Crossings, Nina saw affinities where no one else had seen them," said Giò Marconi, a legendary Milan art dealer (and close friend of Yashar's). "She brought a breath of air to the world of design." Yashar looks at the Crossings series much as she does her ever mutable collections at Nilufar: as an attempt to create "a kind of alphabet for a new language," as Yashar put it.
Like most people whose life and work make up a seamless whole—the happy ones, that is—Yashar finds a near religious ­satisfaction in what she does. "Doing this kind of work is like a spiritual exercise," she said. "You are always reaching a new level of insight. Sometimes Miuccia and other friends and I will be just sitting around brainstorming, and the atmosphere is charged with energy, and I feel like I have contributed to it. Change—calling into question established truths and juxtaposing strange things that no one ever thought of putting together before—that is how I believe you get a really fresh view of life or of art; that's how creativity is born."
Yashar passed her hand through her dark curls and shook her head. "More than once I have been called selvaggia—a wild woman," she said with a grin. "And that's because of the way I work: not for commerce but for passion. I believe that the real merchant doesn't just think about buying and selling. The important thing is to give people insight into their own imagination, to open new territories. To have them be able to live with the idea that anything is possible."