Occupy Chic
For Spot Paris #2013, design doyenne Nina Yashar has taken over the Hotel de Miramion in Paris.
---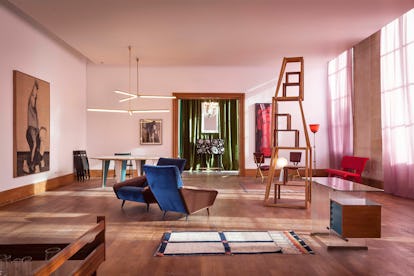 Nina Yashar, the diminutive design doyenne behind celebrated Milan gallery Nilufar, is having a moan. She's bored, she says, of exhibiting at international trade fairs, where merit and meaning is regularly replaced by an emphasis on sales. She's frustrated, too, by her own gallery space, whose walls perfectly befit contemporary art but which can prove a tricky backdrop for design. "I never like to show pieces in an installation, one chair alone," Yashar says. "I like pieces of furniture to interfere, make a relationship between them and the space."
Which is why, through November 12, Yashar has relocated to the Hôtel de Miramion, in Paris, a 16th century palace she's filled, in collaboration with the art galleries Balice Hertling and Giò Marconi, with a heady mix of historical design classics and their contemporary counterparts.
"I've tried to create an atmosphere in every room," Yashar explains. In one, Shigeru Ban's "Tea House," a temporary structure constructed entirely of paper tubes, is surrounded by the work of Tokujin Yoshioka and Franco Albini. In another, eight tables by the artist Isabel Cornero, newly commissioned by Yashar, stand next to a chest of drawers designed by Pietro Chiesa. Above it hangs a Paavo Tynell chandelier.
Elsewhere, furniture by Gino Sarfatti, Jurgen Bey, Gio Ponti and Martino Gamper—Nilufar-represented designers young and old—mixes with art contributed by the galleries Balice Hertling and Gió Marconic (from Paris and Milan respectively). In the Hôtel's main room — the "party room," Yashar explains — long, narrow works by American artist Sam Falls act as makeshift curtains.
Yashar, who curated a similar project last year in a Paris apartment, will relocate pieces to a Lebanese Palace once the show is finished in France. "The idea is to continue this project around the world," she says. "I like challenges in other cities."
Nina Yashar. Photo by Rui Teixeira
Shigeru Ban's "Tea House." Photo by Rui Teixeira