Nirvana Naves: The Wonkette Who Moonlights as a Model
The Jonathan Anderson and Prada favorite is an exemplar of a rising brand of model comfortable balancing fashion with academics.
---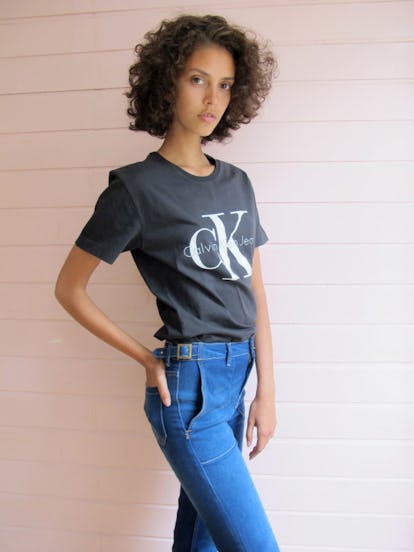 Just more than a week ago, no one was really surprised when Azzedine Alaïa showed his Fall 2016 collection in a surprise midafternoon presentation at his Paris headquarters. Alaïa has always sort of operated on his own terms. ("I took the time necessary to create them," he told WWD.) His refusal to pander to clients or industry has made him as much of a fixture of the fashion world as his iconic garments.
Less of a fixture, though quickly becoming one, was the fourth model on his runway: Nirvana Naves. Plucked out of relative obscurity by Jonathan Anderson to open his Spring 2016 runway (she had signed with Next Management just four weeks prior), Naves proceeded to walk a carefully curated array of spring presentations, including an exclusive at Prada and appearances at Chloé, Balenciaga, and Valentino. Fall 2016 brought with it a less tightly curated, but no less impressive roster; Naves appeared in Alexander McQueen, Lanvin, Simone Rocha, Carven, Proenza Schouler, and Burberry. Her star has risen alongside that of Anderson's, whom she credits for discovering her — she walked for Loewe Fall 2016, just a year after he took the helm of the storied Madrid label.
The fall shows was also the first time Naves had ever participated in all four major fashion weeks: Paris, Milan, London, and New York. She considered herself lucky, because one of those weeks coincided with a school vacation — the 20-year-old model is also still a university student, studying development economics in her hometown of Amsterdam and slated to graduate in June. And she's writing a thesis, on the efficacy of the complaints process at higher education institutions no less.
"I started late in New York because I still had school," she explained. Once underway, she traveled from city to city with a cadre of Dutch models including Marjan Jonkman and Vera Van Erp — "the Dutchies," she called them with a giggle.
Over the past year, the model-student types have colonized the runways. At Christopher Kane, 21-year-old Céline Delaugère walked the runway in between studying math at university in Paris. Jane Moseley, who made her runway debut with an exclusive at Balenciaga Fall 2016, studied art history at Bard College, thinking she would go the academic route, before she moved to New York to try to make it as an artist. Jennae Quisenberry dabbled in molecular biology before turning to music, bartending, and finally modeling. Naves isn't the first to juggle a full university slate with the rigors of the fashion week calendar — she's part of a movement in casting towards smart, sensitive women on the runway.
During the off-season between fashion weeks, Naves fits in shoots — and summons from Alaïa — on weekends, often flying to and from destinations on the weekends. She's only got class two days a week, she noted — the rest of the time allotted for work on her thesis.
"I can do a lot of that in my hotel room" she said. She paused. "Or, I try to."
And when she gets home, she said, there's a homemade meal awaiting in Amsterdam. (Oven-baked salmon, roasted vegetables, potatoes. She cooks a bit, but this is mother-prepared.) "I'm a bit of a foodie," she confessed — she and her friends had recently attended one of the ubiquitous food festivals that pop up in the city throughout the summer.
In her two seasons in the business, fashion has started to penetrate every aspect of her life. She remains in touch with her model friends, and formerly ambivalent about couture (she was unfamiliar with Anderson's work when she first signed on to his show), she now picks out favorite designers and looks. Credit where credit is due, Anderson remains at the top of the list.
In the same breath, Naves can set her sights on a full-time job in fashion and a position with the World Trade Organization. Or perhaps a combination of the two: she cited sustainable collections from H&M and Zara as prototypes for the kind of project she might one day work on.
For now, the fashion thing seems to be working. "One fashion week is finished and another starts again," she said. Offers have already started to trickle in for the Spring 2017 season — so Naves just has to graduate first.
Photos: Nirvana Naves: The Wonkette Who Moonlights as a Model
Nirvana Naves. Photo courtesy Next Management.
Nirvana Naves. Photo courtesy Next Management.
Nirvana Naves in J.W. Anderson Spring 2016. Photo courtesy J.W. Anderson.
Nirvana Naves in Chloé Spring 2016. Photo courtesy Chloé.
Nirvana Naves in Valentino Spring 2016 Ready-To-Wear. Photo courtesy Valentino.
Nirvana Naves in Prada Spring 2016. Photo courtesy Prada.
Nirvana Naves in Alexander McQueen Fall 2016. Photo courtesy Alexander McQueen.
Nirvana Naves in Altuzarra Fall 2016. Photo courtesy Altuzarra.
Nirvana Naves in Carven Fall 2016. Photo courtesy Carven.
Nirvana Naves in Loewe Fall 2016. Photo courtesy Loewe.
Nirvana Naves in Mary Katrantzou Fall 2016. Photo courtesy Mary Katrantzou.
Nirvana Naves in Proenza Schouler Fall 2016. Photo courtesy Proenza Schouler.