Nnamdi Asomugha Never Thought He'd Play the Romantic Lead
The former NFL player talks about falling in love with acting, and being teased by 'Sylvie's Love' co-star, Tessa Thompson for observing the American jazz greats.
---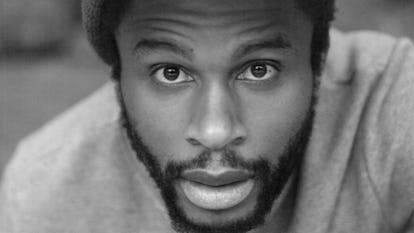 Nnamdi Asomugha photographed by Emily Kitching.
Nnamdi Asomugha never wanted to be an actor. Growing up in Los Angeles in the 1990s, the extent of his experiences on stage consisted of his parents pushing him to perform in church holiday plays.
"I liked movies and I liked TV shows, but I did not want to act," he told W over the phone one evening in November. "I absolutely hated doing that."
Instead, he first pursued his love of sports—and eventually went on to play professional football for the Oakland Raiders and the Philadelphia Eagles. But a few years into his professional football career, he was called to do a Nike commercial. Advertisement spots are just about par for the course when it comes to being an athlete, but the director of Asomugha's commercial was especially impressed. "He took a big liking to my work in the Nike commercial, and I think that was the real moment where something clicked," he said. "I thought, if this is something that I can pursue when I'm done playing, then I should start looking into it. But I had never thought of it until someone started telling me I could do it. I needed someone else to tell me that I was good at it."
If a life on screen never crossed Asomugha's mind in the first place, then he almost certainly never pictured himself playing the romantic lead in a buzzy mid-century period piece about a precocious career woman and a jazz musician. But that's what he does in Sylvie's Love, Eugene Ashe's ode to 1950s Hollywood romance—and strong Oscars contender that debuted at Sundance in January, and released on Amazon Prime today. Asomugha stars as Robert, the aspiring saxophone player that steals the heart of Sylvie, played by Tessa Thompson.
Years ago, Asomugha received the script for Sylvie's Love and read it on a plane. He quickly fell in love with the idea of a 1950s romance with a Black cast at the center. "I had never seen that with Black people in it," he said. "I was completely shocked and surprised in a good way to see that that was what this story was all about." But he still wasn't sold on the idea of playing a romantic lead. "I did not want to do a romantic film," he admitted. "I never felt that was a bone that I had, the romantic guy. That felt like a stretch for me, but I appreciated the work with the saxophone that was going to be needed with the character and appreciated trying to fill that void in the project."
Eventually, the performer found where he could break down some of his walls to further dive into the character. "As a football player, as an athlete, there's sort of a wall that we develop over time," he went on. "You can't really show emotion or vulnerability. No matter what happens, if you lost the game, you have to get the facts without getting outside of yourself. So there was that wall that I had to chip through," he said. "I think there's another wall as a Black man that we have where it's like, you gotta really be macho. You can't show a certain level of vulnerability, which I don't agree with, but we've developed it over time and there was another wall that I had to break down. So I'm proud of the fact that I was able to play this role, despite all the challenges that you probably wouldn't even know that I had going into it."
Asomugha mainly prepared for the role of Robert, a quiet but determined musician fatefully in love with the titular character, by watching old interviews with Sydney Poitier around the time he filmed Paris Blues with Paul Newman, and watching performances by John Coltrane, Dexter Gordon, and Sonny Rollins. "Tessa would walk in and start making fun of me," he joked.
Asomugha, who also produced the film, learned to play the saxophone in order to get into character (which wasn't too difficult for him, as he had played clarinet and piano as a kid, before completely dropping music to focus on sports). His co-star, Thompson, said she was endeared to him, especially after knowing he spent a year learning to play an instrument for the role. "This is a second career for him, and he's spent so much energy learning and growing as a performer, and certainly giving himself opportunity by producing things, and I just really admire his work ethic," the actress said of her collaborator. "I think that mutual adoration and respect really communicated into a real chemistry and love on screen."
"He didn't know this, but at the time that he was practicing his saxophone, I would turn the the music down in the hair and makeup trailer because then everyone could hear him. Any teasing I do comes from an absolute place of love," she added with a laugh.
Though Asomugha never saw himself as the romantic lead, ever since he starred as Robert in Sylvie's Love, romance scripts have been pouring into his inbox. "That was not in my wheelhouse at all," he said. "But it's funny, I played a Trinidadian in a film called Crown Heights, and right after that I started getting a bunch of scripts for the Jamaican guy or the Caribbean guy. Now, after doing Sylvie's Love, the romantic scripts are the ones that are coming in."
And everything about the craft of acting has nestled its way into his heart, too. It's an attachment he likely shares with his wife, actress and producer Kerry Washington, though the two don't compare notes in their house. "I love everything about acting now," Asomugha said. "I don't even know how to tell you how it was to go from hating it, to just wanting to do it at all times. I don't want to work myself to death without appreciating everything that I've been through and everything that's come my way."
Related: Where to Stream the 2021 Oscar Films