How To Achieve the Ultimate "No Makeup" Look, Courtesy of Selena Gomez's Makeup Artist
Makeup artist Hung Vanngo gives us the inside scoop on how to get that glow.
---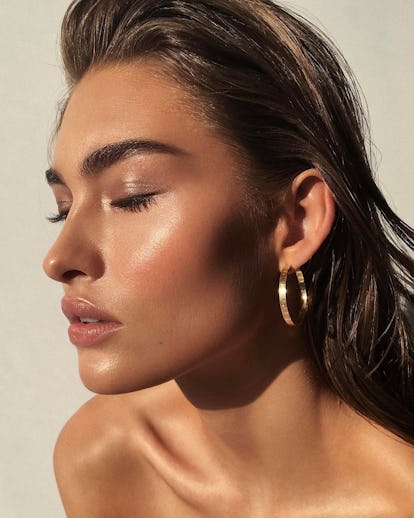 Photo by @hungvanngo
As spring comes into full bloom, the "no makeup" look, which ruled the runways this season, has proven to be the ultimate spring accessory. It's all about natural beauty, and thanks to makeup artist, Hung Vanngo, he explains that the look is "really about enhancing everything in a very subtle way." Think a pop of metallic silver shadow in the inner corner eye at Calvin Klein or perfectly dewy, luminous skin at Victoria Beckham—the look is all in the details.
Vanngo, whose celebrity clients range from pop stars Selena Gomez and Jennifer Lopez to models Emily Ratajkowski and Karlie Kloss—just to name a few, confirmed that "the "no-makeup" look is the most versatile because you can wear it everyday."
First step: skin. "The skin should be clean to start, and then it's best to really take the time to take care of it properly. I suggest using a lightweight serum first and then massaging your moisturizer on top of that. Don't forget eye cream and lip balm." Vanngo reminds us that good makeup starts with good skin and that "it's all in the skin prep, because if the skin looks good, everything else will look good".
Second step: the makeup. "For this type of makeup, we always want the skin to look like skin. It should be radiant and healthy looking, so opt for creamy textures and avoid using lots of powder products." While you may think that too many creams products will result into a runny complexion, Vanngo says that "too much powder can ruin a natural makeup look, so keep the skin dewy and it will still look like skin. Also, having a lighter hand with your products is best to avoid overdoing it."
Most importantly though, the best part about the "no makeup" look is that "it doesn't require a ton of maintenance" and can effortlessly be transformed into an evening look by "simply adding a lipstick." And for more of an elevated touch as we move into the warmer months, Vanngo suggests that "it's nice to add a little extra warmth to the skin by dusting a bit of bronzer on. A fresh, soft color on the lips is also nice when it's warmer."
Here, Vanngo breaks down his favorite products and shares his best advice on how to achieve the ultimate "no makeup" look.
Hung Vanngo's Must-Have Products To Achieve the "No Makeup" Look
Related: See W's best beauty videos, here