Nomadland Trailer: Frances McDormand Is Primed for Another Oscar
The upcoming film—and major awards season contender—finds McDormand roaming the American West in a van.
---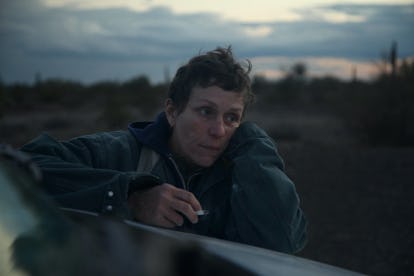 Courtesy of IMDb
There have been countless hiccups for the film industry in 2020, but none of them have stopped Chloé Zhao's upcoming film Nomadland from becoming a runaway critical success. It's the first to ever win the top prize at both the Venice and Toronto film festivals, and the 38-year-old director is already generating Oscars buzz for what's only her third feature film. So is two-time Oscar winner Frances McDormand, who stars as Fern, a widow and former substitute teacher hard hit by the Great Recession. With nothing much worthwhile left in her hometown, whose economy also took a hit, Fern packs up her van and sets off from rural Nevada for a trip that takes her all over the American West.
Life on the road has its drawbacks; the trailer released on Monday shows Fern cutting her hair in a public bathroom and waiting around laundromats. But for Fern, her newfound lifestyle is all about the perks. She prefers to think of herself not as homeless, but "houseless"—in other words, as a "modern-day nomad." So do those she encounters along the way, both in the film and real life. (Zhao based the film on their experiences, as well as Nomadland: Surviving America in the Twenty-First Century, a 2017 non-fiction book by Jessica Bruder.)
Nomadland's release date, February of 2021, is just in time for Oscars season. McDormand and Zhao already seem likely nominees, for Best Actress and Best Director respectively. In any case, it'll be a big year for Zhao; she's also directing Eternals, a Marvel starring Salma Hayek, Kit Harington, and Angelina Jolie that's set for a November release.
Related: Where to Stream the 2021 Oscar Films