Noor Fares's Brilliant Future
The Lebanese jewelry designer shares her life long obsession with stones.
---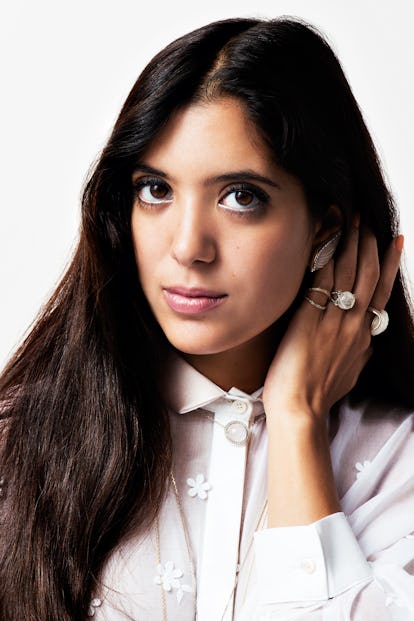 Photographs: Katja Rahlwes Stylist: Gianluca Longo
Raven-haired 29-year-old Noor Fares, whose father was once the deputy prime minister of Lebanon, was born and raised in Paris. She's been making jewelry for as long as she can remember. "I did it for myself and for my mother," she says. "It's part of the culture in Lebanon—to make or change your own pieces." After studying at the GIA, she started her line in 2009, with a small collection she called Touch Wood, which combined diamonds with ebony. Harrods and Browns quickly placed orders, but soon Fares felt she needed more specialized training to do justice to her ideas, so last year she completed a master's in jewelry design at Central Saint Martins. Her latest pieces are both innovative and elegant. Claspless chains flow through gold tubes; crystals contain bubbles that look like optical illusions; and a blue moonstone moves freely in its setting. "Jewelry has a talismanic quality," Fares says. "Since prehistoric times, it has been used for fertility, marriage, and protection. You look at a gem, and you think of treasure chests and magic powers. You keep it safe. You pass it down from generation to generation."
Hair by Mari Ohashi at LGA Management; makeup by Lucy Burt for Mac; manicures by Pebbles for Ciate. Digital technician: Rebecca Lievre. Photography assistant: Virgile Biechy.