Nordstrom Is Getting Into the Resale Market
See You Tomorrow stocks "pre-loved" pieces by the likes of Gucci and Sandy Liang.
---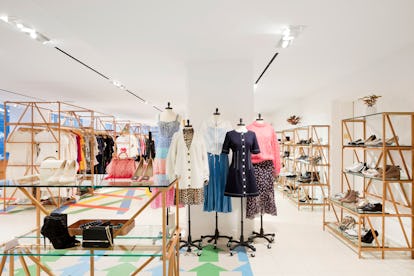 The new "See You Tomorrow" resale boutique at the Nordstrom Flagship store in New York City. Courtesy of Nordstrom
Even if you're a die-hard bargain hunter, the traditional secondhand shopping experience leaves much to be desired. Combing through racks of synthetic junk can be a thrill when you find a mint condition cashmere cardigan or a classic Burberry trench coat in exactly your size. But unearthing those diamonds in the rough—whether you're at a consignment store, a vintage shop or a bulk reseller like Buffalo Exchange—requires the focus and stamina of a professional chess player.
For those who crave a more serene approach to buying not-so-new designer clothes, Nordstrom's just-launched resale boutique—a pop-up that'll be open for six months—is a game-changer. Called See You Tomorrow, it's an expertly curated selection of "pre-loved" pieces by much-loved brands like Gucci, Eckhaus Latta, Manolo Blahnik and Sandy Liang, presented in a bright environment which invites you to linger.
Over the next six months, the department store is devoting a significant chunk of their New York City flagship to the concept, selling past season merchandise, returned items, and previously damaged pieces that have been cleaned and refurbished, at prices akin to a high-end consignment shop. Developed in partnership with Yerdle, the company that manages so-called "recommerce" for Patagonia and Eileen Fisher, it's uncharted territory for the luxury space, in which pricing is often opaque and value is everything.
The day before the official launch, Nordstrom's vice president of creative projects Olivia Kim gave a tour of the New York space, designed with artist and designer Marc Huntley. With floor-to-ceiling windows overlooking Broadway and 57th Streets, it's far from your typical fusty wasteland of mothball-infused merch. Clothes are organized by style and color—floaty white dresses are clustered at the end of one rack, jewel-toned cocktail numbers on the other—and shoes and bags feel as thoughtfully merchandised as a full-price sales floor. In one corner, the Danish brand Ganni went all in, mixing their signature wrap dresses with reconstructed tie-dyed T-shirts and quilts made from deadstock material.
There's even a small selection of menswear and home decor, plus fiddle-leaf fig trees in the corners and an outpost of the hippie-chic Bonberi Market that stocks green juice and fancy olive oil. If you didn't know where you were, you might find yourself asking if they had that Veronica Beard top in another size. The online experience, which also launched today, feels much like Net-a-porter: Editorial-style images run along the top of the page, and each piece is professionally photographed and rated by condition. Resale prices are listed next to the original full price for each piece: a "pristine" Ganni mohair pullover that was originally $475 will run you $266.
"We've been talking about recommerce, resale and vintage for a long time," Kim said, standing near a display of near-perfect Clare V tote bags. "I was really excited about what it could look like from Nordstrom's point of view—knowing the breadth of assortment that we offer and knowing that we have such great relationships with brands."
In addition to hand-picking her way through pallets of returns and damaged items at the Nordstrom Quality Center, a massive warehouse outside Seattle where all unsold merchandise ends up, Kim reached out to luxury houses personally to see if she could find a place for the things they might not know what to do with. The results of that dig are what's currently available, and it will be replenished as customers bring in their own items, which can be exchanged for Nordstrom gift cards. Yerdle handles all cleaning, repairs, and refurbishments before anything hits the floor.
The concept is a shrewd business decision as much as it is an important environmental one: Rather than selling leftover merchandise to third-party outlets or routing it to their Nordstrom Rack stores, See You Tomorrow helps close the loop while also cutting down on waste in an industry that produces hundreds of thousands of tons of it every year.
Kim says she was met with some resistance, both from inside the business and from luxury houses that they work with. "There are loads of brands that are petrified and in denial about resale even happening. And I think that's your prerogative to believe that. But we know for a fact that more than half of all Americans are engaged in resale in some form or another," she said.
But will transparent pricing affect the amount customers are willing to pay for new pieces? "That fear, that questioning whether a business model like this can coexist with a full-price business model, I think it's still in question," she said. "And that's part of what this pop-up is about: What can we learn in these six months about customer behavior, who that customer is, what they're selling what they're buying, how they engage with us? Does it cannibalize our full-price business or does it not?"
Whether See You Tomorrow ends up being a permanent part of the business remains to be seen, but it feels like a major step regardless. Good merchandising, savvy curation and transparent pricing go a long way in making second-hand shopping feel exciting, potentially bringing in the type of customer who never would have considered it before. "It's all about answering the question of 'What do you do with this stuff that maybe doesn't seem as desirable?'" said Kim, "Can you make it desirable and covetable again?"