What Millennials Like Me Can Learn From 70-Year-Old Norma Kamali
When a 24-year-old writer worked out with the 70-year-old design legend, she learned the designer had a few wise life lessons to impart about being a woman in fashion.
---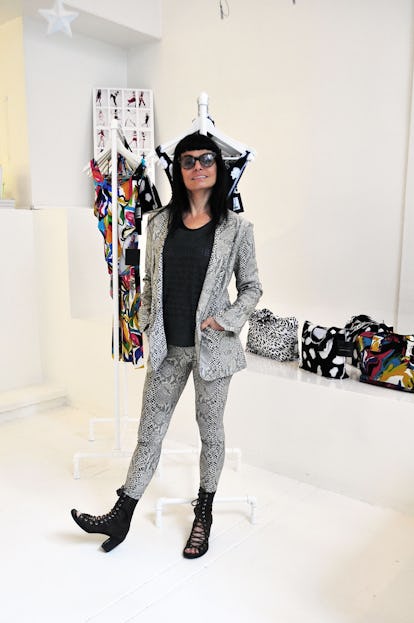 Norma Kamali and I didn't notice we were late for our workout class at Physique 57 last Thursday afternoon.
"You're going to hate me after this," she whispered as we ran into the mirrored barre studio, where she has been taking classes every single day at 4:45 p.m. for the past 10 years and is somehow still standing.
"Not possible!" I replied. Kamali is 70 and I am 24, but when she looked me dead in the eye through her large, leopard cat-eye glasses, I knew I was in for it. Kamali threw off her python-print nylon blazer, put down her XL iPhone, and handed me two five-pound weights. I didn't dare ask to trade for the three-pound ones — she'd already lowered herself to the beginner's class for my sake.
The word "fit" defines Kamali's entire being and persona. Today, she is receiving the Council of Fashion Designers of America's Geoffrey Beene Lifetime Achievement Award for the sum of a clutch of generation-defining innovations, like the sleeping bag puffer coat, her use of parachute fabric, her groundbreaking swimwear, to name a few. But more than anyone, she is a soothsayer when it comes to what we now commonly refer to as athleisure, what she in her heyday would have just referred to as fabulous sweats to wear to Studio 54.
Kamali has been in charge of her own independent business since 1967, but what sets her apart from her peers is that she's not been afraid to change herself as the fashion industry has convulsed around her. She's not afraid of millennials like myself; in fact, she's doing backflips far better than me. I spent the entirety of the hour-long Physique 57 class trying — and failing — to mirror her every move. When the instructor suggested we slide our stretches into a split if we were able, I turned to find Kamali's python leggings fully splayed, toes perfectly pointed.
"I can't not work out and eat healthy every day," said Kamali over salmon sushi, low-sodium soy sauce, and green tea at Nobu after class. The restaurant is conveniently located in-between Physique 57 and her studio on 56th, and she has a corner table permanently reserved for her. "I want to live a long life!" she continued. "As you get older, you're going to want that power too and the earlier you start, the better. I've been around so many women in my career, that I've seen it play out in numbers. I really would've loved to have had someone who could tell me all the things that were about to happen to me."
Okay, so I just turned 24. What do I have to look out for when I turn 25? Everybody has a different plan. I mean, look, I just met my soulmate literally five years ago. But there are certain things physically that start to change. I remember I was so aware of all the little changes. Like, all of a sudden, when you don't get a good night's sleep you really look like you didn't get a good night's sleep. But 30 is the real game-changer. Up until then, everything is going to be up and down and crazy. Your twenties are the most insecure period of time. I never want to be in my twenties ever again. Being 30 is like your first Physique 57 class in being an adult woman. It's tough, but you gotta do it.
Why was 30 such a shift for you? I got married at 19 — just to get out of the house — and then I was divorced at 30. I had $96.00 in the bank. I left the business my husband and I had together. First of all, he was on heroin. I needed money for fabric and he was spending it on the sales girl buying her watches. I was like, I gotta get out of here. So I just left and I didn't know what the hell I was going to do. But I knew that if I stayed another day I would have no soul left. Everything came together eventually, but I had to feel that experience to get to having my own business. Everyone has their shift and that was mine. So yeah, 30 is big. What sign are you?
Taurus. What about you? I'm a Cancer and I have Taurus and Venus in my chart. So I have that bull thing, too. In 1970, my friend gave me a birthday gift to go see this astrologer. She said I would have a very successful career, but that I wouldn't reach my peak until later in life, like sixties or seventies. And she was right — I never met a decent guy up until now. She said, "Listen to me, do not go out with anybody unless you feel they deserve you." And they never deserved me.
You definitely had success early in life, though. Well, she said I would peak later. But absolutely. Because I own my own company without any backers or partners, I'm not the world's richest designer, but I've had more freedom. For me, that was super important. I've been able to do everything I've felt like doing. So, I've had successes by the way people measure success, and then I've had personal success where I've achieved things I never thought I could do.
Maybe this is a New Yorker thing, but I feel like I'm never satisfied. At what age did you feel successful? That's a Taurus thing. But never! Never. That's what keeps you curious. Competition is good. It's like being in the Physique 57 class. If everyone else wasn't there, you probably would have been like, "I've had enough." You're motivated by other people. Like this girl next to me in class was clearly a beginner and she was very aware of me. I could feel her competing with me in her way. Not that I'm better, but by having me there, she pushed herself much further.
How did you learn to be a good businesswoman? You've spoken before about the Kardashian women and their empire, and I'm in agreement that they really are so savvy. They're brilliant. They've blindsided everybody who thought they were bimbos. We can't teach fashion courses without business. It just doesn't make sense anymore; they're not separate. I don't pretend to be a good business person; I just know because I own my own business that I have to pay my rent. I just have to. It's my survival. If I can't, then I can't do what I love. I'm like an addict. I think anyone can be good at business, they just have to be motivated.
What were some of your biggest challenges along the way? There were so many failures. It's constant. There's still shit happening. Your age group may think that it needs to be perfect all the time and then when something goes wrong your minds blow, but it's about trying to prevent things from going wrong and solving the problems very quickly when they happen. There's a maturity in understanding that and once you do you can take on more responsibility.
At what age did you figure out what your personal style was? It's an interesting question because as a girl, when you're really little, you know your style. You know what you like. Unfortunately, it gets influenced by whatever is happening in the world. It used to get influenced by magazines, but not anymore. It gets influenced now by bloggers or influencers of some kind. I think you'll really know your style when your wardrobe is a collection of all your favorite things and is a statement about who you are. When you can look at your closet and say, "That's it." There's something really satisfying about knowing that about yourself. You can express yourself truthfully and with confidence. Right now, you're still pulling things, trying things, and discarding things.
So it's not really about finding your look, it's about becoming comfortable with who you've always been? That makes sense to me. I used to be a tomboy, and then I felt the need to be pretty. I think I'm slowly coming back to that look as I care less and less about what people think. If you think about pretty in the girly or sexy way, it just looks like you want to marry a prince. You shouldn't have to look like that. The tomboy look suits you. And it's also so modern.
Yeah, now it's cool for boys to wear skirts. It's really a shift in the way your generation thinks compared to the way my generation did. I'm fascinated by the way millennials think. A lot of it is like, "Oh my god, what the hell are they thinking?" But if it weren't for millennials totally disrupting everything, we wouldn't change. A millennial in the fashion industry will never sit behind a sewing machine. Why should they? I consider myself one of the best swimwear patternmakers in the world. I'm not kidding. I love it and I've been doing it forever. I would challenge any other swimwear patternmaker and feel really good about the challenge. But you know what value that has in the future? Nothing! My whole identity has no meaning anymore because it's not the way that it's going to be done in the future. It's going to be done digitally, which will be so much better.
A lot of people think millennials are just entitled and lazy. Well, in some ways they are.
What are some things millennials are doing wrong? Are we going down any wrong paths? No. Nothing. It's just different, which is why we have to change. I've come to realize that millennials aren't taking away my identity; they're telling me to move on. It's hard to let go, but I'm happy to. Millennials are saying, "You work too hard. You're crazy." And it's true! The whole fashion industry works too many hours and it doesn't make sense. There's no balance in life. My biggest downfall for my entire life was that I had no balance, and I'm finally trying to now because there's someone I love and care about. I'm like, "You know what? You're friggin' right! What the hell have I been doing?" How do you reinvent? Well, when I came to this realization that what I do has no real value anymore and that the sewing machines in my studio are antiques of the future. I designed and developed a line that has no stitching in it. And I love it. I've been wearing it, working out in it, throwing it in the washing machine — everything. I'm not ready to present it yet, but I will very soon.
You invented athleisure way before millennials were running around in oversized Vetements hoodies and wearing sweats to work. I didn't, really. I'm not that smart. But what happens when you're doing this everyday is you have a sense of what's coming and what people need. I have a pretty strong intuition; many times too early. But what happened with the sweats was we had just come out of the Studio 54 era with everyone dressing in the most obscene, costume-y, colorful way. I sold so many shiny dresses that you could dance in. But I felt very strongly that this more casual look had to come next because you can't get anymore dressed up than Studio 54. At the time, nobody was wearing sweats, but I thought it was something that would go well over a swimsuit. You only wore sweatshirts if you were going to college or on some team. ____
What do you think about Vetements? It's comfortable. Why not? We're more realistic about life and what we like. Comfort, easy care, and price are the most important things to think about right now.
Well, the Vetements hoodies are not cheap. Price is so important to me. You can make good clothes at a great price. Fit doesn't cost anything and quality doesn't cost anything. It really doesn't. For three years I designed a line of clothes for Walmart that was under $20. I showed them how to keep the look and visual value of clothes just by changing the sewing method. Cathy Horyn emailed me from a Walmart upstate at two in the morning because she has a house up there. She said, "I'm shopping at Walmart because when I can't think of what I need to write, I go to Walmart and take the cart around. I screeched to a halt when I saw all these clothes. There was hardly anything left, but I picked through and I got a dress. I'm wearing it to the Giorgio Armani party tomorrow." She paid $18.00 for it.
Would you join the fashion industry right now if you were starting out again? The question I get asked most by people who are entering the industry is how do we break in? How do we get going? And I try to mentor as many people as I can because I know how hard it was for me. But the only words of advice I can possibly give them are obsolete and have no value anymore. So, I tell them: I don't have advice for you, but I do know that if you're a celebrity or you can be a celebrity in some way, you can have a line. And if you don't have that, you gotta go for the sex tape. Just do it.
Watch W's most popular videos here:
Photos: What Millennials Like Me Can Learn From 70-Year-Old Norma Kamali
Norma Kamali in her 56th street flagship store. Photo by Emilia Petrarca.
Norma Kamali at the 2005 CFDA Awards. Photo by Evan Agostini/Getty Images.
Norma Kamali and Marc Jacobs circa 1980.
Norma Kamali, 1997. Photo by Jack Mitchell/Getty Images.
Norma Kamali, 1998. Photo by Richard Corkery/NY Daily News Archive via Getty Images.
Rihanna wearing Norma Kamali to perform at the 2016 BRIT Awards. Photo by Getty Images.
Miley Cyrus wearing Norma Kamali to the 2012 "VH1 Divas" event.
Kourtney Kardashian wearing Norma Kamali in 2012.
Ralph Lauren and Norma Kamali circa 1990. Photo by Raoul/IMAGES/Getty Images.
Norma Kamali shows her designs circa 1988. Photo by PL Gould/IMAGES/Getty Images.
Norma Kamali at the 40th Annual Coty Awards, 1982. Photo by Ron Galella/WireImage.
Norma Kamali at The Warhol Look/Glamour Style and Fashion Exhibition Gala, 1997. Photo by Ron Galella, Ltd./WireImage.
Norma Kamali in 2003 wearing her signature sleeping bag coat. Photo by Richard Corkery/NY Daily News Archive via Getty Images.
Norma Kamali, 2015. Photo by Getty Images.
This interview has been edited and condensed.