Normal People Trailer: Damn, These Irish Teens Are Horny
Sally Rooney's sexy second novel gets an even steamier adaptation for Hulu this spring.
---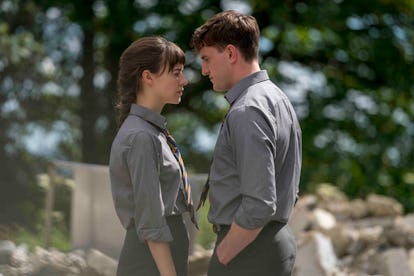 When it was announced that Sally Rooney's second novel, Normal People, would be turned into a television series, fans of the book were delighted to find that not only had the story's star-crossed lovers been cast but filming had already begun in Dublin.
That was roughly nine months ago—not even a full year after the novel had been published—and now the first trailer for the series (which will appear on Hulu in the U.S. and BBC in the U.K.) has been released. The question of whether or not this seemingly unadaptable novel could, in fact, be adapted for the screen—and not just any screen, but television specifically—appears to have been answered by these first official clips.
The teaser for the 12-part limited series introduces the mousy, brilliant Marianne (played by Daisy Edgar-Jones), and the handsome, brooding Connell (played by newcomer Paul Mescal). As Marianne and Connell's lives intertwine, from their time at a rural-suburban Irish secondary school— where working-class Connell's mother cleans the home of the wealthy-ish Marianne— to university at Trinity College Dublin, where their social statuses are suddenly the inverse of what they were in high school, they go through some dramatic ups and downs. Like the book, the show promises to be a tearjerker.
Spoiler alert if you have not read the novel (and if that's the case, where were you when every Cool Girl™️ was carrying this thing around on the subway?), but this version of the story appears to be quite steamy. We predict a hit.
Related: Sally Rooney's Normal People Is Hulu's Next Trendy Literary Adaptation