North West Just Received a $750 Alexander Wang Bag for Her Fifth Birthday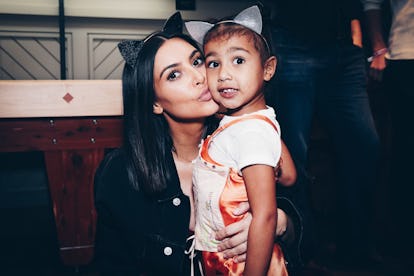 Handout/Getty
Apparently North West, daughter of Kim Kardashian and Kanye West, is already well on her way to embracing the KarJenner lifestyle—which involves, among other things, very nice bags. The almost-5-year-old has officially become the proud owner of a $750 Alexander Wang Marti Micro leopard print shoulder bag, which retails for $750 and includes plenty of room for crayons and other preschooler essentials.
North, the oldest of the Kardashian-West kids, received the handbag from its designer, Alexander Wang, who sent the gift to the toddler in advance of her fifth birthday.
"North, happy birthday! Every girl needs a lil sparkle. Hope you <3 it. Alex," the note accompanying the gift read. (Alex, if you're reading this: My birthday's in December, I'm approaching my late 20s, and like you said, every girl needs a little sparkle.)
On Friday, Kim Kardashian West posted the gift to her Instagram Stories, showing off her daughter's brand-new designer item. "Oh my God, North is the luckiest girl in the world," she says in the video. "Who gets like, this bag from Alexander Wang? I wanna steal it. Alex, thank you so much. I might steal this."
But that wasn't all: Kardashian also showed off another smaller clutch in the video, this one embellished with tiny crystals. "Wait, look at this Wang bag that North got," the TV star said. "I cannot even believe it. Love it."
Given that North's wardrobe is also reportedly worth close to $1 million, none of this is a surprise. In fact, the only question is how long will it be until her designer bag collection resembles grandma Kris Jenner's incredible Birkin closet?
At Four Years Old, North West Is Already Chicer Than You On Instagram
Out in New York City with mom Kim Kardashian, wearing matching furry coats. 2016.

Instagram
Throwing serious side-eye while wearing sunglasses on vacation with dad, Kanye West.

Instagram
Dressed like a princess with her best friend, Ryan, and cousin Penelope Disick.

Instagram
Trying on mom's thigh-high, silver Balenciaga boots. "Didn't think it would happen this soon…my baby girl stealing my shoes. At least she has good taste," wrote Kardashian.

Instagram
Visiting Bambi's friends while in character at Disneyland.

Instagram
Taking a bath with a few glowing accessories, 2016.

Instagram
Trying out Snapchat's flower crown and somehow avoiding looking basic.

Instagram
Wearing matching custom Vetements with Mom while heading to Dad's concert.

Instagram
Wearing matching custom Vetements with Mom while heading to Dad's concert.

Instagram
Accessorizing a velvet slip dress with furry slides and a white baseball cap.

Courtesy of @kimkardashian
With Mom, Dad, and President Barack Obama. "Oh Northie!!! North fell and was crying so Potus gave her White House M&M's. She smiled when I opened the box but I wanted to save them for memories so wouldn't let her eat them so she cried again," Kardashian wrote.

Instagram
Again, with President Obama, this time playing it cool.

Instagram
Playing the part of a very chic tennis girl in a white velvet slip dress and matching white hat.

Instagram
Getting a backstage tour with Ariana Grande before the singer's stadium tour.

Instagram
Giving aunt Kylie a run for her lip empire money with goth black lips.

Instagram
Cozing up to Mom in a fashionable leopard print top and black choker.

Instagram
Posing for a family portrait on Easter with Mom, Dad, and brother Saint.

Courtesy of @kimkardashian
Working hard as the fit model for Mom and Dad's new clothing line.

Courtesy of @kimkardashian
"That time North gets a time out & is a little too quiet… I go in her room to check on her & she's in the bathroom, made her own spa & tells me she's chilling out," wrote Kardashian.

Instagram
"she has no clue what 100 million followers means but she's excited cause i'm excited lol thanks for the follows and the love" captioned Kardashian.

Courtesy of @kimkardashian
Of the mommy-and-me style, Kardashian wrote, simply: "Besties!"

Instagram
For a Mother's Day post, Kardashian wrote, "Thank you to my babies for choosing me and allowing me to be your mom. You've given me a deep love I can't explain. I'm always here to teach you and protect you! Thank you for making my Mothers Day so special!"

Getty