North West Starred In Her First PSA to Promote Social Distancing
Governor Gavin Newsom implores the people of Los Angeles to listen to Kim Kardashian and North West in their social distancing coronavirus PSA.
---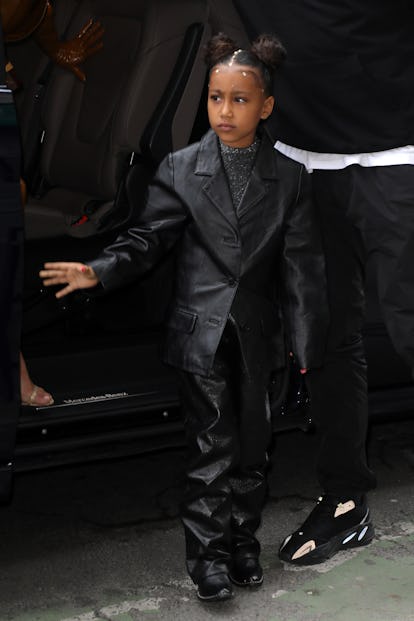 Photo courtesy of Getty Images.
At six years old, the progeny known as North West has already made her debut in the conceptual arts space, served as creative director for fashion shoots, directed, choreographed, and starred in her own music video for "Old Town Road," and rapped at Paris Fashion Week.
Now, she can add public servant to her resume, as she appeared beside (or behind, rather) her mom in a public service announcement to convince the people of Los Angeles to stay at home amid the coronavirus pandemic and obey the city-wide quarantine.
California governor Gavin Newsom shared the PSA on social media, in which Kim Kardashian West addressed her home state to have "a serious conversation with you guys about social distancing." But there was a special guest who joined in almost immediately after Kim announced why she was filming the PSA in the first place.
North, who off-camera can be heard whispering, "I want out," appears to be testing her mother's nerves while also spitting what her mom calls "facts," such as saying, "You should be more busy of your kids, not your friends," when Kim suggests performing mental health checks on friends and loved ones during this difficult time.
The social distancing PSA appears to have been filmed wherever the West family is quarantined at the moment. At the end of last month, Kim revealed that the entire family has been self-recording their own quarantine content to include in the season 18 finale of Keeping Up with the Kardashians. It wouldn't be too much of a surprise if the behind-the-scenes footage regarding this particular production for North's first PSA is included in the final cut. Hopefully by then, Kim will be freed of recording tutorials and PSAs from her bedroom and bathroom while her children appear in unexpected cameos behind her.
Related: North West Joined Kim Kardashian on a Visit to the White House